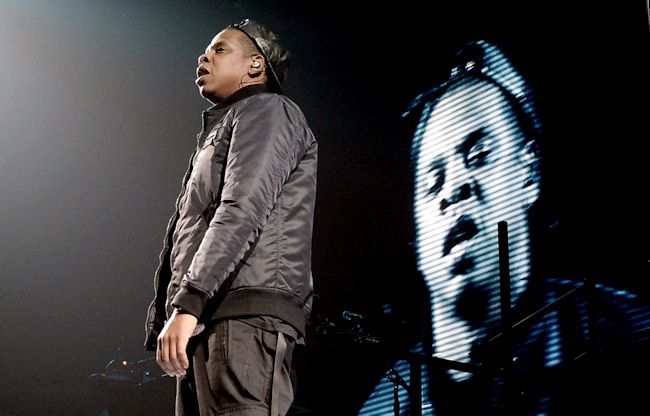 UPDATE: Just as quietly as they appeared, Jay's albums have now disappeared from the service. A source close to the matter indicates the Blueprint projects were never supposed to be offered on Apple Music by design. At this time, Tidal remains the one and only place to listen to Hova's music online.
Jay Z fans who want to stream The Blueprint, The Blueprint 2, and The Blueprint 2.1 are no longer restricted to Tidal. As several outlets have reported, every of installment of the rapper-entrepreneurs's Blueprint series — minus The Blueprint 3 — is now available for streaming on Apple Music and purchase via iTunes. However, the albums have not returned to Spotify or Google Play.
Ordinarily, the reappearance of music on a streaming service wouldn't be major news, but Jay Z is the face of Tidal, whose parent company reportedly posted a $28 million net loss in 2015 and has been the subject of Apple acquisition rumors recently. While Apple Music head Jimmy Iovine said "We're not looking to acquire any streaming services" when he was contacted by BuzzFeed's Reggie Ugwu following news of the loss, his statement leaves wiggle room for Apple to take an offer from a company like Tidal.
Perhaps the return of The Blueprint series to Apple Music means nothing, but it could be an exploratory move on either or both sides to see how the albums perform on the streaming service. On a lesser level, it could be a peace offering from Jay Z to open up talks between the two parties. Despite what S. Carter said on his verse from Kanye West's "Diamonds From Sierra Leone (Remix)," he is a businessman, and sometimes good business calls for making the first move.
Both parties know a combined streaming service would make a bigger dent to Spotify's 40 million paid subscriber customer base and more importantly, give it the definitive advantage of artist exclusives. Because despite what record labels may think, streaming exclusives do matter. As an Apple Music exclusive, Chance the Rapper's Coloring Book proved an artist could debut high in the Billboard 200 entirely off streams alone and more importantly, do so without the help of a record label. The same goes for Frank Ocean's Blonde, which soared to no. 1 on the chart without any support from his former label, Def Jam.
It's looking more like sidestepping record labels is the future, and a fortified Apple Music would be better prepared for that future than any other streaming service.