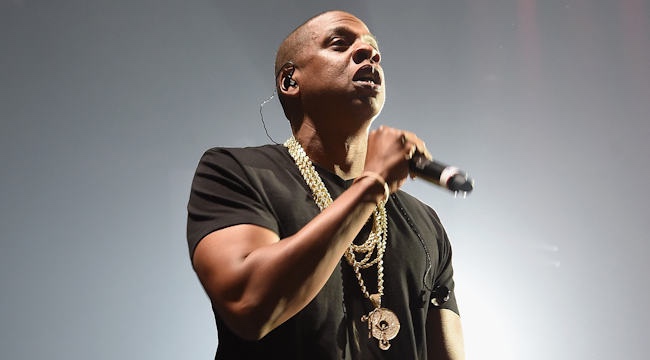 Jay-Z can add a few more problems to his list of 99 this week, as he's been accused of exaggerating Tidal streaming numbers for Kanye West's The Life Of Pablo and Beyonce's Lemonade on the service in an effort to pay inflated royalties to the artists' respective labels. According to Music Business Worldwide, Swedish newspaper Dagens Næringsliv completed a yearlong investigation into the supposedly dodgy accounting practices at Tidal, concluding that the service had been inflating its subscriber totals and streaming numbers: "Beyonce's and Kanye West's listener numbers on TIDAL have been manipulated to the tune of several hundred million false plays… which has generated massive royalty payouts at the expense of other artists."
According to DN, the newspaper received a hard drive containing "billions of rows of [internal TIDAL data]: times and song titles, user IDs and country codes" which match up identically with information that was sent to record labels during the dates in question. The suspect numbers included on the drive led DN to follow-up with subscribers in-person to try to reconcile the discrepancy, with at least two mentioned in the story as being totally perplexed by the suggestion they'd played songs from Lemonade and Pablo hundreds of times in relatively short spans of time — in one case, the subscriber supposedly played songs Beyonce's album an unrealistic 180 times in just 24 hours.
Contacting the Norwegian University of Science and Technology, the newspaper discovered "there has in fact been a manipulation of the [TIDAL] data at particular times. The manipulation appears targeted towards a very specific set of track IDs, related to two distinct albums." For both Pablo and Lemonade, different methods were used to spoof user accounts to boost both albums' play counts. NTNU's Center for Cyber and Information Security (CCIS) forensically investigated the data ultimately concluded that "Given how targeted and comprehensive the manipulation is, it is highly improbable that the manipulation could solely be the result of a code-based bug or other anomaly."
Tidal paid Sony Music more than $4 million in royalties in Spring of 2016, with Lemonade accounting for $2.5 million, while Pablo made up around €2 million (about $2,372,000) of the €3.2 million ($3,796,620) Tidal paid Universal. Tidal, of course, denies any skullduggery on its part, arguing that the hard drive this information is based on "is stolen, incomplete for the relevant periods, that DN has changed the data, and has lied to NTNU about the origin and content of the data."
Elsewhere, HitsDailyDouble has also reported that Jay has been ordered to testify in New York federal court by the Securities Exchange Commission in regards to questions about fraud involving Iconix Brand Group after Jay sold Rocawear to Iconix in 2007. The SEC is investigating possible trade law financial reporting violations.
Update: A representative from Tidal has reached out with the following reply:
"This is a smear campaign from a publication that once referred to our employee as an 'Israeli Intelligence officer' and our owner as a 'crack dealer.'
We expect nothing less from them than this ridiculous story, lies and falsehoods. The information was stolen and manipulated and we will fight these claims vigorously."