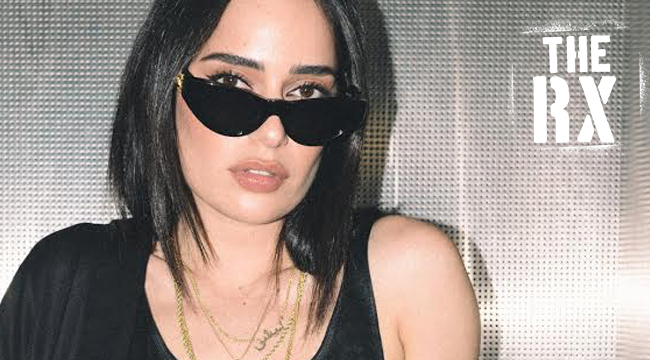 The RX is Uproxx Music's stamp of approval for the best albums, songs, and music stories throughout the year. Inclusion in this category is the highest distinction we can bestow, and signals the most important music being released throughout the year. The RX is the music you need, right now.
As a kid who grew up on the outskirts of Los Angeles, it didn't take long for Lauren Abedini to venture out into the alluring nightlife that's one of the city's hallmarks. From her years as a teen sneaking into clubs with a fake ID, to getting her own pair of turntables at the tender age of 21, Abedini's ascension to her current role as a prominent hip-hop DJ signed to Fool's Gold records has been a heady one. This past summer she released a brief EP with the label, and has plenty more music on the way. But getting to this point in her career wasn't an easy path.
After leaving the suburbs for the city itself, Abedini worked as a talent booker at the now-shuttered bottle service club Drai's Hollywood while she was in college. Working at Drai's meant she could DJ at some of their smaller events and parties, and at one such random event, a Kid Cudi affiliated happened to hear her spin and invited her to come out with him as his tour DJ. From there, she also met Usher, who became a mentor to her early on in her career.
While a co-sign from a cult favorite rapper and an R&B legend don't necessarily blow up a DJ, but Kittens has done just fine building a legacy on her own, by staying true to her queer, intersectional feminist identity from the jump, and teaching all-female classes to young girls who are interested in learning how to spin, but often too shy to assert themselves in mixed company.
Along the way, Abedini has never lost her love for the gritty and the grimy, for hip-hop as the backbone of her own personal sound, and for music that, as she so aptly puts it, "you can feel in your lower body." As she builds her following and explains the difference between throwing on a playlist and DJ-ing as an actual art form, Kittens is determined to never lose sight of her principles, which include a single-minded devotion to helping educate and empower other people.
"If you don't stand for something, if you don't have a cause, and you don't use your voice for something, what the hell are you doing?" she asks at one point during our conversation. That's a mic drop if I've ever heard one. Read a condensed, edited version of our conversation below, spanning her early beginnings, DJ-ing as an art form, and, of course, standing up for what you believe in.
How did you first started getting into DJing and performing and sort of being a part of nightlife in Los Angeles?
I grew up 30 minutes out of Los Angeles, so I was sneaking into clubs with fake IDs just for dancing and listening to music since I was sixteen. Then, I think when I was 21 I got my first pair of turntables. I really wanted to learn how to DJ because I had been going out for so long, seeing people DJ in a more artistic way. Around that time, things weren't so much about DJs staying in the background of a party versus them curating and being artists themselves. Seeing that angle, I really loved it and I felt connected to it. So I bought some turntables and I started teaching myself. I was a makeup artist at the time for MAC and I thought I was going to do makeup, graduate from college, and get into marketing — just go that route. DJ-ing was kind of a fun, new hobby. But I ended up leaving the beauty world, moved to LA, and started working at a nightclub.
You were working at Drai's Hollywood doing some talent booking, right?
Yes, I was the assistant to the marketing director at Drai's Hollywood. I worked my way up on the business side of things and became the talent buyer. I was also allowed to DJ there, so they would let me open at the pool parties and the nightclub. I was DJing, booking, and doing artist liaison stuff for the main people who were DJ-ing; I was meeting the managers, the agents, the artists. So I built a bunch of relationships through that, which is where I met A-Trak and he really has been a huge, huge support for me throughout my entire career. I just released an EP with his record label, Fool's Gold.
Why don't you talk a little bit about your involvement with Fool's Gold and how you fit in with that crew there?
I've known A-Trak forever, and I've always been Fool's Gold affiliated, but prior to that when I was still working at the nightclub, I was DJing a party and someone who works for Kid Cudi happened to be there. He was having a party locally and was looking for someone to play — it was just house party vibe — and I ended up doing that. A month later I got a text from him asking if I was free, he needed a DJ for a festival performance. A week later I was touring as a DJ. It really happened super fast, and everything moved quickly through there.
I met Usher, who was taken by what I was doing and wanted to support me in any way he could. So I was sitting in sessions with Usher, working on his album, and giving him feedback and support and DJ-ing parties for him. At that time I was still in college, still working at that nightclub during the day, and touring with Kid Cudi. I still wasn't sure where my life was going. And then finally, I found out the nightclub was closing. So I was like, 'Okay, I can just try to jump and make this whole DJ-ing thing work and put my all into that. If six months down the line, I'm not making ends meet, I'll get a normal job again.' And I never had to get a normal job.
That's an awesome come-up story. One of the things you touched is about the difference between a person playing songs at a party and a DJ where this is an art form that they're participating in and creating in their own right. Can you talk a little bit about people's understanding of that spectrum and what it is to be an artist who is a DJ?
Regardless of where you're playing, it's always important to be able to read a room. Even if I'm playing like a Coachella or something like that, people are coming to see me and what I want to do and my perspective on music. I consider where I am, who's there and what kind of experience they might be looking for, and then I give my musical perspective on that. In that sense, it's art but it's considering your audience, which I think is super important because how can you get your message out if you don't know how to speak peoples language?
On the other side of it, there are a ton of DJs who are just like in rotation. They're the standard, open format club DJs who play at your 1 OAKs and other bottle service spots. They're the openers at Vegas clubs before the headliners come in. All of those people, they're super talented in their own right, they truly are — because they have to know all the music, all the time, the newest stuff that people like — and they have to DJ very quickly. They're usually changing songs really fast; they have to keep the energy up in a room. But, it's not as artistic, as far as giving a perspective to people and making people hear something new or in a different way or think. They are just kind of busting through the hottest songs on the radio and giving people what they want over and over and over.
Exactly, yeah. Getting those big looks early on, which are such a meaningful reflection that you're making an impact in your field, how do you balance input from those sources with your own personal ideas and visions?
I think when those things happened for me, they came from people and at a time that it wasn't going to make my career overnight. But they definitely have helped build my foundation. For example, Skrillex co-signed this girl Mija a few years ago, like really publicly, and her career blew up overnight. She's playing all the major festivals, everything. But for me, Usher co-signing me, that's not going to make a huge deal in my career because, you know, he doesn't work with DJs.
He doesn't work in that realm. But that really helped introduce me to the songwriting world and that other end of actually in the studio and making music with artists and all that. With Kid Cudi, same thing. I was onstage with an incredible artist watching him perform, and Kid Cudi fans are so loyal and so deeply connected. Seeing that, I wanted people to feel that with me and to work with people who make people feel that. But you know, that didn't make my career blow up overnight.
Let's talk about your sound, obviously, hip-hop is the backbone but what are some of the other elements that you consciously strive to bring into the mix with your sets and your songs?
I have always really, really connected to soulful music in general. I grew up listening to a lot of neo-soul with my mom, like Erykah Badu, Maxwell, and D'Angelo. So things that have R&B elements to them that can trigger that feeling, even if it's electronic music. Whether it's the chords or something that pulls out the same emotion that, maybe a D'Angelo song pulls out. Soulfulness and groundedness are important versus, no shade, old Calvin Harris and Avicii, and all that big EDM that started in 2011 and 2012. It was all very fist-pump-y. You feel it more in your upper body. I think everything I play, no matter what genre it is, no matter if it's electronic, or hip-hop, or rap or whatever it is, you feel it in your lower body and that's really important.
I noticed that in your Instagram bio you specifically positioned yourself as an intersectional feminist. Obviously, it's awesome to read that as it's not generally the terminology I'll encounter in these sorts of spaces. Why is it important for you to put an emphasis on that as an artist?
I feel like my purpose in this world as a person is to help educate and empower people. That's the only reason I want to have a platform, and get bigger. I could be totally fine just making music in my room, and have a normal job, but I wanna get as big of a platform as I can so I can help people, and Oprah my ass through the world. Now it's becoming trendy to be socially aware, and have a cause, but I've been loud about sh*t for a very long time because it's what I'm most passionate about. I think if you don't stand for something, and you don't have a cause, and you don't use your voice for something, what the hell are you doing? What's the point? I know I'm in a very interesting place because like how I'm positioned, I know I can actually help educate people because I understand the language those people speak.
For instance, I have a lot of guy friends — I'm in the music world, it's 99% dudes. Instead of being quiet when people are saying stuff that makes me uncomfortable, or going off on an aggressive angry feminist rant, I'm like, 'Okay, this is your experience as a person, and this is how I can teach you to be compassionate and how to understand why what you're saying or your perspective isn't really helpful to people.' Intersectionality, in general, is so important to me because I think people don't take into consideration the levels of oppression and struggle that people face in their own lives in every way. The more we pause and take that into account before navigating a situation, the better we can all grow and learn, get along and empower each other, and be happier, better people.
You're also giving back in a different way, by teaching all-girl workshops for DJ-ing. How did that come about and what does it mean to you?
I do these all-girl DJ workshops to I raise money for women's shelters and the LGBT center. Girls pay to come take the class, and then I donate all that money, and I have them bring products like tampons or whatever to give to the shelter as well. I started doing it because a year or two after DJ-ing full time after the club closed I needed extra cash. Initially, I worked at a music school and was teaching DJ courses there. The first class I taught, was crazy because it was coed, and the difference between how the boys versus the girls were navigating and trying stuff in this class was like night and day. When guys suck at something, and they're insecure, their default response to overcompensate, be overly cocky, and be boisterous and all these things. The girls sunk back, quiet, didn't wanna try, didn't want to embarrass themselves or seem like they didn't know what they were doing, just super, super passive.
I needed to have space for girls to learn. So I started doing that, and I had all girls in my class, and it was so much more fun, and free, and a safe space where it was girls learning together, learning from a woman. They could mess up. They could ask questions. Like, whatever it is, and nobody feels weird. It's safe to mess up, and safe to try something new. Then from there, I had so many girls reaching out to me all the time on social media. 'How do I learn? How do I start? Where do I start?' To keep helping them, and wanting to give back to the community, is so important to me. Once I was making enough money to get by on my own, I was like, 'Cool, I don't need this. Let's just take all this and give it to somebody who needs it.'
What would you most want to tell, like if an aspiring female DJ is reading this, what would you most wanna tell her?
Don't be scared. You just have to try. I would've started DJ-ing so much earlier, but I was so scared. I was scared, and I didn't have any role models. I didn't see any women in the spaces I wanted to be. That was hard. Now we have so many girls who are like visible, but I think the biggest thing is don't stand in your own way because I think, in general, in our society women are kind of taught to question themselves, and 'don't do it unless you're the best at it.' It takes time to be the best at it, so get to work.
Zanan & On is out now via Fools Gold Records. Get it here.