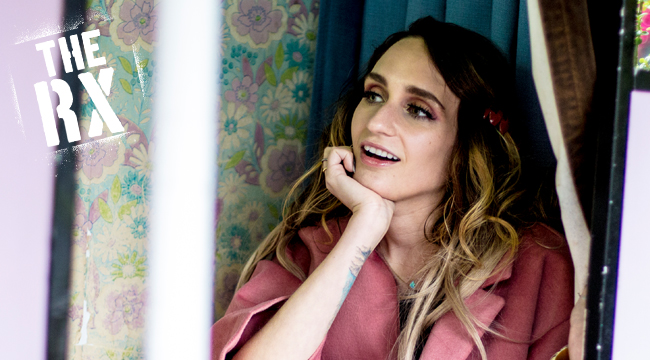 The RX is Uproxx Music's stamp of approval for the best albums, songs, and music stories throughout the year. Inclusion in this category is the highest distinction we can bestow, and signals the most important music being released throughout the year. The RX is the music you need, right now.
In late 2011, Speedy Ortiz quietly released an initial album called The Death Of Speedy Ortiz on the independent streaming platform Bandcamp. Written and recorded entirely by the band's frontwoman, Sadie Dupuis, in her cabin at Buck's Rock Performing and Creative Arts Camp — a music camp in Connecticut where she worked as a counselor teaching songwriting — the songs were fresh and hooky, puzzling and immediately compelling.
That early album was mixed by Julian Fader of Ava Luna, a friend of the band who stayed involved enough to record their latest album, and who has been part of Speedy's larger sphere in various capacities over the years. Meanwhile, a smattering of other early releases from the fledgling group trickled out around that same time, the Cop Kicker EP, two early singles, "Taylor Swift" b/w "Swim Fan," and 2012's Sports, released on the independent punk label Exploding In Sound.
Even on these early skeletal tracks, the unexpected serpentine bent of the guitar lines and Dupuis' incisive, sometimes stunning lyrical insight immediately took hold. Those angular, riffy tracks gained even more weight as Dupuis expanded her early demos into a full-fledged band. Two years later, with the release of their proper studio debut Major Arcana on Carpark Records, Speedy Ortiz was already on the radar as one of the most important rock bands of the era. And with the release of the Real Hair EP in 2014 and 2015's Foil Deer, their trajectory only continued to grow.
In the meantime, the band opened for the likes of The Breeders and Stephen Malkmus And The Jicks, along with organizing safe space hotlines at their own shows, to make sure fans — particularly female and queer/non-binary ones — felt secure in the DIY spaces they frequented. "I'd like to imagine Sadie Dupuis leading a long train of pre-teen and teenagers out of the pre-fab cultural theme park and toward something more spikey, individual and real," wrote Jennifer Kelly in an early review of the band's oeuvre for Dusted magazine. In 2018, as the band gets in gear to tour behind their third full-length album, Twerp Verse — out this Friday — it seems clear that she's done just that.
Between 2016's solo debut as Sad13 on Slugger and a raging new Speedy album, Dupuis hasn't shown a single inkling that she'll be slowing down anytime soon. And though it may be seven years since she and her band first burst on the scene, it's easy to feel like this veteran indie rocker has only just begun to hit her stride. Twerp Verse was recorded at Silent Barn in Brooklyn with the aforementioned Julian Fader and Carlos Hernandez (also of Ava Luna), but, much to Sadie's delight, it was and produced and mixed by Mike Mogis (Bright Eyes, Rilo Kiley, Jenny Lewis) at his studio in Omaha.
Recently, Sadie and I met up at the bar and club Resident, in downtown LA, to discuss things like Mogis' involvement with her new album, what spurred her songwriting, and why she scrapped the first version of Twerp Verse.
Let's pick up with Foil Deer, since that's the last thing Speedy fans really have on their radar, aside from your Sad13 release. What was going on in the band and with you after that record came out?
We made that record not so long before it came out, like the fall before it came out. And a month before the release, just a little more than that, my dad died. So we went on tour for that record for a really long time. But I was just… you know, when you're grieving, you don't remember anything that happens to you. So I want to say we did almost two years of touring on that record. And towards the end of it, I was finally starting to feel like a normal person, able to write music and function in the world, and that's kind of when I worked on the Sad13 album.
So basically, we recorded Foil Deer, I wrote some music for the next record, my dad died, and I was just a robot on tour trying not to have any feelings. I'm not great at… I'm not capable of meditating. I'm not capable of sitting with my sad feelings. I have to just work all the time. So that was sort of my way of putting off actually grieving. And then when we got time off, I was able to feel like a person again, and that's when I did the Sad13 record. Around that time I also moved to Philly.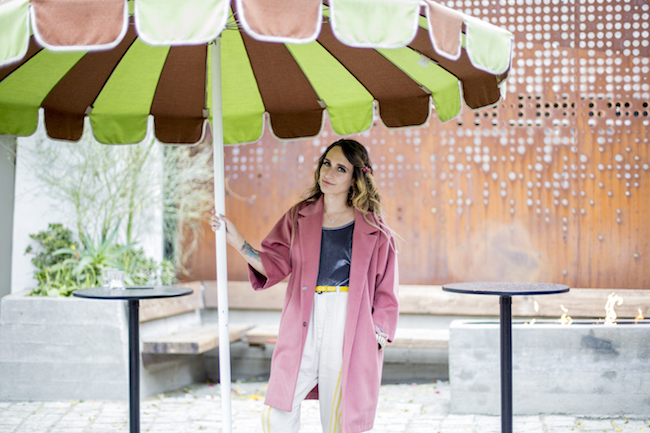 What happened to that early material you'd written for Speedy, did that make it onto Twerp Verse?
I hadn't written a ton of music following the release of that record. I'd written some in between recording it and putting it out, which is part of what we did for the first iteration of this record. Shortly after recording the Sad13 record but before it was out, all of Speedy went away to Jonah from Krill's parents' beach house — in Massachusetts, I want to say… it's not Cape Cod, but something like that. So we spent a week there arranging these songs that I'd written in the few months after Foil Deer came out. We worked out 12 songs altogether. We played those on tour for a while.
We were ready to record that, and our guitarist Devin [McKnight] left the band, for no reason other than all the same reasons many people stop playing in bands. He didn't want to tour anymore. No bad blood there. Still one of our best friends. But I had written all the guitar parts, but I was used to him playing half of them. So we went and recorded this whole album as a three-piece at Silent Barn, we were like, 'let's just record an album just to see if we can.' Who knows, maybe this will be demos. We loved it. We were like, 'cool, we did an album, great.' This would've been September 2016. But then the election happened and I was like, oh, I can't with any of these songs. I had done the Sad13 album and kind of enjoyed writing more transparently political music.
The early songs for this album weren't overtly political, and that's part of why you scrapped that first version of the record?
I just didn't feel like the songs were reflective of what I needed to hear at that point. I didn't… I've stopped caring about bands that don't directly address what's happening in the world. And while I felt there was some of that on the record, it wasn't enough. So I rewrote for a few months, and then we went back to Silent Barn, recorded it again in February 2017. It's comforting to come back to this project, and also I feel that we're better at it, because we've taken this time to try other stuff.
As far as the title Twerp Verse, I was thinking about that. It sounds so Speedy to me, but it's also very specific. It feels like it lives in the Speedy world. That's a Speedy phrase.
I feel like it's a funny diss. I feel like so many of the weird old-timey disses that we have are actually really ableist, and twerp is just not that way. It's just, it sounds funny and it's a cool little diss. It's like, you can't be too pissed at someone if you're just calling them a twerp. You're not calling them a piece of shit. It's not Piece of Shit Verse. So why did I … Well, the title came in a funny way, which is, I was describing how Lil Wayne shows up on another person's song to do a verse that's unrelated to the song, and he's like, generally about sleeping with the person singing the song. And I was like, oh, it kind of rhymes. Cool. I held onto this title for a very long time. I've known this was the title before the first iteration of the record even.
If you had to describe what a "Twerp Verse" was to someone, how would you typify it?
When we finished the record and I thought, 'what does it actually mean to me?' It's about saying the stuff that isn't being said surrounding you. So in Lil Wayne's instance, it's that the song is unrelated to him having sex with the person singing it. But here he is, saying that thing right in the middle of it. And that's the thing that I remember from the song.
My extension is kind of unrelated to that, but it's feeling that you need to… the same reason we redid the record, basically. Feeling that it's important to say the things that aren't being said around you, and to not apologize for saying those things. But it's kind of a goofy song title, 'cause I didn't want to do a scathing political record. I feel like there's humor in it, and that's how I've felt that I've had to deal with the horrifying world. So that's sort of what it means to me. So I feel like I am the twerp in this.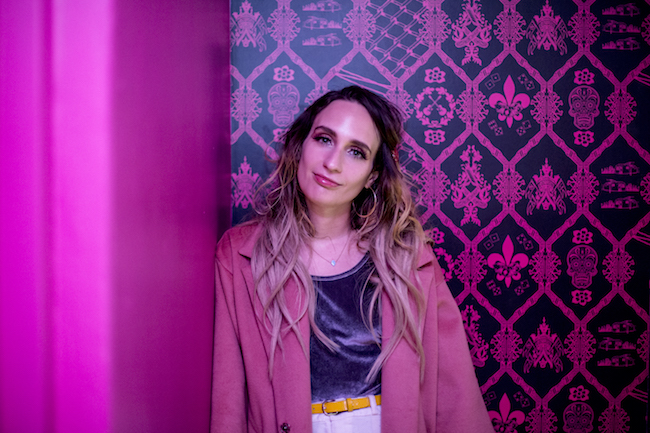 After Twerp Verse comes out, there's obviously a Speedy tour, but what happens next? Will we get more Sad13?
I would really love to write the next one for Sad13 before even Speedy goes on tour, because I have a hard time writing on the road, and I have a bunch of ideas already. I like that project. I don't want to have it be a one-off. It was so fun and I had so much fun. The people who wound up in the live band, I just loved playing with so much that I don't want to have that be the end of it. I just view them as different things. One thing I really liked about Sad13 is I didn't feel like there was any pressure at all. So that's been a cool outlet, because I have always liked working on recording projects where I get to make every decision, and I have a lot of ideas for how to run almost every aspect of the band business.
I saw that Mike Mogis was working with you guys on this album, what was his role in ?
I mean, he mixed it and he did a lot of production because when I record at home, I wind up with… it can be up to 80 tracks. So many little things that are there for three seconds at a time. And then we recorded in Silent Barn and added a ton more stuff. We really needed someone to listen to everything, to make sure it sounded legible, as it were. I'm so maximalist, I want eight melodies at once, and I'm like, 'I don't understand what you mean, they don't make space for each other? I can hear all of them.' So it was helpful to have someone who has worked on so many kinds of records and so many that I admire, so I trust him. Which is not always the case. But Mogis would take 12 hours on a song, so we'd get kicked out of the studio for hours at a time, and I had to learn to be trusting and okay with that. I'd still come back and be like, 'okay, show me exactly what happened.'
There was a couple different lines that stood out to me when I was listening, like at the very beginning, when you're "bookended by booty pics I never posted" on "Buck Me Off," and then right after that on "Lean In When I Suffer," and that phrase "lean in" is part of this "feminist" language. These are such specifically female experiences — I've never heard a rock song like, let's talk about lean in! Or let me talk about looking at the pics of my body that I didn't post. Is that something that you specifically think about when you're writing?
I do think very seriously about wanting to have rock music that represents more than what the rock music I grew up listening to can encompass, and I feel like that's been my agenda from the first album. It hasn't gone away. Lines like that, to me they're like obviously talking about an experience that I want other people to be able to relate to and recognize — in the same way that you read someone's tweet and it's funny and you would not think to maybe post it yourself, but you're like, 'oh, that's me every time I have attempted to shave my armpits,' or something. Or shave my nipple. Just the stuff that I like to have humor with.
I think political art can so easily come off as bad — and I don't feel this way about the record at all. It doesn't even feel like overtly political. It feels like it's talking about what's going on right now, but it doesn't feel like, and then we made a song about Trump. Sometimes, for me as a listener, it can be hard to have him as a constant topic. I feel like… does everything have to be about him?
I think even when we were getting the record ready, someone was like, 'it's a breakup record.' I'm like, oh, it's really not at all. But I think sometimes talking about those extreme feelings and also talking about your day-to-day life — and also maybe having a female voice — people will assume that it's romantic. Those anxieties and frustrations… have to be about men in that way. So all of the romantic hurts that you experience encompass all of the shitty men in other parts of your life. You can't write a song hating 100% on your boss, but you're projecting that onto your ex-boyfriend. So there are politics, but it's also about anxiety and it's also about self-loathing, which I think is a lot of white guilt, and certainly a lot of self-examination that I hope most of us are doing in the wake of all the bigotry that's being exposed and thrust upon us every day.
Special thanks to Resident for the use of their location in photos.
Twerp Verse is out 4/27 via Carpark Records. Pre-order it here.