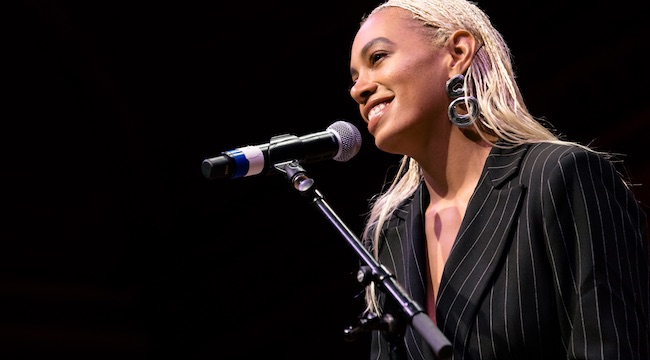 Solange may have been busy performing with her sister Beyonce at Coachella over the weekend, but that didn't stop her from debuting some pretty awesome performance art in Los Angeles.
The piece, entitled "Metatronia (Metatron's Cube)," was unveiled at UCLA's Hammer Museum on Friday, April 13. The interdisciplinary production features dance and sculpture created and directed by Solange, in partnership with Uniqlo.
"Metatronia explores the process, and mapping of creation. The piece is an exercise on following the intuitive force that guides us, helping us to create space, and silence the mind to create the work," the soulful pop artist says in an artist statement. "Continuing my practices and interest in exploring the relationship of movement and architecture as a meditation, Metatronia centers around building frequency and creating charge through visual storytelling."
The piece was choreographed by Brennan Gerard and Ryan Kelly of Gerard & Kelly with assistance from Julia Eichten. Aside from Solange being credited as a set designer, editor and director, she also scored the music for Metatronia with the help of composer John Kirby.
This installation is not Solange's first exploration into performance art. Earlier this year, she described the intersection between her music and art and the various pieces she's created for esteemed modern art museums in an interview with Surface magazine.
https://www.instagram.com/p/BhhaJ5QlsWg/?utm_source=ig_embed
https://www.instagram.com/p/BhfaQBsFrqL/?taken-by=saintrecords
https://www.instagram.com/p/BhfSuHEFVGt/?taken-by=saintrecords
https://www.instagram.com/p/Bhe65k3lf5F/?taken-by=saintrecords