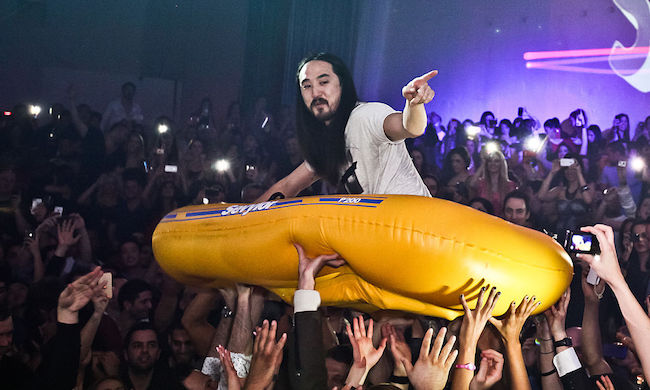 EDM heavyweight Steve Aoki is feeling the wrath of the electronic music community today as his corporate partnership with Shell is taking some heat.
It all started with the official Shell Australia Twitter account tweeting about how Aoki has partnered with five other artists to "#makethefuture," referring to a campaign Shell ran last year.
Artists like The Black Madonna and Jacques Green couldn't help but quote-tweet the original with their own takes, and the former wrote "How broken does your moral compass have to be to allow your name to be attached to a company like Shell" and the latter comparing the partnership to something out of a Nathan For You episode.
The campaign saw Aoki pairing up with Jennifer Hudson, Pixie Lott, Luan Santana, Yemi Alade and Tan WeiWei for a corporate jingle called "Best Day Of My Life."
The British-Dutch multinational has dealt in oil and resource extraction for the better part of nearly 130 years, and the #makethefuture campaign aimed to shift the focus away from Shell's oily past onto other types of renewable energies they're developing. But the dissonance between the campaign and their actual practices call into question how well-intentioned the multinational actually is, and what part a performer like Aoki plays in appeasing critics versus contributing to sustainable change.
More recently, Aoki partnered with Fifth Harmony's Lauren Jauregui on the simmering "All Night."