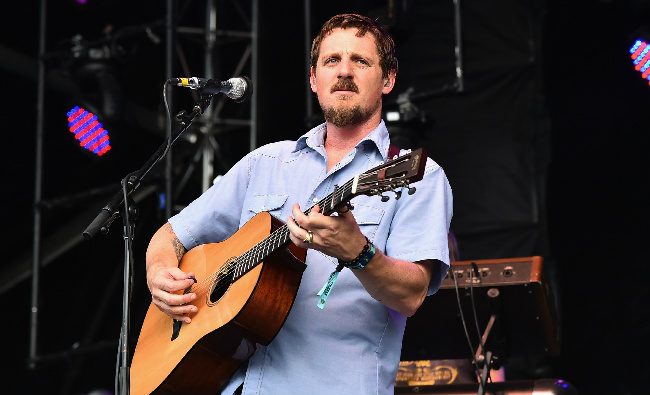 Sturgill Simpson has made headlines this year with some harsh criticism of the ACM Awards, that time he called out mainstream country music, and his noticeable absence from the CMA nominations. Simpson doesn't hide how he feels about the country music establishment and what the core of the industry thinks of his music. But that doesn't much matter now, after Simpson received his first ever Grammy nomination. Not just any nomination either, but a nod in the "Album of the Year" category for his third album "A Sailor's Guide To Earth."
Most artists break into the Grammys with a songwriting or Best New Artist nod, or even something in a more niche album category. But Simpson shot right to the top of the heap, even if he doesn't quite think he should be the one taking one of the five slots in his category. In an interview with The New York Times after nominations were announced, Simpson says of his being nominated with four industry stars,
I really, really wish, honestly, and no [expletive] — I would've liked to see Frank Ocean's name where mine is. But that's not my place to say. I totally understand [his protest]. I just thought that record ['Blonde'] was really groundbreaking. I listen to just about everything except country music, so it's strange.
Luckily for Sturgill who gets nominated and who doesn't wasn't up to him so he stays with the big dogs. He may not even be able to attend the ceremony as he and his wife have a baby due right around early February when the Grammys are held. Whether he goes or not — and wins or not! — the singer and his band are already thinking about the next stage of their careers after the awards are given out. Simpson was planning on taking a vacation before his next major project but now admits,
I had completely planned to take the next year, or possibly 18 months, completely off. I was so certain that when the tour wrapped up, we were done. But it might be a good idea to go play some shows again, I don't know, given how many millions of people are saying, 'Who the [expletive] is Sturgill Simpson?' as of this morning.
As to whether this nomination changes his perspective on those country music comments from earlier in the year? Don't count on it.
I said what I said. I don't really think it has anything to do with whatever this is. I'm not sure what I represent; I just want to make art. If they wanted to recognize me one day, that's great, too. If they don't, it doesn't change how I'm approaching my career at all.

This is much bigger than me. This is everything. Just being nominated in that field — I'm trying to maintain some perspective…I'm not going to second-guess it. I certainly don't want to use this opportunity to vent negativity in any way. It's a really good day for me and my band, after a lot of hard work.
"Who the [expletive] is Sturgill Simpson", indeed.
(via The New York Times)