The 2016 Grammy Awards were supposed to be Kendrick Lamar's coronation. With the Compton rapper receiving 11 nominations — by far the most of any artist that night — the Recording Academy seemed ready to start atoning for decades of sleeping on hip-hop's sonic innovation and commercial ascendence. But once the awards were handed out, the evening's ceremonies ended up being a career high water mark for an artist close to Lamar's total opposite: Taylor Swift.
Though no one knew it at the time, the 2016 Grammys marked the tail end of Swift's reign as America's sweetheart, before people began to associate her with snake emojis and "I Love TS" t-shirts. Opening the televised broadcast with a performance of "Out Of The Woods," Swift would end the night with three trophies, most importantly with 1989 taking the Album Of The Year title over Kendrick's To Pimp a Butterfly.
For an artist who had spent the better part of the past decade working her way from child country star to the center of pop, her televised acceptance speech for 1989's win offered her the chance to define the significance of her career on her own terms. After a quick thank you to her fans and collaborators, Swift claimed her status as the first woman to win the Album Of The Year award twice for feminism, telling young women not to let other people (presumably men) take credit for their success or deter them from reaching the top of their fields. A few years removed, with Harvey Weinstein and Dr. Luke's predation now common knowledge, Swift's comments seem like a prelude to the #MeToo movement, emblematic of the generosity with which she always treated her fans.
At the same time, she also set in motion a fall from grace from which she has yet to fully recover. Though she did not call him out by name, Swift's shot at those who would take credit for her accomplishments "or fame" — delivered with what appeared to be physically-evident anger — was universally interpreted as a shot at Kanye West, whose recently released "Famous" on The Life of Pablo contained the already-notorious lines, "I feel like me and Taylor might still have sex, why? / I made that bitch famous."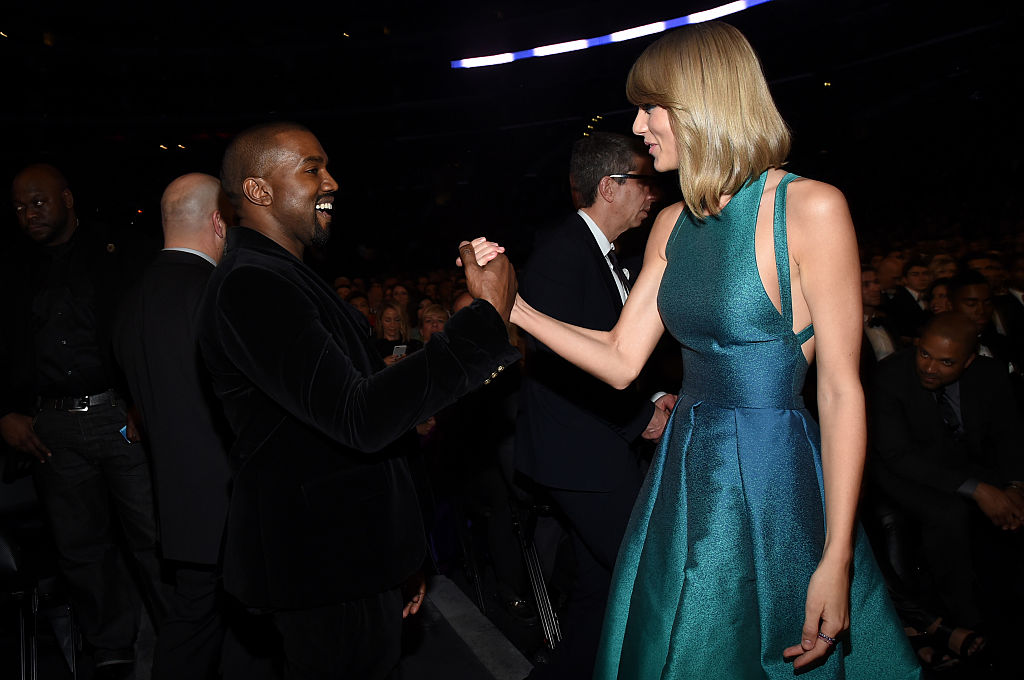 While the aftermath of the speech was well litigated on Instagram — and the ephemera of which underpinned Reputation's marketing campaign well over a year later — what was underplayed at the time was how Swift's delivery of that speech played into some her worst instincts and her cynics' harshest claims about her. If you were someone who thought Taylor Swift's professed feminism was just a wedge for her to boost her own career, or more alarmingly, sideline artists of color, that was there in the speech. If you saw in Swift someone who still insisted on using a spent feud with Kanye West to play the underdog, an uncharitable interpreter could find evidence of that as well.
If Swift had avoided alluding to Kanye that night, it's easy to imagine an alternate history where she rode off into the sunset for a year or two, backlash-free, reemerging with an album bigger than 1989 and free of Reputation's themes of alienation and bitterness towards the media. That Swift wasn't able to restrain herself from doing so speaks to a self-destructive impulse that, strangely enough, mirrors Kanye's, who remains notorious for bad decisions made at awards shows in a way that Swift does not. If the Grammys helped make Taylor Swift into the juggernaut she still is, they also provided the platform for her to start tearing herself down.
Taylor Swift's relationship with the Grammys dates back to her self-titled debut album, the strength of which earned her a Best New Artist nomination back in 2008. Just two years later, after releasing Fearless, she became the youngest artist ever to win Album Of The Year and spent the primetime telecast duetting with Stevie Nicks for "Rhiannon" and "You Belong With Me." Swift's songwriting and public relations skills were so sharp during this period that when industry blogger Bob Lefsetz criticized her singing during that performance, Swift fired back with "Mean," a song that not only went three times platinum but also won her two Grammy Awards in 2012.
By this point, she had become a reliable fixture in the broadcast portion of the awards, using her now regular slot to skewer the accents of her exes and bring excellent deep cuts like "All Too Well" to a wider audience. When Red was unable to translate any of its four nominations into wins, Swift began her long campaign to completely dominate the Grammys and top Fearless' award season success.
Speaking to an audience largely made up of music industry insiders at a Grammy Museum performance, Swift discussed her disappointment with Red's loss in the Album Of The Year category. "I remember not going to after parties," she recalled, "I went home and cried a little bit, and I got In-N-Out Burger and ate a lot." Her speech covered many of her favorite themes: a sense of being slighted, lingering anger at Kanye West ("You can be like, 'I'm going to take the mic from whoever won it.'"), and the internal drive that allowed her to make what is still likely this decade's best pop album, 1989.
While telling awards show voters, "We don't make music just so we can win a lot of awards" is a savvy way to help your music win a lot of awards, the sentiment appeared to come from a real place of recognizing how Red's lack of sonic cohesion cost it votes in 2013. Her work was rewarded in 2016, with 1989 towering over that year's Grammys, completing her takeover of the industry establishment. Taylor Swift was never exactly the plucky outsider she played on TV, but she succeeded on a scale unimaginable anyone who started following her when she had teardrops on her guitars.
So why did Reputation's lead single — the album itself was released after the cutoff date — get shut out this year? It's not as if the Grammys had it out for Swift in 2017. "Better Man," the Little Big Town song she wrote, got a nod for Best Country Performance and serves as a compelling teaser for the "back to her roots" album that's sure to follow Reputation. "I Don't Want To Live Forever," the iffy Zayn duet she penned for Fifty Shades Darker, will probably lose to "City Of Stars," but it was so dominant on radio and streaming services (it's currently more popular on Spotify than any song from Reputation) that Grammy voters likely felt obliged to acknowledge it in the Best Song Written For Visual Media category.
Given the industry's willingness to recognize her achievements past and present, the simplest answer might be that "Look What You Made Me Do" simply wasn't as good as what listeners and the industry alike have come to expect from a Taylor Swift lead single. Since Taylor has begun album cycles with the likes of "Love Story," "We Are Never Getting Back Together," and "Shake It Off," fans and detractors could reasonably expect her to roll out another one of the decade's best and most ubiquitous pop songs. This was obviously not how things played out.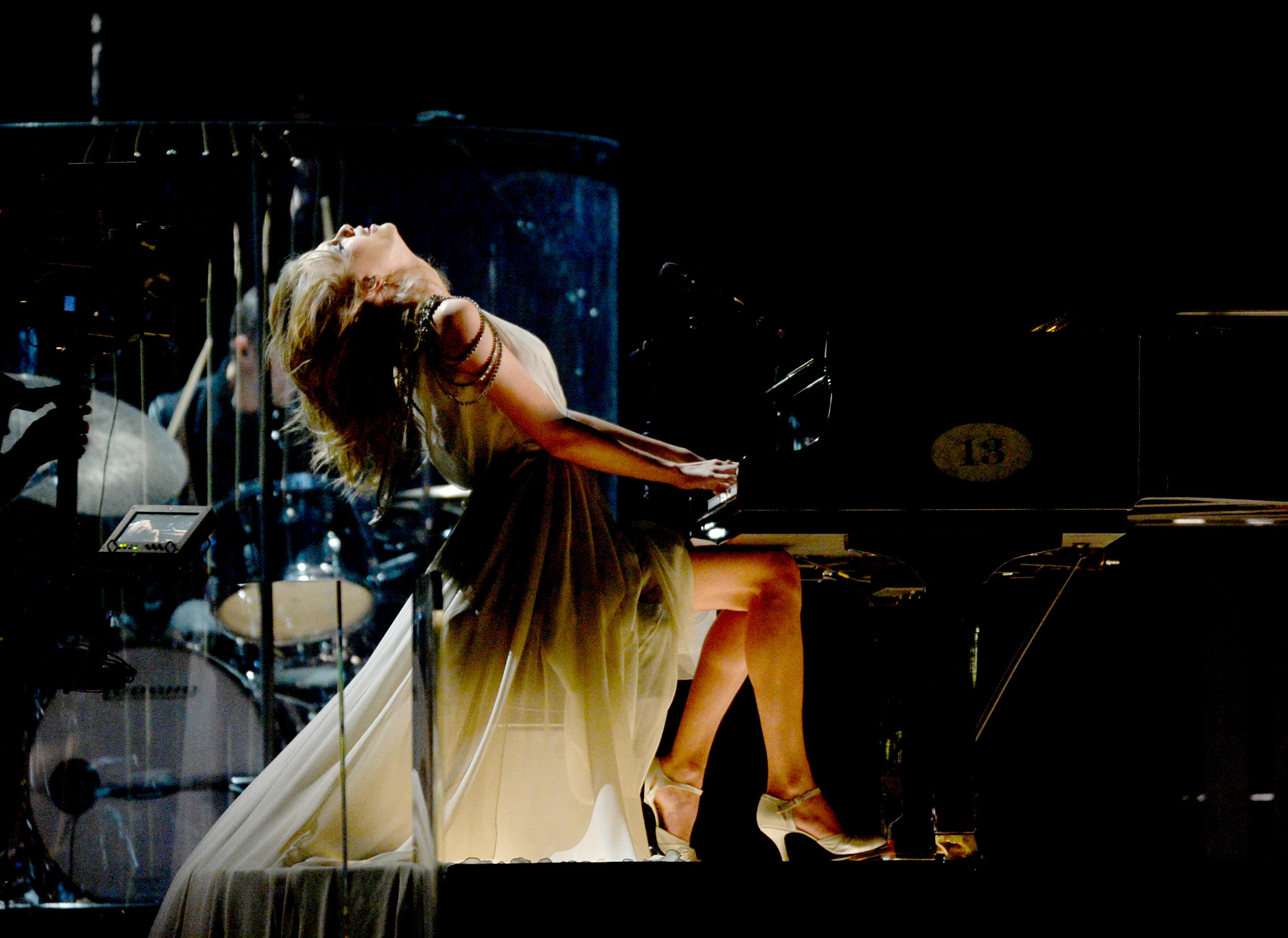 While the song and music video smashed online consumption records in their first 24 hours, the track also got attention for how quickly it fell down the charts. Amid reports of slower than usual ticket sales and weak chart performance for Reputation's other singles, it seems like alienated Grammy voters were just more casualties of her decision to release a song so confrontational yet underwritten. Taylor Swift is one of the pop's best chorus writers, and for her to jettison her traditional sense of uplift with an interpolation of "I'm Too Sexy" — and then use it to shape the public's reaction to the body of work to follow — now seems short-sighted at best, if not downright inexplicable.
There's also a larger factor hurting Swift's Grammy chances both this year and likely next year as well when Reputation comes up for full consideration. After Frank Ocean's "Colin Kaepernick" moment of not submitting Blonde and the backlash to BEYONCE's loss to a minor Beck album, it seems like even an institution as notoriously sclerotic as the Grammys is being forced to acknowledge hip-hop's cultural pervasiveness. As much as she tried to co-opt everything from Travis Scott's Xanned-out phrasing to FKA Twigs's breathiness on Reputation, there was no way for Swift to create a product as compelling as those artists when she was on their turf.
At the same time, the Max Martin-driven pop Swift rode to global success is on the way out in favor upstart rappers whose pace of recording a carefully managed superstar like Taylor Swift couldn't possibly keep up with. Pop superstars from The Beatles to Madonna have always borrowed ideas from the underground, but our current moment seems like a uniquely poor fit for Swift's skillset. In retrospect, hiring Max Martin and Jack Antonoff to replicate what teenagers were coming up with on Soundcloud was never going to cut it.
At the rate she's going, Taylor Swift might well end up being her generation's Eminem, a once inescapable artist who still sells buckets of records to his core fanbase and headlines festivals well after his pop moment mostly faded. That's a career path almost every other musician would kill for, but for someone whose ascendance was partly defined by being robbed at awards shows, having her marquee single overlooked by the Grammys must be unsatisfying. And for all the backlash to "Look What You Made Me Do" and Reputation as a whole, the album still far and away outsold every other project released in 2017.
If her past is prologue, Swift likely still has a few pop tricks left up her sleeve — she's too skilled a songwriter and too studious an observer of pop culture to cede her moment without a fight. If that prediction holds, the Grammys will likely follow her, a few steps behind, ready to mark the comeback of an artist who might finally be the outsider listeners connected with in the first place.