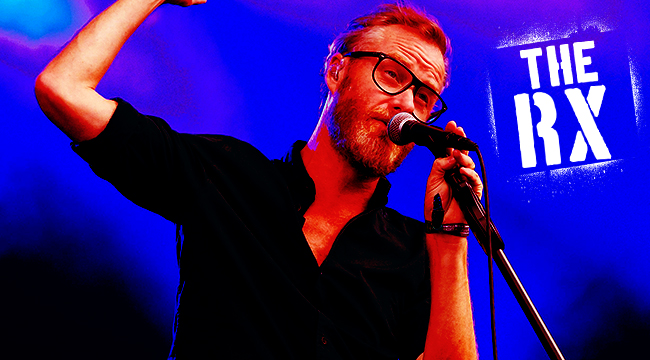 The RX is Uproxx Music's stamp of approval for the best albums, songs, and music stories throughout the year. Inclusion in this category is the highest distinction we can bestow, and signals the most important music being released throughout the year. The RX is the music you need, right now.
For most bands in a similar position as The National, who are approaching 20 years of activity with accomplishments ranging from winning Grammys to performing for President Obama, the inclination could easily be to rest on their laurels. But The National have never been "most bands," and despite a reputation for consistency, that high-bar of quality is tempered by the need to keep pushing themselves into unfamiliar waters. Each album from the indie icons has sounded definitively like themselves — cinematic, ornate, witty, insightful, reflective — but no record has sounded quite like the last, either. The five men who make up the core of The National are guided by a restless creative spirit, and that has resulted in some of the best indie rock of the century.
But on their latest album, I Am Easy To Find, the idea of the band as these five core dudes redefines itself. First of all, anyone that's seen The National in the last ten years knows that the band's central figures — mercurial frontperson Matt Berninger, guitar-wielding brothers Aaron and Bryce Dessner, and the extraordinary sibling rhythm section of Scott and Bryan Devendorf — has long been expanded to include horns, additional percussion, and even the occasional guest vocalist. Berninger's wife, Carin Besser, has been credited for helping shape her husband's lyrics for several albums, while people like Sufjan Stevens, Sharon Van Etten, and Annie Clark have all lent a hand at some point.
But never before has The National felt more like a collective than a proper band as on this latest, with a host of female counterparts joining the fold to sing on the album, including Van Etten, Gail Ann Dorsey, Lisa Hannigan, Eve Owen, Mina Tindle, and This Is The Kit's Kate Stables. The set-up reflects how The National has functioned for a long time, as a more fluid concept than a traditional quintet, on a record that's impressive ambition is matched by its execution.
Even referring to the set as an album doesn't quite ring true. I Am Easy To Find is more of an art project, released in conjunction with and created as both inspiration for and a reaction to director Mike Mills' film of the same name. Speaking with Mills by phone, the Beginners and 20th Century Women filmmaker explained that he cold-emailed the band as a fan asking if they wanted to collaborate on a music video for Sleep Well Beast, with Berninger responding that the band might want to do something a bit bigger. This led to what Mills calls "an open-ended collaboration," where the band sent him unfinished songs and musical ideas, with him tasked with imagining where the songs might end up, and how to create something to accompany them. "A whole life," Mills said, "that should be able to fit whatever they come up with."
The film and the album ultimately work as both whole and separate entities. The former, starring Oscar winner Alicia Vikander in a remarkable performance that spans childhood to old age, uses The National's new music to underscore emotional swells, while the latter's employment of a host of female voices comes directly from the need to have Berninger not be the only singer featured on the movie. "It was about this one character, and how she's made up of all these voices," Berninger explained by phone. "Her father's voice, her son's voice, her mother, all of these things are what make us who we are. So the voices became these layers of colored cellophane that you laid different parts over each other, and that kaleidoscopic blurry new color is what makes an individual, a unique mind, a unique soul."
Though it's easy to imagine some criticism regarding a male director and a male band tackling a story with a woman at the center, Mills admits that the project has to acknowledge that it is a male's perception of a woman, and would never attempt to show how a woman would perceive themselves or another woman. "A man looking at a woman has a history and a politics and is devastatingly great at getting it wrong," Mills said. "All good intentions can go very wrong there. I have a personal take there where I grew up in a family with a very strong, really interesting, and cryptic mother and these really intense, strong older sisters, 10 and 7 years older, who were already adults. And a closeted gay dad who was very sweet but also not really there. So, I grew up in this dense female soup, watching women and trying to understand women. Trying to do right by women. So, writing female characters is more comfortable to me than writing male characters, or it feels more familiar to me."
"But that's fraught with getting it wrong," he continued, "and my wife and female friends will be the first to tell me how I got it wrong or how I made presumptions or how I treated the character too gingerly. But I'm just very drawn to working with female actresses and it's not something that I'll be able to stop thinking about or doing, because my first love and relationships were with these strong women."
Whether he is successful in the endeavor will largely depend on the viewer, but what's undoubtedly true is that the album and film come from an empathetic desire for connection. There's a focus on how we can see ourselves in the experiences of others, and how the person we become begins before we can remember and can ultimately influence the lives of countless others around us. Musically, it's just wonderful to hear Matt Berninger find new ways to collaborate within the record, at times disappearing completely only to reemerge and find previously unheard harmonies with his counterparts. The band might see this album as a logical step, but for those on the outside, it can often feel revolutionary; a fully-realized version of an already great group that is still discovering new ways to present themselves.
Uproxx caught up with Berninger to discuss the album and the film, and even got a brief appearance from Besser. In the edited and condensed conversation below, Berninger also touches on his relationship to the music of The Strokes and his reaction to people's characterization of his music.
This is the first National album in a very long time where I feel like it caught a lot of people off guard. That there's another album coming out so soon after the last.
Matt: And it's a different kind of album. I don't think of it as not representing us, but I've always felt like we were a different kind of band than how we are talked about, so this record doesn't feel like a huge leap to me. But it will to some, because there are so many voices other than mine on it. I've always felt like there's been a lot of voices other than mine already in there, just because I've been writing with my wife, Carin Besser, for so long.
So it feels like a pretty natural step for us, for this band and this big group of people that's more than just these five guys.
When you said a lot of people think of you differently than how you think of yourself as a band, are you just referring to the "five guys" aspect?
Matt: Yeah, five guys. Obviously, me, what I'm all about, which is so fun to have people have opinions on you. I'm lucky.
What opinions do you think people have of you?
Matt: I think boring, mumbling, mopey, depressing folk rocker. The things that sound like insults, like dad rock — I like that. I like a lot of dad rock music, and even when I was a little kid, I liked the music my dad liked. Willie Nelson's Stardust is a fabric of my DNA, because of my dad, my dad's rock, or whatever. And I'm a dad, and I've been a dad for 10 years. I was writing about becoming a father way before I was, becoming a husband way before I even met my wife. "Slipping Husband," I wrote that about myself way before I met Carin.
So, that doesn't bother me. I mean, I don't mumble that much, and I sing in lots of different registers. And I think I'm kind of funny, funnier even in the records. I'm not as funny as I think I am, but I'm funnier than other people think I am.
There's something I've noticed about the band over the last few years. I feel like The National have made an effort to include more women, even before this new album. Particularly when you see the festival you did in New York or who you've chosen as touring partners. As a band of white men, do you feel like it's a responsibility in your position to include these different perspectives?
Matt: I don't know if we've ever thought of it as a responsibility, but maybe it is. We have made an effort from way back to try to tour with women and have more women on part of our crew, and our tour managers are women. We have less women than we should probably have. But we have a lot of women on our whole team, and our publicists and lawyers and all this kind of stuff. I guess we've made a conscious effort, but also, they're the best people, too.
But as far as people we've had come and open for us and stuff, yeah. We've been doing that for a long time, just because we all felt like it was good for everybody. Just to have more women around, and we also wanted our shows to be not so dude rock-y, because it is. When we get on the stage, and then there's Kyle [Resnick] and Ben [Lanz] and then Kevin Newsome, who was with us, it's like ten dudes or eight dudes up there all the time. It is a lot of male perspective.
I get it, because it's like, I write about that a lot, and I write about it self-consciously, or at least consciously being a white man, and all the stuff that comes with that. The privilege and the self-loathing. Even being a heterosexual white man, all that package, I wear it fine. I guess it does suit me. But I'm really aware of the package. I'm always trying to understand myself, and understand, why am I this way?
Anyway, there's a lot of that sh*t. There's an hour and a half of that once we take the stage, so it feels like a little something else to balance it out or just different perspectives was really important to us. Both from the show's perspective, but also just on the buses and the backstages. And we've been so lucky with all the incredible people that we've had open for us that have come along and done this. We've done these amazing shows with heroes of ours, like Cat Power and The Breeders. So, it's been somewhat conscious, but it's also that these are the people we want around because of the art, because they're the best at it.
I guess the converse of that question, particularly with the film, is whether men can do a story centered so much around the female experience the justice it deserves, and how do you ensure that the subject matter comes from a place that feels true and authentic?
Matt: You say that literally as my wife and daughter sneak into the room to get her dressed. Carin, do you want to take this one?
Carin: I think that for me, I've thought, clearly this is something Mike Mills has figured out how to do, in terms of the filmmaking, and just watching Alicia's performance, you can just tell how much he likes to set the stage for another artist to be able to do what they do. I think this band has always functioned in a similar way, and been really encouraging at all kinds of contributions. You get left alone to do what you do, and then they find a way to put it to use. I think they've just learned how to be so good at working, at bringing in other perspectives and other minds.
Matt: Like who? Which minds, Carin? Give me an example. [laughs] But from my perspective, Carin has been writing with me since Boxer, and a little bit more each record, but this one, definitely. She jumped in with all three feet, and she wrote several songs. Mike didn't necessarily pull her into it, but he invited her into the thing he was making. Also, the thing provided much more of an angle for Carin to just write a lot more, instead of helping me craft and helping me edit and solving little problems for me here and there. She actually was able to own a song herself and solve the whole problem herself, and create the problem for herself.
Something about the lens of the film felt very parental to me. The daughter through the lens of her parents, and then eventually her becoming a mother, and just knowing you as a father, Carin as a mother, and that Mike has a son. I found that to be intriguing.
Matt: I think that's a huge part of it. I think Mike and I and the whole band and everybody, Carin, we were also interested in this, because we all have children now. But everybody's seeing identities for them, and they're seeing their children become versions of them. They see themselves reflected, and they see their partners reflected. But they also see a unique something that was wholly their own.
So I think Mike was really obsessed with this idea of what makes a person a person? Why am I me? I've been obsessing about that forever. Then when you see your child becoming them, and how you see how flexible that is, and how much it can f*ck them up. But, also, how much you can fix it, and how much you can recover. I see how much one conversation with your child that's stern and laying down the law, how that can shape a child. Then another kind of conversation, where you get down on your knee and listen for a minute and hear what it is, what is really bothering them, instead of being strict about the temper tantrum or the cupcake. You actually hear it's about friendships, and they're nervous about not being accepted in their group of friends, and it's the same sh*t that you're probably nervous about at work. It's exactly the same thing.
[protected-iframe id="f8ded79ffa0a6328a3b57f7ab3b1d024-60970621-76566046″ info="https://open.spotify.com/embed/track/50DAgICmMnWaUVXQiLGlLx" width="650″ height="380″ frameborder="0″]
"Not In Kansas" is a standout on the new album, and it's one of those fun songs lyrically where there's lots of these pop culture references, which you guys have done in the past. You call out the first two Strokes albums, which I thought was almost a hot take. You've spoken tons in the past about being in The Strokes' shadow as an emerging band in New York.
Matt: Yeah. I always talk about the Strokes, and I do because it's sort of like the coolest guy in school. Even though they were way younger than me, seeing that band a bunch of times in the Lower East Side was so motivating and so electric, and the songs are just so f*cking great, and they were so cool, and it really made me so hungry to be awesome.
Then Interpol was amazing. They practiced right next door, and we got lucky to open for The Walkmen on a little tour and they were insanely great. But I guess why it always is The Strokes is because I kind of know the other guys and I've never met The Strokes, and they're still this mystery thing. So they're kind of like Leonard Cohen to me. Actually, I've met Leonard Cohen. I've never met the Strokes. So they symbolize something. Comparing those records to Coppola's Godfather films and Dylan's Infidels and "Heartbreak Beat" by the Psychedelic Furs and The Bible, it was my way chewing on my own experience of being raised Catholic.
Listening to records in my basement, I felt I learned how to be a good human being, a person with empathy and love, to be accepting of people that were different than me, and be accepting of people's shortcomings and patience. I learned about mental health, about depression, about sex. The awkwardness of sex too, not from Led Zeppelin or Motley Crue. I'm learning about that from The Breeders. Or Nina Simone. Roberta Flack was teaching me about sex. I feel like I learned so much more stuff about how to be a good human than I did in from the Bible and my Catholic upbringing and spending time on my knees in church.
So to me, every document's indelible. I mean that literally, very seriously, that I'm not dissing the Bible. In my case, I'm saying the Bible is as important to me as rock and roll. Well, no, it's not. But I get it. I get how it can be for other people. Rock and roll is my Bible.
"Rylan" feels like it fits so well with the material, and what's going on with the film. It could be a direct response to the film, even though it is quite old.
Matt: It was funny because there are parts of that song that were recorded almost nine years ago. So, that's just been slow cooking. We never quite could figure out how to get it to work on a record. We did different versions of it, we played a bunch of live versions on the radio. It was obviously a song we've always liked, and I think fans really reacted to that. That made us have more faith in it than maybe we would've without. We pay attention to some of the reaction we get from the audience. We're not impervious to try to give people what they want. We want to give people what they want a little bit, and if we can, also give ourselves what we want.
With the film Mike did, he presented a film with a nameless embodiment of a person, and then we had this song that was just a name, an androgynous name, attached to a loose description of a young person. It was not necessarily male or female. It was like, these are made for each other. I don't necessarily think of specifically Alicia's embodiment and that character in the film as Rylan, but that might happen now. That's cool. They lock together now, and they become the same thing, and it's starting to already with me. That's what I'm saying, how a song that's 10 years old finally finds its right embodiment, on a record or maybe in a film.
My last question doesn't have anything to do with the album or film. Listening to the Coffee And Flowers podcast that you guys participated in, during the "Fake Empire" episode where they were discussing the lyrics…
Matt: I know what you're talking about. Yeah, what is it again?
I feel like everyone thought the lyric was "Let's not try to figure out everything at once."
Matt: It is. "At once." It's A-T space O-N-C-E. Yeah.
Yeah, the podcast was saying that the lyric was actually "Let's not try to figure out everything it wants," which felt like a much worse lyric.
Matt: I even commented on there, even called in, logged into their thing to tell them that the internet is wrong. There's a whole bunch of lyrics that if you Google, it's not right. It's the same everywhere, so it's like, clearly somebody wrote it one way, and everybody else just copy and pasted it. There's so much information that's like that out there, where it gets printed once, and it just gets regurgitated to the point where you don't know. It's about a silly lyric, but that happens in Washington.
Look what's happening with the Russians and our government. That's what's going on. What is real? It's so funny. We were writing about all that stuff with Karl Rove and Sleep Well Beast on "Walk It Back" But it's really funny how even in such a minuscule, insignificant way, false information can just become the truth, or what people think is the truth. But, you were right all along.
That's a very reassuring answer for a lot of people.
Matt: I was like, really? It's upsetting people? But yeah, it's funny. It bugged me. I was like, why is it written that way? That's not what it is. Anyway, hopefully Uproxx will clear it up for the universe.
I Am Easy To Find is out now on 4AD. Get it here.