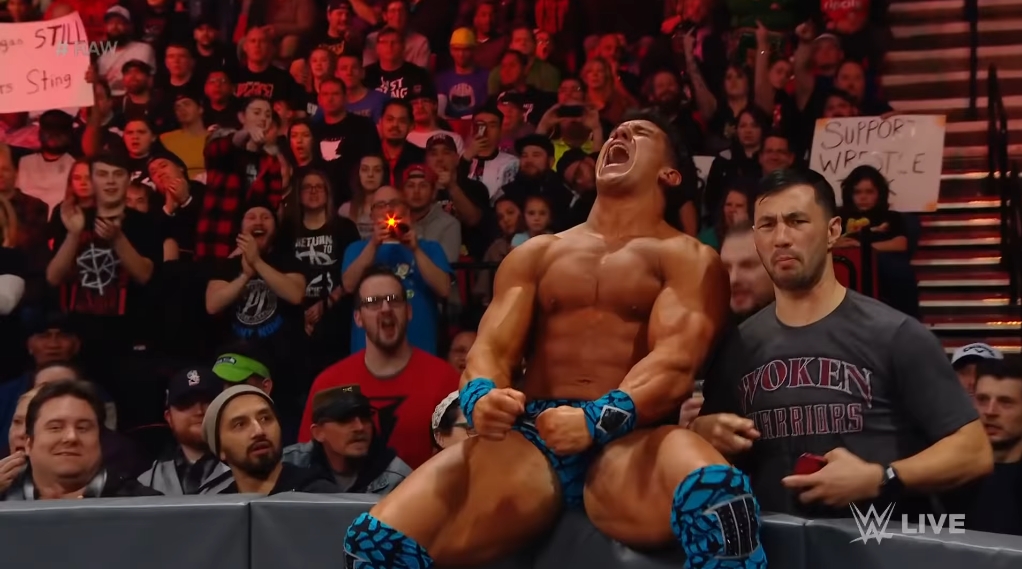 Previously on the Best and Worst of Raw: Dean Ambrose and Nia Jax started a feud somehow, Seth Rollins got six F-5s from Brock Lesnar, and Becky Lynch Trollfaced while Ronda Rousey pretended to be a Dragonball villain.
Remember that With Spandex is on Twitter, so follow it. Follow us on Twitter and like us on Facebook. You can also follow me on Twitter. BUY THE SHIRT.
? Hey you! ? If you like these, please consider taking a second to hop over and vote for us as Best Wrestling Media in this year's RSPW Awards! It'd be super nice of you!
One more thing: Hit those share buttons! Spread the word about the column on Facebook, Twitter and whatever else you use. Be sure to leave us a comment in our comment section below as well. I know we always ask this, and that this part is copy and pasted in every week, but we appreciate it every week. It's almost time for the two unnecessary pay-per-views between Royal Rumble and WrestleMania!
And now, here's the Best and Worst of WWE Raw for February 4, 2019.
Best/Worst: WWE Raw As 2019's Best Illustration Of Health Care In The United States
In a vacuum, this segment really works. Becky Lynch is supposed to be the new Stone Cold Steve Austin, down to the knee brace, so at some point you've inevitably got to pivot her against "the authority" (even though the authority is supposedly We The WWE Universe now) to build some drama heading into WrestleMania It's not a bad idea to lean on the reality of Lynch missing her Survivor Series match with Ronda Rousey due to unexpected injury and showing her openly afraid to get looked at by a doctor again because she doesn't want a freak knee injury to make her miss an even BIGGER match with Ronda. It's human drama. It's a little ridiculous that Becky won't "go to the doctor" with the maximum amount of time available before WrestleMania and at least attempt to avoid surgery and be medically cleared before deciding it's make or break, but in the interest of being compelling in favor of real-world logic, sure, this is all fine.
The issues come up when we realize we've seen these characters before, know how they act, and understand they're suddenly being written for a casual audience that won't be paying that much attention. The biggest offender here, of course, is Ronda Rousey, who suddenly talks like a Mallrats character (cramming as many words into a sentence and speaking as quickly as possible) and chides Becky for the "unprofessionalism" of attacking Stephanie McMahon.
"Can you two testosterone-seething, he-man, comic book fans finish up with this display of tough guy back-and-forth? I have some questions that need answering!"
But seriously, Ronda Rousey — the woman who spent her first few months in the company attacking Stephanie McMahon for applause and in-canon only really works here because she beat up Stephanie at WrestleMania 31 and got roped into a behind-the-scenes manipulation plot — gets mad at Becky Lynch for attacking Stephanie McMahon instead of "selling OUR pay-per-view." Ronda Rousey, who takes every imaginable opportunity to point out that she's a real fighter in a fake fighting promotion full of fake fighters, gets mad at WWE's most popular wrestling character and current anti-authority figurehead for … not being enough of a corporate team player? Ronda needs to chill on trying to sound smart in promos with the increased word-count and learn how to say something that sounds like it makes sense and she means it. Promos are the only really weak part of her game, and I appreciate that at least the problem seems to be her trying too hard instead of not enough.
The suspension of Lynch is a good way to get her some time to rehab before the important shows start happening (we certainly don't need to wear her out at Elimination Chamber and Fastlane), and probably a good idea given that the brand split is still a thing and it doesn't make sense to send Becky to Raw every week. Overall it's good work that, again, works best if you don't think about it too much or remember things.
And hey, in an additional positive note, how great is it that WWE has finally built up its women enough that Stephanie McMahon can occasionally get punched in the face by someone she's screwing around with without it being weird?
Riott-Wing Media
Continuing the "Best/Worst/Question Mark" theme of the episode, Ronda Rousey has a match with top-tier opponent Liv Morgan and wins with an armbar after repeatedly punching her in the stomach. Does she have diverticulitis, too? Liverticulitis? Anyway, it's about how a Ronda Rousey vs. Liv Morgan match should go, is slightly more competitive than Liv's attempt to defeat Asuka, and Liv completely stops selling the second the match is over (unless "seeming like she's extremely high" is selling) so it barely matters.
That leads directly into …
… which is … better? It's still not very long, and is still really only happening to show that Rousey's a dominant physical force (in response to promos that honestly make her look a little more beta than they should). It's awkward at times, but Rousey's armbar transitions are pretty cool, and I like the added touch of her just hammer-blowing the shit out of people before putting them in submissions. Knocking people out was never what Ronda was known for, but pro wrestling allows you a chance to sand down some of those edges.
If you'd like insight into how important these matches felt, I wrote up the results for the episode and originally forgot to include them, because they'd happened two hours ago and I'd completely forgotten.
Elimination Chamber SHOCKER
In other women's division news, Sasha Banks and Bayley qualify for the Elimination Chamber match for the WWE Women's Tag Team Championship by defeating the "unpredictable" team of Alicia Fox and Nikki Cross. "Unpredictable" because they're the two "crazy" characters, and because they've somehow gotten a shot at a title opportunity despite having never teamed before.
Sasha Banks is reportedly dealing with injuries, but they've got to get the obvious winners into the Elimination Chamber, so Fox and Cross attack them before the match. Bayley's forced to wrestle the entire match by herself, with only incidental help from Banks on the apron or outside of the ring, and, you know, wins. Because Alicia Fox has an overall rating of 5, and Nikki Cross is in that six-pack of NXT stars who are either drifting between grands like mute ghosts or completely absent altogether.
Anyway, here's hoping the IIconics — possibly the least "extreme" team in WWE history — leaves the Chamber as champions, and get to hop shows while Bayley and Banks chase them into WrestleMania. Unless we're giving it to the very worst worker in the company (Tamina), a team that was almost broken up like a month ago (Deville and Rose), or the two women we just watched lose to Ronda Rousey in about 40 seconds total.
My Soul, Revival
Speaking of embarrassing tag matches full of teams that don't deserve to be there, the Raw Tag Team Division takes center-left for a fatal four-way number one contender match. The teams include Lucha House Party in their least acceptable Woods/Kingston combination of Gran Metalik and Lince Dorado, The B-Team (who still exist), and Heavy Machinery, who have only had one straight-up tag team match on the main roster — a win over The Ascension on Raw — but have somehow been given two shots at the tag titles on two brands without signing to either. Also, Heavy Machinery lost their last names, so now they're just "Tucker" and "Otis." No wonder they fired Tucker from NXT UK.
The winners are The Revival, who are now cutting passive-aggressive promos about those rumors that they're leaving. As fans, we're stuck in a weird spot where we're not sure if they're getting a push because they threatened to leave, if they're getting a push because that was always the plan and WWE worked us (somehow) by embarrassing them on TV for a full year, or if they aren't actually getting any kind of push, are going to lose to Bobby Roode and his excitable son again, and are leaving.
No matter what the truth is, The Revival is a way better tag team than anyone else on Raw, seeing them win is more of a "that makes sense" reaction than excitement, and I feel like everyone involved would be happier if they just sent Dawson and Wilder to Smackdown to have good matches instead of building the assembly line to the garbage can that is Raw's tag team division.
Best: Butterfly Effect
Interestingly, Raw uses that fatal four-way to branch off into two loosely related backstage segments.
In the first, Zach/Zack Ryder approaches Curt Hawkins and uses the fact that WWE misspelled his name on the chyron last week to illustrate how he's just as much of a loser as Hawkins. To illustrate this even more by accident, he (1) doesn't know the word "chyron," and (2) forgets how to spell his own name, too. So what's next? The Revival beats Roode and Gable, then immediately loses to the guy who only got on the show once all of last year and his tag team partner, the guy who lost 250 matches in a row?
In the second, Mojo Rawley continues his week-long project of screaming at himself in a mirror. Mojo promos are good-to-great (and better than they ever need to be), but I'm starting to get worried he got locked in that unexplained backstage Bray Wyatt/Stardust room where they make you cut a month of promos by yourself before they let you out.
Worst: Air Pod, Golden Receiver
The segment I'm making you watch now is Natalya accidentally giving Dana Brooke "the silent treatment" because she's wearing AirPods. It's the best "Natalya fails to have a backstage conversation" segment since her husband ignored her for some Burger King Chicken Fries.
Worst: Road Dogg Looks Like The 2019 Version Of Everyone I Went To High School With
From last week's column:
Is 'With My Baby Tonight' really the cultural touchstone WWE thinks it is? I mean, I know all the words to it because I'm a crazy pro wrestling loser robot, but is a New Generation Milli Vanilli country music gag from almost 25 years ago involving a pre-Road Dogg Road Dogg and Jeff Jarrett really a tentpole of nostalgia?
Welp, this week we're doing it again, and the crowd's supposed to get mad when a popular wrestler with a fun gimmick and great mic skills (Elias) interrupts two 50-year olds singing a pretend country song that was supposed to get heel heat 25 years ago? I don't know. I don't know why I'm supposed to cheer for the worst Armstrong while he dresses like a burnout 12-year old and says shit like "kick that shiz-nit doggystyle."
The best compliment I can give the Jarrett vs. Elias match (besides "it didn't happen on pay-per-view") is that Jarrett smartly decided to dress like WCW Jarrett instead of mid-90s WWF Jeff Jarrett. Silver Billy Gunn shorts aren't the epitome of fashion, but they look like one of Ric Flair's robes compared to the Suspender Chest. Also, Jarrett's got the best punches on the show in a walk unless Lawler wants to get back in there and throw hands.
It was fun and fine, and now hopefully we're done with it. Anyway, join us next week when Jeff Jarrett becomes WWE's first King of the Mountain. Trust me, it'd be no stranger than the record he actually set last night.
'A Moment Of Bliss,' The Family Guy Manatee Segment Of Raw
Haha, I'm not even sure this qualifies to be considered "best" or "worst." There's just so much going on. In this one talk show segment that never actually starts, we get:
EC3 continuing to be a mute for some reason
Alexa Bliss making sexy eyes at him, possibly because they're both from Ohio, which is the real life United States version of being a Divergent
Nia Jax interrupting again, for no reason, accompanied by her mom Tamina
Dean Ambrose showing up and saying Nia Jax attacked him last week because she has a crush on him
Ambrose, who is clearly depressed, pulls a Cena/Del Rio and asks EC3 a bunch of kayfabe questions he either isn't allowed to answer ("what does EC3 stand for," for example) or can't because someone told him to be mute
Ambrose failing to see the world's most obvious punch coming
an Ambrose vs. EC3 match
Bliss spends the entire segment sitting there like, "???," because everyone else who has a talk show segment at least gets to do a talk show segment before half a dozen people show up and ruin it. As for mute EC3, it's weird, but it could be worse; he could be the pee-pants guy setting up Rezar vs. Apollo Crews matches during backstage segments.
The match is fine — a theme for tonight — but Ambrose is now wrestling entire matches like he doesn't want to be there. The best illustration of that is the finish, in which EC3 jackknifes over into a pin, and Ambrose can't even be assed to wave his arms around like he's trying to kick out. He just lies there motionless like he's been knocked out, then makes Michelle Tanner "oh no" faces when he loses. It's the Nikki Bella thing, where they're super enthusiastic and into it if they're gonna win, and not if they aren't.
On the positive side, hey, EC3 won a match on Raw! And that Deviant Michael Hutter namedrop from Corey Graves was sterling. Let's start letting The Carter talk and be a normal character, and not a "mute Chippendale's dancer" or whatever. Better idea, pair him back up with Drake Maverick and +1 both of them.
Best: The Man Of The Hour Who Does EXTRA Hourly Things!
Have I mentioned Raw's too long? Raw is too damn long.
They advertised an Intercontinental Championship match between Bobby Lashley and Finn Bálor, but that turns into a non-title match between Finn and Lio Rush. I'd complain about the bait-and-switch, but I don't think anyone's disappointed at the lack of a Bobby Lashley match. Plus, I think this match goes a long way toward explaining how cruiserweight wrestling could work in WWE; you have to create them as fully-formed, engaging characters that just happen to be lighter, and then feud them with another fully-formed, engaging character. And don't separate them into a purple thing on a different night, just put on good matches with good wrestlers for good reasons.
This was my favorite match on the show, and I appreciate Finn going one-on-one with Rush like he would with Lashley. They have him "injured" to make it a little more believable, which is probably necessary, but Rush is fucking fantastic in the ring, and is the exact kind of notable enhancement talent you should have in there going 8-10 with your Also Good At Wrestling top guys. This was so much better than any Finn vs. Lashley match is ever going to be, and that's not really Lashley's fault. It's just a better and more believable match. Anyone who has a problem with "believing" intergender wrestling and thinks 3-foot-3 gentle baby Finn Bálor wouldn't just get shoot murdered by Bobby Lashley five seconds into a match is tripping. It's all in the same ballpark. If you read that and your brain was immediately like, "well, Finn has magical demon powers, and wrestled in Japan, and etc.," congratulations on realizing wrestling's not real and it's why we often and casually accept tiny guys beating giants.
Worst: Oh Lord, The Main Event
I am at a loss here. I really don't know what to say.
Earlier in the show, Kurt Angle shows up and tries to retire because his last couple of matches have been embarrassing and he doesn't want to go out like that. Instead of just letting a guy they hate retire, Baron Corbin and Drew McIntyre show up to goad him into another match, so they can … beat him and make him not want to wrestle anymore. Sure. Angle gets saved by Braun Strowman, and that sets up a main event that's basically four Nerf footballs in a garbage bag.
Nobody's benefiting here, man. Angle's entire … uh, angle, is that he realizes he sucks now and doesn't want to keep sucking. Everyone else is like, "aw, c'mon man, you suck, keep at it." Baron Corbin is basically a stuffed animal at this point following him being the scapegoat for every problem Raw had in 2018, and he's still dressing like a waiter. Drew McIntyre talks a good game and is always soaking wet and QUIVERING WITH RAGE, but he seems like he loses all the time, and no amount of after-the-match attacks makes him less of a loser. Then you've got Braun Strowman, who might as well be wrestling in bubble wrap they've softened him so hard. He's just an ineffectual guy with no momentum who always loses the big one and isn't really good for anything (as a character) besides wacky stunts. He's like Shane McMahon if Shane lifted weights instead of jumping off things.
They have a match, and it ends in a disqualification when Braun Strowman, who is not the legal man, punches Baron Corbin, who is. That's it. It's a tag team match where you get disqualified if you fight the other team. More directly, it's one of those WWE "this is how we're ending the match and we don't care if it doesn't make sense, because if you think about our show too much we hate you." The heels try to get their heat back after the match, but Strowman jumps in and saves Angle again, beating up both heels.
It's … not great. Any of it. I really don't know.
AND THAT'S RAW.
Best: Top 10-ish Comments Of The Week
Harry Longabaugh
Charly hasn't been this vicious since Khe Sanh.
Much like Sara Del Rey did for women's wrestling, Boomhauer is killing it as the new head coach at Ronda's promo class.
Pdragon619
"Strowman you used to be the hottest thing in WWE and then became a huge loser who can only get matches teaming with a half retired old man. Where do you think things went wrong?"
*Strowman flips a car out anger*
"And how does it feel to know you can flip cars, but can't flip your career back on track?"
Big Baby Yeezus
If Baron Corbin was any more boring, he'd have to legally change his name to Super Bowl 53
The Real Birdman
I wonder if Karen Jarrett is watching at home like: "I told both of them they don't have it anymore"
AddMayne
"My name is Elias. I speak for WithSpandex."
Ron Howard: This is Dean Ambrose.

For nine years he's worked for a sports-entertainment company waiting to be the guy. And right now he's happy.

He's been blown up by TV sets, squirted people with ketchup and mustard, brought out a wheelbarrow of weapons only to not use it, and gotten butt shots on live television.

So, why is Dean so happy? Because he's decided to never speak to these people again.
Martin Morrow
These Mojo promos are good, can't wait to see them for the next 85 weeks in between him being in a random battle royal.
AJ Dusman
"Tell us about ECIII."
Just give him a fucking mic and he'll get himself over more than any announcer could.
Mr. Bliss
Charly Caruso: "So Road Dogg, you got winded just singing, don't you think you should just stay in the back from now on? Oh, never mind….hey, Natalya, were you really listening to music or did you just decide to ignore Dana the same way your husband ignores you? Oh never mind…hey, Finn, you failed to beat Braun and then post match he destroyed you and any credibility the match itself gave you, what's it like to suck? Oh, never mind….hey, Renee, is your husband really unhappy here or is he just tired of traveling with you? Oh, never mind….hey, Braun…."
Next February, Aelister Black wins the Universal Champion, wwe.Com runs headline "During Black history month, A. Black Wins Championship"
Clay Quartermain
Bayley's balloon men pop up during the brawl.
Alicia : "Were surrounded, run Nikki!"
LUNI_TUNZ
Some say Stephanie McMahon started men.
Thanks for reading, as always. You can help us out by dropping a comment below to let us know what you thought of the show, and by sharing the column on social media. If you're always skipping this section and never sharing, don't be mad in a couple of years when the only Raw reports you can find are just "here are some highlights from Raw" followed by a bunch of video embeds.
That said, we'll see you next week. Enter the 36 Elimination Chambers of the Wu-Tang Clan!