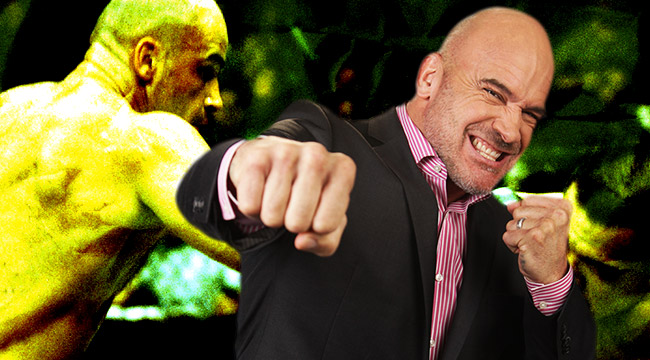 Joe Rogan and Mike Goldberg have been the longest-running and most recognized commentary team in the relatively short history of MMA, but right behind them is Bas Rutten and Mauro Ranallo. The Pride announcers, and arguably the two most everlasting and popular commentators in the sport, are getting back together on Inside MMA starting March 25. Back in the Pride days, they were two goofy commentators, doing their own thing. Following their own, weird drummer has led Rutten to be intertwined in the fabric of MMA, and Ranallo becoming arguably the most fluid combat sports announcer in the world, covering Mayweather/Pacquiao, Smackdown, Stikeforce, and Glory.
With these two monoliths of linguistic destruction joining forces once again, we tracked down former UFC heavyweight champ Bas Rutten to discuss the changes to his show, and MMA in general.
It's really cool to see that you and Mauro are getting back together. Is there excitement that you guys are feeling now starting this Friday?
Yeah, yeah, of course. Because although we did a podcast together, on camera it's always different. I'm really excited. Mauro has alway been one of these guys who has his own opinions and I have my own opinions, and many times his are different than mine. So that makes for good conversation.
And now with Mauro being a part of WWE his star is brighter than ever before.
Yeah, but he was already doing the biggest boxing, he's doing the biggest kickboxing, now he's doing the biggest pro wrestling. So yeah, this is a great lead-in to Inside MMA. Love it.
And it was you who suggested he come on to Pride, correct?
Well, they let Steven Quadros go and they asked me if I knew somebody and I met Mauro many years before that, like three or four years before that in Vancouver, and right away I knew that this guy had unbelievable talent. So I asked for his number. I said, "Listen, you never know. If somebody's asking me for a job I can pass your name on." And when it happened with Steven I didn't want to do it right away, so they got somebody in between, it was David Barry I believe, because I am a friend of Steven Quadros also. I didn't want him to think I set this up or anything, I didn't want any bad thing. So then they didn't like David Barry and they asked me, "Hey, are you sure you don't know anybody?" And I said, "Actually, I do, I hope his number still works." So I called him and left him a message and he sent in a video tape and that was it. He got the job.