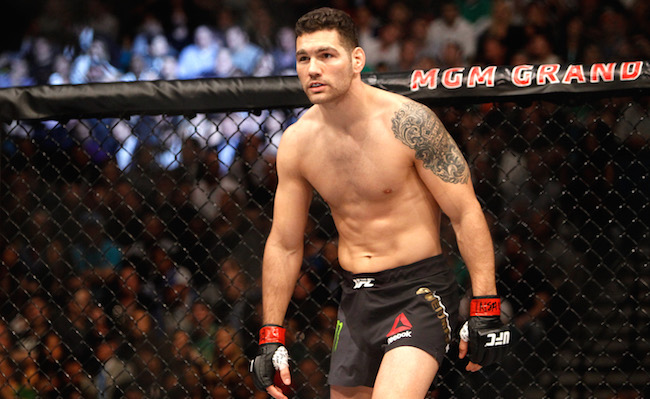 Former UFC middleweight champion and decorated trash can befouler Chris Weidman is out to prove his controversial UFC 210 loss was a case of being defeated by officials and not his opponent. He'd also like said proving to be sorted out sooner rather than later, thank you very much.
Speaking with Ariel Helwani on The MMA Hour, Weidman insisted that he was set to "dominate" Gegard Mousasi in their April 8 bout if it weren't for the bizarre fight stoppage that gave Mousasi a TKO win.
"I think I would have gone on to dominate Mousasi and even finish him," offered Weidman. "I want a rematch with Mousasi more than anything… That was a big fight for me to come back up in contention for the title, it was a great fight for me to showcase my skills and go out there and dominate him. That fight got pulled from me."
Weidman definitely has reason to be upset. Not only was the finish of the fight a mess, but it does plunk the division's former top fighter on a three appearance losing streak. With Michael Bisping pursuing money fights ahead of going through the middleweight pecking order, the risk of falling into irrelevance in the title picture is remarkably high.
Falling into the promotional margins is not something Weidman is expecting. The 32-year-old fighter says he's still en route to be where we wants to be in his UFC journey.
"I'm 100 percent on track to do everything I said I was going to do. I'm going to win the belt at middleweight and I'm going to go up to 205 and win the belt there after I dominate the middleweight division for a little bit – that will happen. One step at a time, first we have to fight whoever pretty soon and hopefully it's Mousasi and get that done. Hopefully, he steps up and realizes he doesn't win that way because it's bullsh*t. He was getting beat up and he knows it. Hopefully we can run that one back. He can prove he won the fight, if he can do that, and I'll have the opportunity to prove my side that I'm a better fighter than him."
That next step seems like to be that requested rematch, but that's not promised just yet. Still, a fourth straight loss in any capacity would be a major blow to the former phenom's trajectory. Who knows? Maybe that sort of thing might nudge him to light heavyweight quicker than expected.
(Via The MMA Hour)