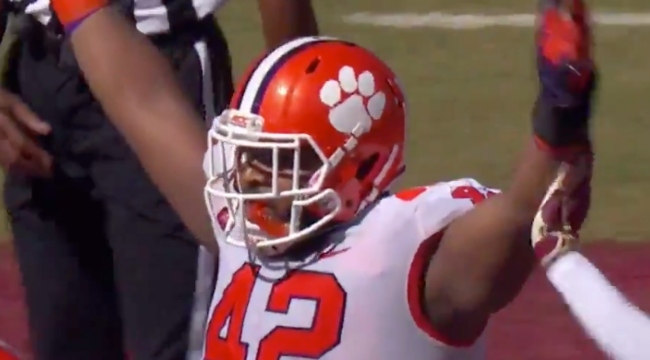 Football is a magical sport. College football is the most magical version of it, because at its best, it is prone to mix the high-level play that makes games easy to watch with the horribly disrespectful stuff that you expect out of high school games between coaches who have a long-running feud dating back to a weird night at a bar in 1997 that ended in punches being thrown.
A master of this craft is Clemson coach Dabo Swinney, who has built a juggernaut in the Tigers. They're so good that they have been able to withstand a really good quarterback transferring because his replacement was the No. 1 recruit in the country in the class of 2018. While Swinney doesn't go to the "let's embarrass them" well all that often, when he does, it's magical.
An example of this popped up on Saturday, when the Tigers were up 14-0 against Florida State and found themselves knocking on the doorstep. Sure, Swinney could have just handed it off to his back, but that's not fun, so instead, he did this.

That dude wearing 42 is Christian Wilkins, a 6'4, 315 pound monster of a defensive tackle who usually ends plays in backfields as opposed to starting plays back there. He got the ball put in his gut, rumbled forward, and scored his first career rushing touchdown. As if tackling him on his own wasn't hard enough, to get to Wilkins, you had to go through the guy in at fullback: Defensive tackle Dexter Lawrence, who is listed at 6'4 and 350 pounds. That's a whole lot of human in the Tiger backfield, and hopefully, it's not the last time we see it during the 2018 campaign.