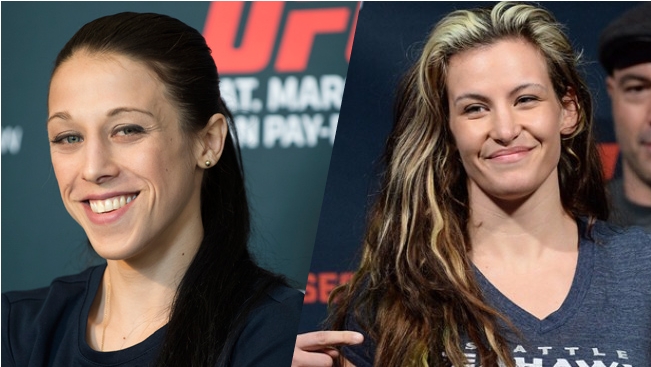 Thanks to a few negotiations gone sour and a borderline strike from some of New York's finest fighters, November 12's UFC 205 has been rapidly devolving from one of the most stacked events of the year to a borderline Fight Night-worthy card with a handful of albeit intriguing matchups. It's certainly not the ideal setup for the UFC's first trip to Madison Square Garden, but thankfully, a pair of high-profile women's bouts have just been added to bolster up a card in desperate need of them.
First up, a women's strawweight title bout between longstanding champion Joanna Jedrzejczyk and challenger Karolina Kowalkiewicz has been booked for the main card. Aside from being a surefire banger of a fight, it also holds the record for most consonants ever documented in a single UFC fight (just for kicks, I say we get Krzysztof Soszynski to serve as a special color commentator for the match and watch Mike Goldberg's brain explode).
Currently 3-0 in the UFC, Kowalkiewicz earned her shot via a split decision win over Rose Namajunas at UFC 201 back in July, improving her record to 10-0 overall (also of note, Karolina's on-point winking game). Jedrzejczyk, on the other hand, last defended her belt against noted rival Cláudia Gadelha at the TUF 23 Finale just a few weeks prior, making for her third straight defense since capturing the title from Carla Esparza last year.
Also on par for UFC 205 will be the return of former women's bantamweight champion Miesha Tate, who will do battle with the surging TUF 18 alum Raquel Pennington. After getting absolutely manhandled by Amanda Nunes in her first title defense at UFC 200, Tate has quietly returned to training in recent weeks, only occassionally taking a break to perform heroic acts of kindness on injured children in her downtime. Pennington, who was actually selected as the third pick on Tate's team during the Rousey vs. Tate season of The Ultimate Fighter back in 2013, has somewhat surprisingly scored three straight victories in the octagon in the past year over the likes of Jessica Andrade, Bethe Correia and Elizabeth Phillips.
The full lineup for UFC 205 currently looks something like this:
-Tyron Woodley vs. Stephen Thompson (welterweight title fight)
-Joanna Jedrzejczyk vs. Karolina Kowalkiewicz (women's strawweight title fight)
-Donald Cerrone vs. Kelvin Gastelum
-Frankie Edgar vs. Jeremy Stephens
-Tim Kennedy vs. Rashad Evans
-Tim Boetsch vs. Rafael Natal
-Liz Carmouche vs. Katlyn Chookagian
-Lyman Good vs. Belal Muhammad
-Miesha Tate vs. Raquel Pennington