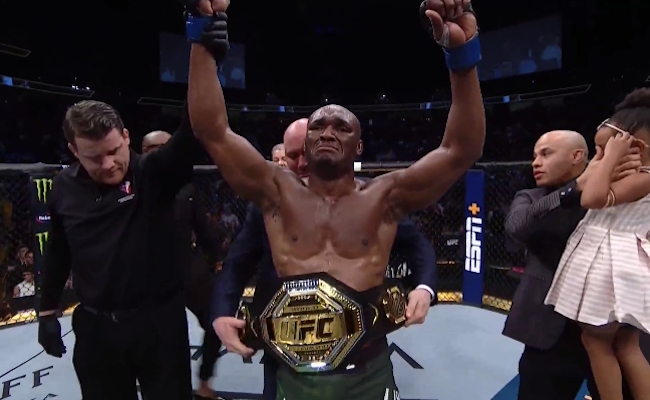 Less than an hour after being crowned the new UFC welterweight champion, Kamaru Usman already apparently has his first opponent lined up. According to ESPN's Brett Okamoto, interim welterweight champ Colby Covington will challenge Usman in a title unification fight.
Usman became the first African-born UFC champion in his victory over Tyron Woodley at UFC 235. He's unbeaten with 10 victories since landing in the UFC, with signature decision wins over top contenders Demian Maia, Rafael Dos Anjos and Woodley.

The new champion appeared to mix it up with Covington on his way out of the Octagon Saturday night, leading to the late-night announcement.
The brash and vocal interim champion, Covington, has been consistently in the eye of the media with trash talk of Woodley since earning the interim crown with a decision victory over Dos Anjos in June. For now, it appears we won't get the highly-anticipated Covington-Woodley showdown after he was passed over by the UFC for Saturday night's show, in part, due to his inability to fight Woodley at UFC 228.
Despite not being on the card, Covington caused quite the scene during the build up to the UFC 235 card, showing up with a megaphone to Usman's open workout and confronting UFC president Dana White at a casino on Thursday night. He even showed up next to the Octagon with a "People's Champ" shirt and his belt over his shoulder.
If Okamoto's report is accurate, it appears he'll finally have an opportunity to put up or shut up with UFC gold on the line at some point down the road against Usman.