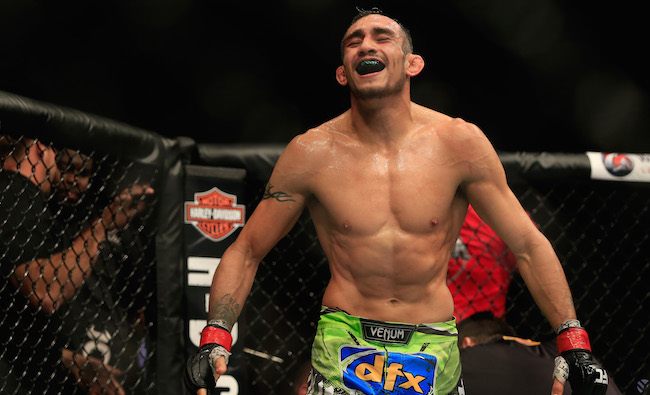 Tony Ferguson and Khabib Nurmagomedov could have stole the show at UFC 209. Instead, Khabib was a hospitalized no-go and Ferguson is speaking out about how he feels a bit ripped off with his pay for the cancelled interim title showdown.
Speaking with MMA Junkie, Ferguson expressed his frustration over his UFC 209 pay. The 33-year-old fighter stresses that he did his part to be ready for competing at the event.
"It was like a slap to the face," Ferguson said. "My training expenses were a lot larger than any other fight I've ever done because this was supposed to be the biggest fight of my career. So now I'm sitting here, and it's like, what is my worth to the UFC? Like, do I not fight enough? Do I not bleed enough for them? It's going through my head right now, because I didn't lose.

"I did everything in my power that I could to show up on that scale, and that's what I thought we were going to do. That's why you call it show money. And to every fan that's out there in the world, (UFC President) Dana (White), he said they cut me out a check, and I didn't get a check, and then this morning I got my wire, and I'm looking at it and I'm like, 'What the frick, man?' I'm like, 'Seriously?'"
Ferguson alleges that he received "less than half" of his $250,000 show money payout. The UFC doesn't always pony up money to fighters in these situations, so full points to El Cucuy on getting (some of) his money. He also shared that there was a replacement available, but the weak dollar offer attached scrapped those plans. The substitute fighter? Michael Johnson, the only fighter to defeat Ferguson in UFC competition.
"I'm not taking a pay cut," Ferguson said. "Why would I want to take a pay cut? If you give me what I originally showed up for, (expletive) yeah, I'll give you a badass fight. We'll save this card.

"He said, 'We budget for these fights.' Those are his exact words. So then you had it, but you don't want to fork it over. That's like, all right … How am I supposed to like the company I work for if I'm short-changing me? He was telling me he was taking a loss from this, and I'll bet you he's somewhere out on his boat, or doing something on his jet, laying $250,000 down on a craps table."
Ferguson saying no to (allegedly) working cheap is just the latest case of fighters pushing back over pay issues. It's a subject that seems to have bubbled up with fighters of all income brackets. Consider it the latest evolution in the sport.
(Via MMA Junkie)