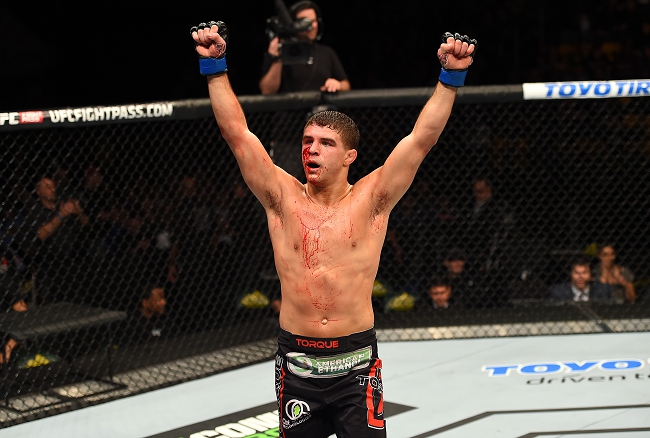 [in best Jay Leno voice]
So the issue of fighter pay in the UFC is once again making headlines in the MMA world. Have you seen this? Have you heard about this? It's as if fighters are suddenly starting to realize that taking punches and kicks to the head for $40K a year isn't all that great of a deal, especially when you'll be making that much next year to flip burgers!
[crickets]
The latest fighter to join to ever-growing voice of the discontented (see previously: Rockhold, Luke and Henderson, Ben) is UFC lightweight "Raging" Al Iaquinta. Until very recently, Iaquinta was scheduled to return to the octagon against Thiago Alves at UFC 205 in Madison Square Garden. The fight was the culmination of a lifelong dream for Iaquinta, a Wantagh, New York native who cut his teeth in the sport alongside the likes of Chris Weidman and Gian Villante at the Serra-Longo gym in East Long Island, but also one that he was forced to turn down in light of recent circumstances — more specifically, the absolutely abysmal amount of money he was being offered to take it.
In an eye-opening interview with Fox Sports, Iaquinta revealed the behind-the-scenes decisions that led him to withdraw from the fight.
I got the contract and I was just looking at it for a couple of days. I was like I just can't sign it. I can't do it. I felt like it wasn't right. I talked to my manager, I said listen I really want to fight in New York. There's nothing I want to do more than fight in New York, but I can't take a pay cut for this fight.

I'm taking a pay cut from all of my sponsors. I'm taking a pay cut of all the last 18 months of the sponsors that could have been. I told (my manager) that I wanted more. I wanted to have a conversation with the UFC and see if they would do some kind of negotiation because when I signed my contract, there was no Reebok deal.
Now before you go jumping on the "No one forced him to sign the contract/fight for a living!" train of thought, consider this: Al Iaquinta is currently riding a four fight win streak in the UFC with three finishes. He has fought a grand total of 10 times for the UFC and has spent the past year on the shelf due to a knee injury suffered while training, and for his efforts/troubles, he was set to receive $26,000 to show and $5,000 in Reebok sponsorship money.
Five. Thousand. Dollars.
According to Iaquinta, that's less than he'd make for even one sponsor in the pre-Reebok days. It's an important distinction to make, in that Iaquinta (like many UFC fighters) originally negotiated his current contract (which the UFC based around how much money he was making in sponsorship money at the time) before the Reebok deal (which he had absolutely no say in) was made. In the case of even midcard fighters like Iaquinta, this means a massive cut in pay that could equal the difference between paying a mortgage and not, especially when factoring in a lengthy absence due to injury.
But after being told to kick rocks by Joe Silva, what's left for Iaquinta to do? Well, as it turns out, the answer is "real estate with some personal training on the side." In a follow-up interview with MMAFighting, Iaquinta confirmed that he will be stepping away from the mixed martial arts game for the time being to pursue more lucrative career options, claiming the UFC's hostility and disrespect as his main reasons for doing so.

If I win the fight and they take taxes out and I pay my trainers, I make okay money. Okay. For fighting in a cage, I don't know about it. God forbid, I don't win the fight, (after) taxes, trainers, all the expenses, everything that goes into a training camp, I'm basically fighting at Madison Square Garden for free. It's just unreasonable. So I asked him to reach out to the UFC, and from what he tells me there was no consideration of a negotiation whatsoever.

It would be great to say that I fought at Madison Square Garden, but after a while, you're just saying that. There's nothing to show for it. And that's basically why I took the stance that I took, and it's a tough one because there's nothing I'd love to do more than fight at Madison Square Garden. But I feel like, to not even have a negotiation, and the things I heard (UFC matchmaker) Joe Silva say to my manager about me when he asked just to negotiate, 'eff him, eff this' — who is he to put a price tag on what my life is worth, on what my knee is worth? I've had two knee surgeries already. I may have to have to have another one after nine more fights.
Iaquinta went on to list a number of other issues that led to his decision, such as the battle he had to go through with the UFC to even get them to pay for the knee surgeries he required the first place, and I can't recommend enough that you read his interviews on both FOX Sports and MMAFighting to get some real perspective on just how bad the fighter pay situation in the UFC is for everyone not named Conor McGregor.
In short, there's a reason that everyone from guys like Iaquinta to long-standing champions like Demetrious Johnson are either abandoning the fight game entirely or shifting their focus to "money fights", and it's not all because McGregor dun' changed the game. As MMAJunkie's Ben Fowlkes so eloquently summed it up, "If you're a young aspiring fighter and you see that, what are you supposed to think?"
What those of us on the outside like to tell ourselves is that fighting is about living a dream – not doing a job. Iaquinta doesn't like his $26,000 to show? Let him go punch a clock like the other working stiffs. No one's making him fight for a living.

And that's true. From the look of it, Iaquinta heard that loud and clear, and has responded accordingly. Which makes you wonder what kind of sport we'd have if more fighters got the same message. Something tells me that the promoters – who, by the way, aren't doing their jobs for the love of it all – wouldn't like where that line of reasoning ends.
Thankfully, the pipe dream of an MMA fighters union is finally starting to take shape thanks to some help from some other major sports. When combined with the currently litigating anti-trust lawsuit being filed against the UFC by several former fighters, it's safe to say that we may see a very abrupt and expensive (if you're the UFC) change coming to the sport of mixed martial arts. But until it does, the message from the UFC to its fighters will remain very clear: either play ball or start walking.