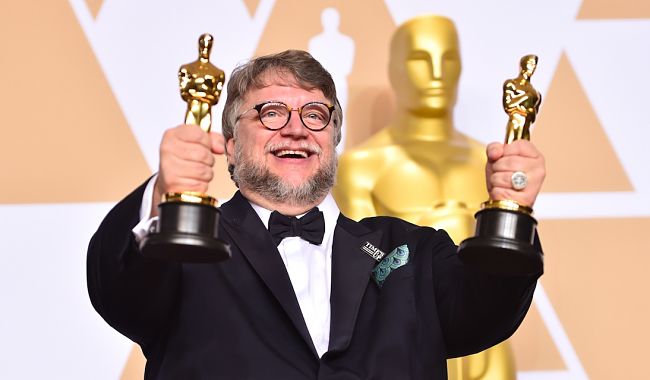 Fresh off winning Best Picture and Best Director for his (fish) passion project The Shape of Water, Guillermo del Toro has announced his next enterprise: a horror anthology series for Netflix. Guillermo del Toro Presents 10 After Midnight is "a collection of the Oscar-winning filmmaker's personally curated stories, described as both equally sophisticated and horrific," according to Deadline. del Toro (who previously collaborated with the streaming service on Trollhunters) is listed as the creator; he'll also write and direct certain episodes, while "a team of top horror writers and new filmmakers" take over others.
10 After Midnight is a dream come true for del Toro. One of his favorite shows and biggest inspirations is fellow horror anthology series Night Gallery, an episode of which scared him so much, he "literally just peed like a hose." Winning an Oscar hasn't slowed him down one bit, either. On top of Midnight, del Toro is co-writing and directing the Nightmare Alley remake and producing Scary Stories to Tell in the Dark, based on the kids book of the same name (still not over "The Girl Who Stood on a Grave"). He also signed a deal with DreamWorks Animation, which is good for fans of his Tales of Arcadia series.
It's okay to take a break, dude. We won't complain.
(Via Deadline)