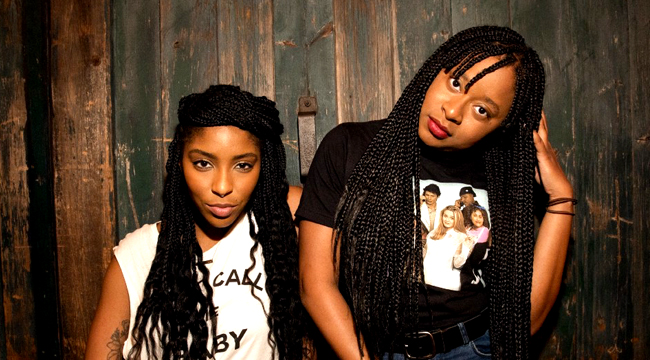 "Being black women has been our superpower," says 2 Dope Queens co-host Jessica Williams. Along with fellow podcaster-turned-comedy mistress of ceremonies Phoebe Robinson, Williams is currently promoting the first of four new HBO specials set to air Fridays in February. And considering the sheer magnitude of the production, it seems this superpower is no joke. The series is split into four thematic episodes, the first premiering February 2nd at 11:30 pm ET. Focusing on New York, the special features Williams' former The Daily Show boss Jon Stewart and area comedians Michelle Buteau, Mark Normand, and Baron Vaughn.
As Robinson and Williams are quick to point out, however, adapting their hugely popular 2 Dope Queens podcast for television wasn't an impossible feat, largely due to the company they kept. The move to HBO has aided their endeavors, allowing them to add the production finesse of executive producer and head writer Amy Aniobi (Insecure) and the direction of Tig Notaro (One Mississippi). But the pair already had a significantly complex and diverse system of support in place. Across 48 official episodes (and dozens of bonus entries), the original podcast boasted a mostly female production staff and roster of guest comedians and interviewees. The HBO specials are no different, which was entirely by design.
"We always loved the showcase format because we love stand-up," says Williams of the format, which they utilized to ensure as many talented, diverse performers were given the chance to appear as possible. "When we started, we always wanted to make sure that we were showcasing stand-ups, and we always tried to get persons of color or people from the LGBTQ community." Robinson agrees, adding that adapting the show (and sticking to the original formula) wasn't all that difficult since HBO already knew what it was signing on for. "We really lucked out that HBO saw what the magic was," she explains. "They knew we had this selection process for getting these amazing comics who happen to be diverse and smart and hilarious. They really appreciated what we wanted to do, and that gave us the confidence to just be like, 'Keep doing what you're doing.'"
"They recognized how we would talk to people like Sarah Jessica Parker on the show, which isn't going to be the same as how someone like Terri Gross would talk to her," Robinson continues, though not, it should be noted, in a fashion disparaging to Gross. Rather, her point here is that the network acknowledged 2 Dope Queen's inherent value, and simply wanted to add cameras, staging, and make-up. Also, the likes of Aniobi and Notaro. "They were both fans of the podcast, and working with them it made it a well-oiled machine. They've been great," says Williams. "If you're already a fan of the podcast, the main difference is now you can see it. But if you're new to the show, then it's great for us because this is what we were already doing, but with a bigger budget. I also wore a pushup bra this time."
2 Dope Queens' HBO arrival is serendipitously in time with the ascent of cultural movements like #MeToo and Time's Up. Consider one of the more insidious aspects of the allegations against comedian Louis C.K., which the New York Times reported and the comic himself confirmed: that female comics and comedy writers felt pressured to leave the business altogether. 2 Dope Queens does the exact opposite by emphasizing performers who happen to be women, people of color, and members of the LGBTQ community. It provides them with a space to show the world who they are, and Williams and Robinsons know it. That's what 2 Dope Queens has always been, and that's what they want it to be on television.
"Even back when we started doing the podcast," says Williams, "we just wanted to make sure we had women and people of color and members of the LGBTQ community on the show. There should always be somebody representing them because I think, as black women, that whether or not you're trying, a lot of what you do is inherently political. Just because of who you are. Just because of your identity. So with HBO, we just set out to do the show we had always done on the podcast. No matter what's happening in the news, who the president is, or whatever, we wanted 2 Dope Queens to be what it's always been, for everyone it's been that for." This, as Williams continues, is where she really digs into her claim that she and Robinson's "being black women" is essentially a "superpower" of sorts. "What's great about being a black woman, and especially in 2 Dope Queens, is we're able to seamlessly navigate between jokes that are somewhat political. There is power in being a black woman."
Robinson takes this sentiment a step further when she says they're "answering a call" — if not an outright demand — for "this kind of content" from their audience. "I think the gatekeepers are recognizing that performers like Sheng Wang and Rhea Butcher deserve the spotlight just as much as the comics who typically get it. This notion that having women, queer people, or people of color is a 'charity hire,' or a 'charity opportunity,' is going away. People are now forced to recognize the talent and the worthiness of people who don't look like straight, white dudes, so having someone on like Sheng — who absolutely crushed it and made me cry from laughing — was great. And I can't wait for others to have that same experience, too."
Of course, this doesn't mean that those who look like "straight, white dudes" aren't invited to the party. As Williams jokes during the opening segment of "New York," they're performing before "a majority white people situation" at the King's Theatre in Brooklyn. What's more, the first special's celebrity guest is none other than Jon Stewart, a recognizable straight white male comedian. But as his entrance and participation in the episode reveal, the former Daily Show host isn't there to be ostracized by Williams and Robinson. (Nor, for that matter, is he there to steal the limelight from them.) Stewart's primary purpose is to support 2 Dope Queens, and support them he does.
"That was one of my favorite moments," Williams says of Stewart's intentionally humbling entrance onto the 2 Dope Queens stage. "He really took a chance on me when I was 22 and hired me for The Daily Show. I had to move from Los Angeles to New York. There was a significant learning curve, but Jon was always so patient and so kind. The Daily Show has, to me at least, been such a diverse show, and I think he was always very good about that. So it meant a lot to me that this guy who learned so much from, who I really respect and admire, was willing to come back and support me. That really meant a lot to me."
"We don't want it to be like, 'No straight, white men allowed!'" adds Robinson. "We don't have pitchforks on stage. It's just more like, 'There's room for everyone! This is a buffet!' You can have all sorts of different flavors, cultures, and backgrounds. I think that's what we wanted, and having Jon Stewart — who was one of the first big celebrity guests to do the podcast — just felt right. He's been so supportive of the podcast. It's really great to have someone like him champion us and be like, 'This is great and you guys should keep doing this.'"
Despite the back-to-back rollout in February, there are no immediate plans to do any more 2 Dope Queens specials and the podcast is on hiatus. That's because Williams and Robinson are both quite busy. The former, who starred in last year's The Incredible Jessica James on Netflix, will pop up in the upcoming Fantastic Beasts sequel. As for the latter, her popular book You Can't Touch My Hair: And Other Things I Still Have to Explain is getting a new printing in time for the 2 Dope Queens premiere. She's also starring in the upcoming Netflix film Ibiza. Even so, if the HBO specials prove successful enough, they'd return to the stage in a heartbeat. "Definitely," says Williams. "We just want to see how this rolls out. See what happens." Robinson, however, is far more blunt. "If HBO comes calling, I'm going to put on my best underwear and best wig and show up."
2 Dope Queens premieres Friday, February 2nd at 11:30 p.m. ET on HBO. Future episodes include appearances by Sarah Jessica Parker, Tituss Burgess, and Uzo Aduba; and comedy by Kevin Barnett, John Early, Naomi Ekperigin, Gary Gulman, Al Jackson, Jackie Kashian, and Aparna Nancherla.