The 2019 Emmys are in the books. The trophies have been handed out, the champagne has been popped. The champagne has been consumed. The empty bottles are littered across numerous Southern California ballrooms. The time for celebrating is over. Now it is time for serious analysis. Kind of. Not really. What's happening here instead is our own little awards ceremony, honoring the best and worst of their ceremony. If they get to give out accolades, so do we. Presenting: The 2019 Emmy Awards Awards
Outstanding Performance In The Field Of Getting Things Right — The Emmys
I… I mean… they really… the Emmys… got it… right?
This is strange. I'm so used to waking up the morning after the Emmys and chambering up a rant about who was snubbed and why some show I liked deserved more awards and how we need to take a flamethrower to the whole system. It's a fun rant. I'm almost sad I don't get to break it out. It's worth the disappointment, though, if it means we get good shockers like Fleabag sweeping a bunch of comedy categories and Jodie Comer running off with the lead actress trophy and Billy Porter winning for Pose. That was… surprisingly… good? I know. This is weird for all of us.
I still can't believe Fleabag shut out Veep in the big categories. I thought when Phoebe Waller-Bridge won for writing, that was the Emmys saying "Yes, nice job this year, young lady. Here's a trophy. Now please sit and applaud politely while the rest of the awards are handed out." Julia Louis-Dreyfus had been six-for-six in the role and was coming off a triumphant return after a health scare. Veep closed out an iconic, highly decorated run with a great final season. In previous years, this is as close to a rubber stamp as you'll ever see, something the voters were not totally opposed to even this year, considering they gave Game of Thrones best drama.
I'm so conflicted. I'm so happy Fleabag won and I'm so happy the Emmys did a cool thing and recognized something new and exciting instead of the familiar, but there's also now a tiny voice in my head that's whispering "How dare they disrespect Julia Louis-Dreyfus?" I don't know why or how the voice is in there. She has plenty of trophies! She'll be fine! And I would have been mad about Fleabag if Veep had won. There's really no pleasing me.
Outstanding Performance In The Field Of Getting Things Wrong — The Emmys
Going hostless is fine and can work, in theory. Just have a voice come through the system and introduce the presenters and people on the stage. There are maybe 8-10 people in the whole world who can host these things in an interesting and entertaining way, and most of them probably don't want to do it. (I would pay good money to see Werner Herzog give it a crack, though.) If you can't get one of them, to host is better than a C+ one. So there's that.
But there's also this: woooooof. That whole thing was a snoozer of epic proportions. Was it the way Fox used the ceremony to repeatedly pump its new fall lineup, as though they looked at the Emmys as a three-hour commercial for The Masked Singer? Perhaps. Was it the jammed-in Simpsons and Family Guy segments that killed Homer and made Cosby jokes? Perhaps. Was it subjecting poor Thomas Lennon — Lieutenant Dangle himself! — to a thankless no-win announcing job that fell flat like a drunk doing a faceplant. Also perhaps!
Whatever it was, it was not great, and kind of a bummer on a night when everything else went so well.
Outstanding Blinking In A Guest Role — Bob Newhart
Bob Newhart rules. That bit was dying on the vine in a big way until Newhart slowly started blinking his eyes. The man still has comic timing falling out of him everywhere he goes. He's got so much to spare he just leaves it behind and keeps moving. They should have let him host this year. Who's gonna boo Bob Newhart? Not me, and that's saying something because I've been a Philadelphia sports fan for my entire life. I know from booing.
Outstanding Achievement In The Field Of Hat — Billy Porter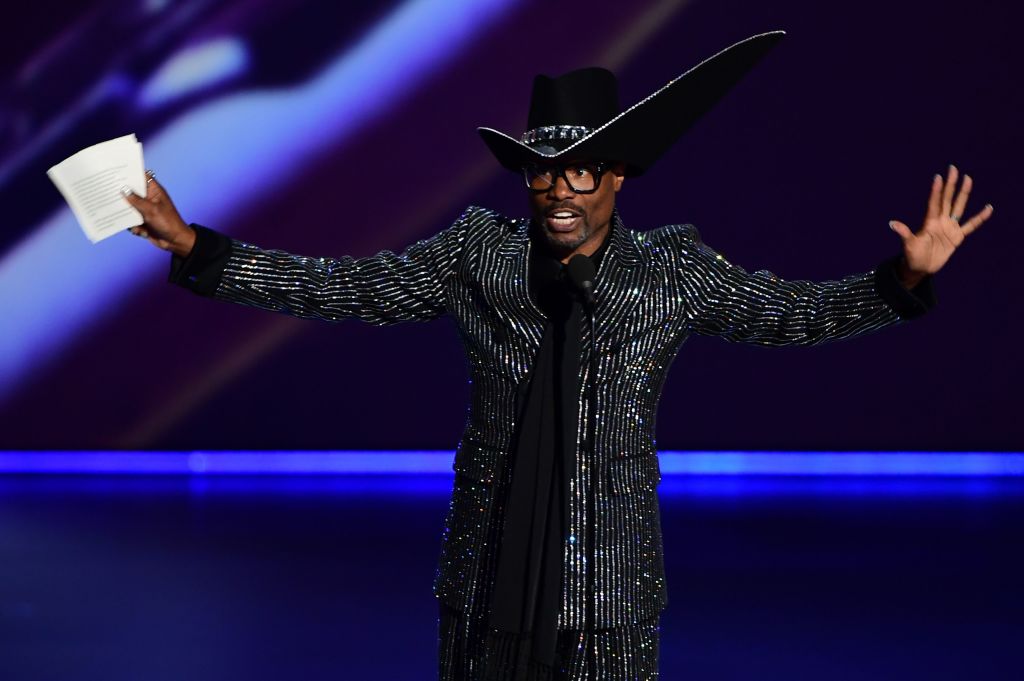 That's hat, singular. Because there is only one of that hat and only one person in that building who could have pulled it off. It is fun to picture other people trying to wear it, though. I have this image in my head of Paul Giamatti with it on. It's a really good image. As good as Billy Porter winning Outstanding Actor and giving a powerful speech in a delightfully aggressive hat? No. Not quite.