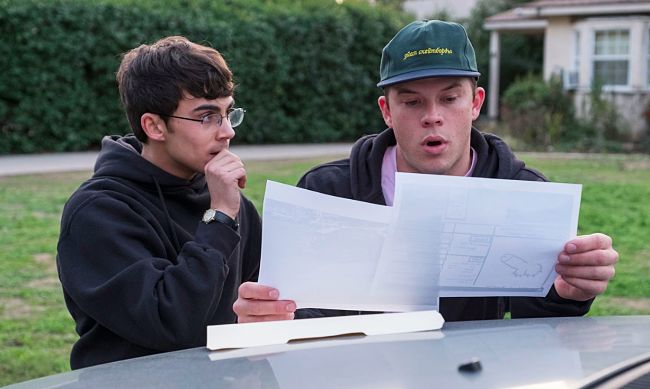 American Vandal, everyone's favorite Peabody Award-winning true-crime mockumentary about spray-painted dicks, is returning for season two… eventually. The Netflix series doesn't have a return date yet, but season two, which follows "fedora-wearing, pocket-watch carrying" Ethan and "top basketball player" DeMarcus at a Catholic high school, tackles a "completely different genre" than last season. That's according to showrunner Dan Perrault, who told Vulture that there will be "a different crime in a different school."
Co-creator Tony Yacenda added that season two draws from "different true-crime documentaries." He continued, "The first [season] was Serial structurally, and visually it was closest to Making a Murderer. This year, we're not abandoning those references completely, but we want to create a new aesthetic." They also teased that dick-obsessed season one documentarians Peter Maldonado and Sam Ecklund will return. In a new school.
[Co-creator Dan Lagana]: One of the questions we get most often is, "Is Jimmy [Tatro] back? Is Dylan back?" We want each season to be its own crime, and we thought that even a cameo would just distract from the new case too much, so we wanted to really get ourselves deep into a new world without tying ourselves to callbacks that would distract from the main story.

TY: Season one functions because you're not watching it for the laugh, you're watching it because you really care about who drew the dicks. In every season, that should be the engine — you should really care about this mystery. If we're relying on, "Hey, remember your favorite characters?" then it's a disservice to it, because you're not caring about this huge mystery. (Via)
Okay, but what is Kraz up to?
(Via Vulture)