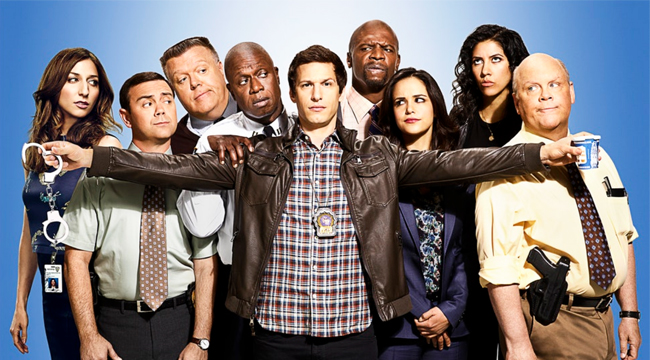 Amid Fox News' favorable coverage of the Trump administration's policies on immigrant family separations, several powerful figures under the 20th Century Fox umbrella pushed back. This includes Family Guy creator Seth MacFarlane, Mayans M.C. showrunner Kurt Sutter, and Modern Family co-creator Steve Levitan, the latter of whom actually decided to leave 20th Century Fox over his concerns with the cable news network. And after the beloved Brooklyn Nine-Nine got cancelled by Fox and revived by NBC, star Andy Samberg believes (in retrospect) that this all worked out for the better.
Hollywood Reporter relays how Samberg addressed the matter during the show's first San Diego Comic-Con panel on Thursday night. Since Brooklyn Nine-Nine has taken on matters of police brutality, inclusivity, and LGBTQ issues, Samberg feels that the network switch can only be positive, though he was quick to differentiate between who he worked with and the Fox News folks:
"All I know is there are different factions of Fox. Fox, the people we dealt with there, I truly believe really loved and supported the show. I don't know what they would say publicly about the Fox News wing of Fox … I think it was a good moment for us to switch."
However, Samberg couldn't resist tossing a little punch regarding Fox News and the "truth" as interpreted by the cable news network's personalities. "They're not afraid to say the true stuff," Samberg joked. "so in that regard it was hard for us. We couldn't deal with the truth." Well, it sounds like all parties are satisfied with Brooklyn Nine-Nine's move to NBC for a sixth season, other than fans who'd like some news on a return date. Stay tuned!
(Via Hollywood Reporter)