Animals. is likely the only place to find Jessica Chastain as a murdered turkey, Usher as a cool pigeon, and Emilia Clarke as a (ahem) pile of poop. While the show features a murderer's row of comedic talent — boasting appearances from Nick Kroll and Kumail Nanjiani to name a few — the inventive cartoon has also highlighted some less expected talent.
The upcoming third season, which premieres on August 3, will continue that trend with more typically dramatic actors like Demi Moore, Tatiana Maslany, Edie Falco, and kid actor Jacob Tremblay. There are also appearances by musicians like Moby and Dinosaur Jr, and journalist Soledad O'Brien. Together with comedians Amanda Seales and Aparna Nancherla, as well as comic actor Bob Balaban (and a bunch of other guest voices that we can't tell you about), they'll explore the problems plaguing the animal kingdom now that people are gone. Until that first episode, though, why not take a trip through the first two seasons of the show by familiarizing yourself with the Oscar nominees and pop stars that helped give these wonderfully weird characters a little extra personality?
Kurt Vile
The alt-rocker played pretty close to type in episode eight of season one as the squirrel version of himself. As squirrels Phil (Phil Matarese), Mike (Mike Luciano) explore the tree they live in after its struck by lightning, they run into Squirrel Kurt. And much like in real life, he's a chill dude. Really, he just wants to play his music and share his snacks (although throwing some cash his way wouldn't be a bad idea. You can't just bogart the peanuts and leave).
Jessica Chastain
Jessica Chastain has impressive range and in Animals' season one finale she got the chance to showcase her skills once more as a slain turkey while the show embraced the action movie aesthetic with a focus on a turkey spouse (Danny McBride) who is hell-bent on revenge. If Rambo and Die Hard had a fowl baby, it would be this episode. Chastain's turkey is largely shown in flashback, but her gentleness and love for her husband comes front and center thanks to the two-time Oscar nominee. Despite being a comedy, Animals. really brings the tragedy for poor Sarah.

Emilia Clarke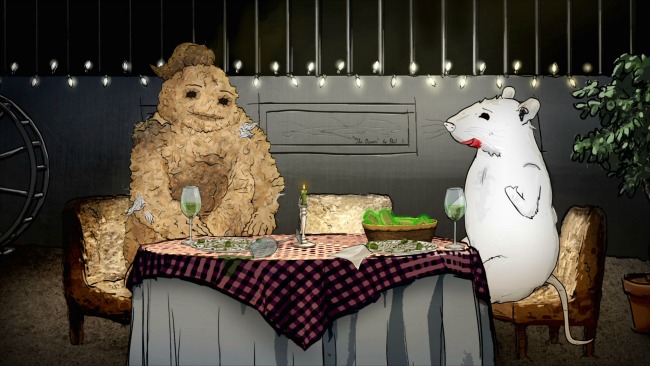 Clarke may have become a star through her work on Game of Thrones, a fantastical show featuring dragons and white walkers, but she was literally a figment of the imagination in the second season premiere of Animals. As rats Mike and Phil are put through the ringer in the lab, they both hallucinate a girlfriend in the form of Lumpy, a creature made of unmentionable material who is decidedly not alive for real. Things get awkward when a love triangle forms, and honestly, Clarke really is the ideal candidate for being an Imaginary Girlfriend. As she begins to fight back against the fact that she doesn't really exist, Lumpy quickly becomes a nightmare that not even 311 can save Mike and Phil from.
Harmony Korine
In the second season premiere, gonzo writer/director Korine plays a flea who ends up on a monkey in a lab instead of making it to a Knicks game. It's hard to find a real-life comp for this situation, but we can all relate to the idea of an unfortunate detour and to Corey the Flea's want to cheer up his despondent buddy.

Usher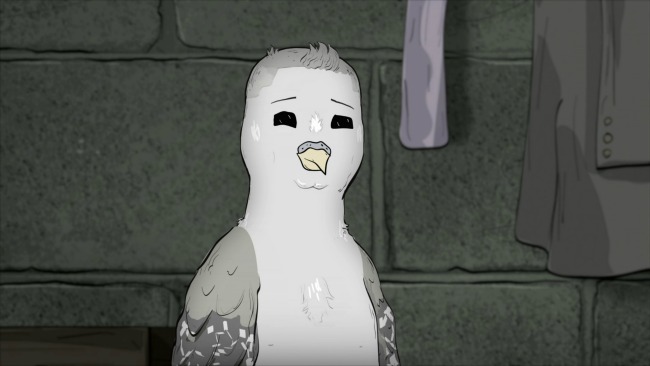 Of course, the R&B legend would play a smooth operator, so Usher as Miles, dorky pigeon Jacob's (Lauren Lapkus) much cooler brother, makes a lot of sense. Miles is every guy who is better than you at everything, but you can't help but love him anyway. While tragedy may befall Miles early on in the second episode of season two, he acts as a spirit guide to lead Jacob out of his painfully awkward shell. At least a little bit. He's not a miracle worker.
January Jones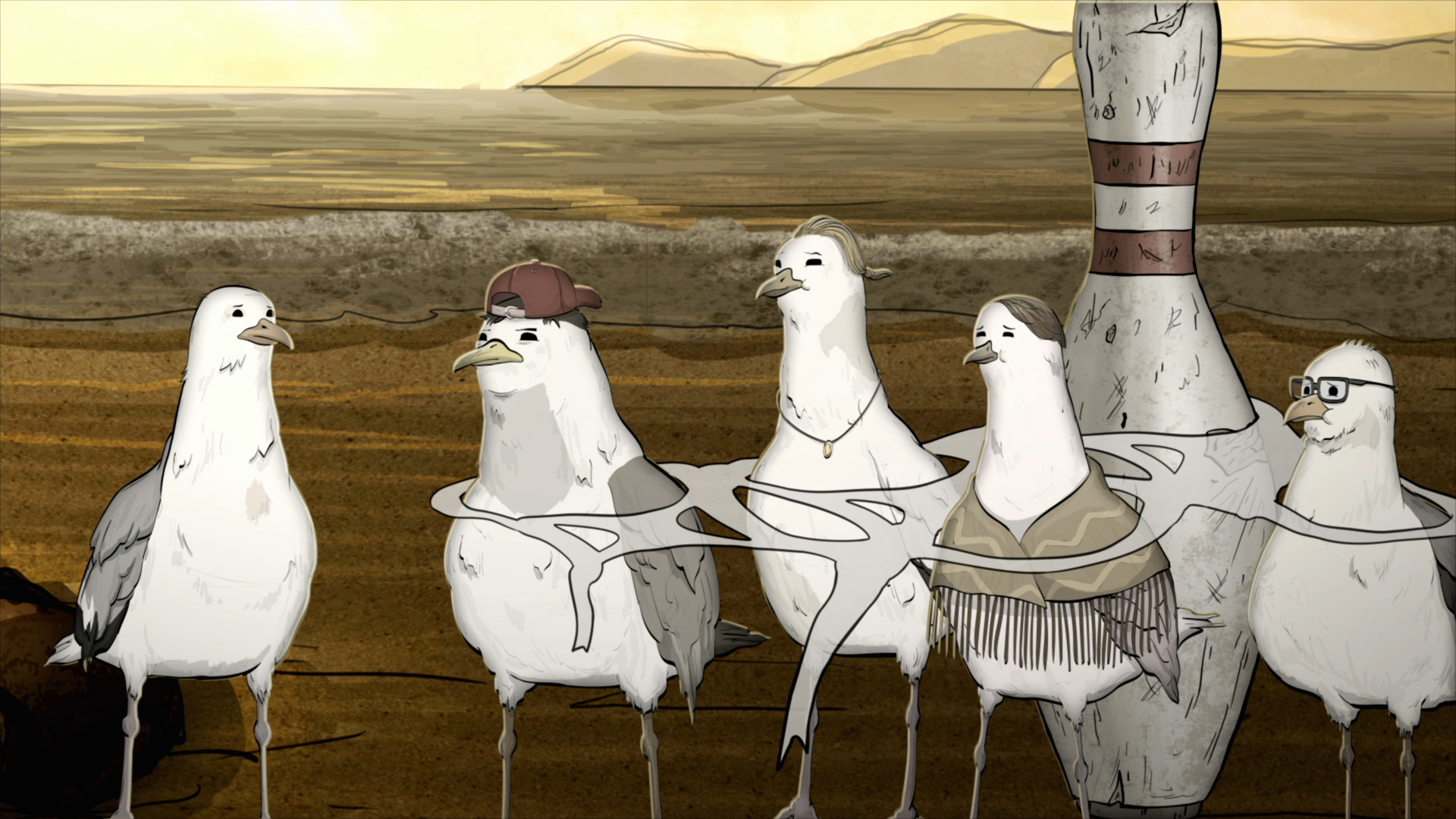 January Jones' seagull character (she's the one with the necklace in the above image) just wanted to meet another nice seagull in the third episode the second season of Animals., but what she didn't bargain for is five seagulls and a bowling pin all being stuck together. As her date with Max (Adam Pally) is quickly derailed by the meddling of his fellow litter-snared birds, Diana is left hitting a bleak dating scene once again.
Kim Gordon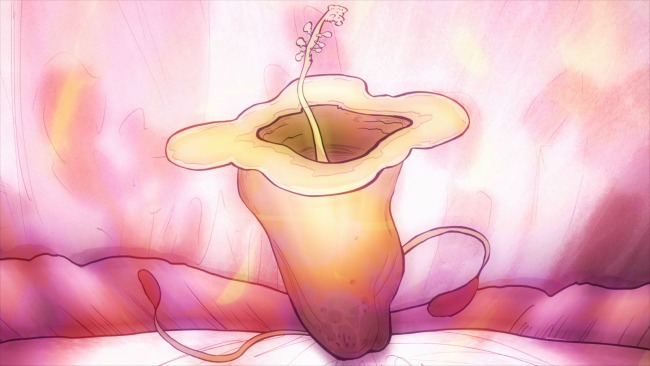 If a sexy tulip is going to create some tension between to alpha male bees, who better to voice said flower than Sonic Youth legend Kim Gordon? In season two episode six, the smokey voiced songstress can't save the bees from the tragedy about to befall them or the terribly embarrassing stinger measuring contest, but she sure can make the tragedy go down a little easier with her sweet melodies.

Big Sean
The rapper plays a cancer-stricken cat named Terrence in season two episode eight who soon realizes that the mob doesn't really offer a comprehensive health plan. While it might hit a little too close to home, this feline take on gangster movies manages to lampoon the crowdfunding scenario that so many are forced into in the midst of all the carnage. While Terrence manages to come out on top after the gang fights level the playing field, he certainly has a rough time getting there.
Kesha
Finding love is hard enough as an awkward human, but imagine the horror of having to do it as a double ended earthworm? The Grammy-nominated singer guest starred as Laura, an earthworm who just wants to meet a nice guy, dance on some tables, and do a lot of cocaine. As the night takes a turn for the worst, everyone might reevaluate how bad their worst Tinder date really was. But if Laura can make it through the modern dating scene in one piece, so can you.
Rachel Ray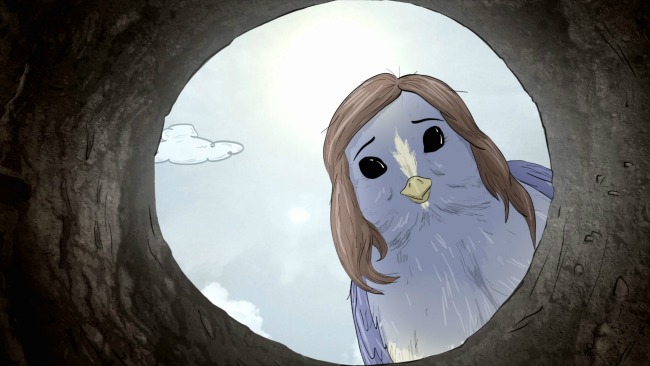 As one of America's most personable public personas, TV chef and housewares magnate Rachel Ray is weirdly perfect while conveying a kind of frazzled warmth as a (sometimes potty-mouthed) mama bird who panics about how to prepare for the arrival of her babies in season two's penultimate episode before learning a lesson about how unforgiving nature can be.
Who are the other weirdly perfect casting choices coming up in the third season of Animals? Check out the embedded trailer below and the season premiere on August 3 at 11:30PM.