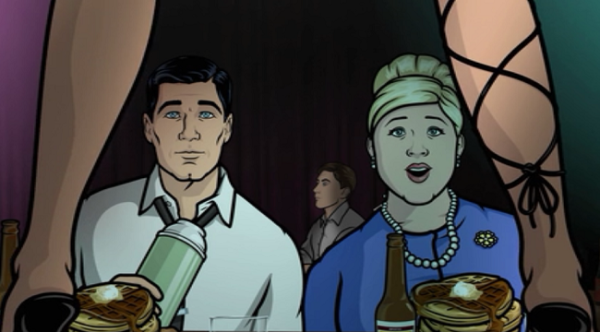 Fox
The sixth season of FX's popular espionage animation show Archer concluded with the main characters back out on their asses once again. No longer ISIS (turns out someone else was using that acronym), no longer coke smugglers, no longer CIA, the core gang finished the season adrift and in search of a next move. Superspy Sterling Archer concluded the finale with a classically Archerian donning of sunglasses and declaration that he had a plan, but the episode deliberately left fans in the dark as to what that plan might be. And of course, because this is an Archer season finale we're talking about, Ray had to lose the use of his legs.
The Archer faithful won't have to wait much longer to find out what comes next, as FX CEO John Landgraf announced at the Television Critics Association press tour on Saturday that season seven would premiere on March 31, reports the Wrap. Contrary to previous reports, Archer will not move to FX's sister network FXX for its new season, though the program will be moving in a daring new direction. Just as the fifth season's risky Archer: Vice gambit paid off by exploding the show's premise and bringing it to loony new places under a new central mission, the seventh season will again start from square one, though the creators have been stingy with details. Vague promises that the new season will be even "sexier" float around, but a concrete notion of how this bold new season will go have yet to take shape.
As any show rolls into its seventh season, questions of longevity begin to make themselves known. Whether Archer has the infinite staying power of The Simpsons is a debate that FX executives will soon have to take up, as creator Reed and his writing staff run out of steam and the characters fall into patterns. But for now, Archer is poised for a season as fresh as any. Paging Dr. Loggins?
Now Watch: Who Was The Best Guest Star On 'Archer'?