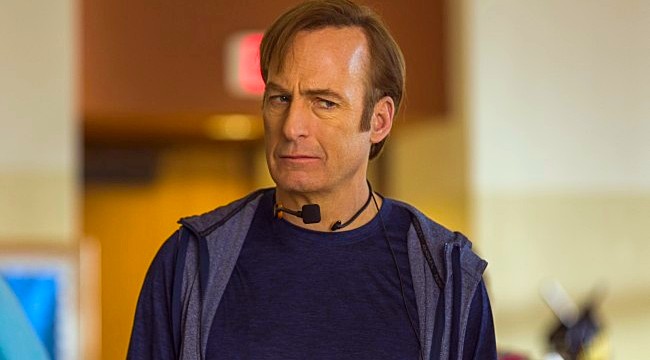 Our first look at season four of Better Call Saul has arrived, and it's clear that Peter Gould and Co. take the Mad Men approach to promoting their series, which is to say: Say as little as possible about what is coming. This 15-second teaser says almost nothing, except that Jeremiah Bitsui — who played Victor in Breaking Bad (Gus Fring killed him in "Box Cutter") must be ecstatic that he can reprise his character for another season on Saul.
Who else is in season four of Better Call Saul? The trailer offers little in the way of hints, but Vince Gilligan promised that the Venn Diagram between Saul and Breaking Bad will get better in season four. He also suggested that we will meet another character from the Breaking Bad era. Is it Jessie? Is it Walt? Badger? It's hard to say, because Gilligan says, "I'm not promising you ever saw this character," which could mean it's a Breaking Bad character that's been spoken about but never seen.
There also a brief shot of red boots in the promo, which at the very least means that The Cousins will return for season four. Otherwise, all I can tell you about the promo is that Gus Fring's Volvo V70 — which makes an appearance in Breaking Bad — is in the Los Pollos Hermanos parking lot.
AMC also released a photo of Kim Wexler from season four.
There's not much there, either, except that we do know that Kim Wexler is likely embroiled in a tense scene, as the folks behind the show have stated that the Wexler's hairstyle often reflects her mood, and a ponty tail suggests tension.
Beyond that, got nothing, except that there is every reason to be excited about the series' return on Monday, August 6th.