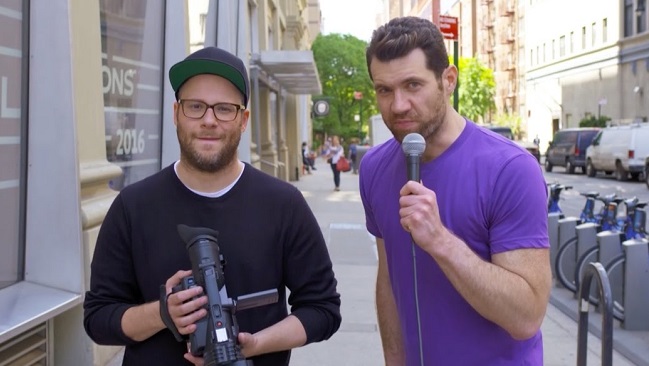 Last September, comedian and purple shirt-wearer Billy Eichner announced that his popular series Billy on the Street would be leaving truTV and searching for a new home. The Difficult People (R.I.P.) star has since been working on a new stand-up comedy special for Netflix, but aside from a hilarious Captain America: Civil War crossover video that set Twitter and the rest of the internet aflame in July, little else has been said about Billy on the Street. Or, at least that was the case until Wednesday.
According to The Hollywood Reporter, the popular Funny or Die comedy show will return as a short-form web series thanks in part to the comedy outlet's new producing partner, the ride-sharing app Lyft. I emphasize "short-form" here because, unlike the original Fuse and truTV runs, the eight new episodes of Eichner's popular series are "expected to be about a third of the half-hour run time of its previous five seasons." Even so, that's not too bad of a deal considering that the show's latest guests include Lin-Manuel Miranda, Tiffany Haddish, Kate McKinnon, and Emma Stone, with more to be announced soon.
In a statement, Eichner declared, "I'm back to heal the country… and the world! After five seasons of the TV series, I knew I wanted to set the show aside in order to create some time in my schedule to pursue other projects":
"Now that those are taking shape, I'm truly thrilled we've found a way to bring Billy on the Street back that makes so much sense for this particular show. As we all know, this is a very divisive, anxiety ridden time and I hope these new segments — featuring the most stunning roster of guests we've ever had — give people a small burst of joy in their timelines while allowing me to comment on culture and the world at large in the unique way this show allows me to."
Of course, the official announcement would be nothing without a "Let's go, lesbians!" tweet from the comic.
(Via The Hollywood Reporter)