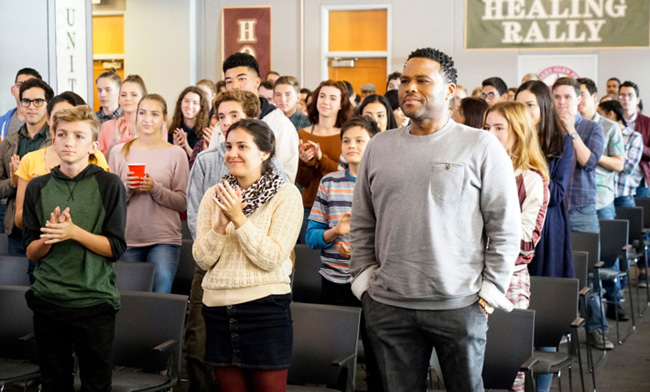 Black-ish has never shied away from tackling the big issues affecting current events in their past seasons. They've covered the election, police brutality, and many other hot-button topics in past episodes, but ABC and showrunner Kenya Barris have finally hit a point where they couldn't work things out. Citing "creative differences," both ABC and Harris decided to put the episode "Please, Baby, Please" on an indefinite hold ahead of its planned airing on February 27th, with no intentions to make the episode available on any platform in the future. ABC addressed the hold on the episode in a statement sent to Variety:
"One of the things that has always made 'Black-ish' so special is how it deftly examines delicate social issues in a way that simultaneously entertains and educates," an ABC spokesperson told Variety Friday. "However, on this episode, there were creative differences we were unable to resolve."
The episode description doesn't sound like anything out of the ordinary for the series and places they have gone in the past, particularly with its season premiere "Juneteenth":
"Please, Baby, Please" features Anthony Anderson's patriarch Dre caring for his infant son on the night of an intense thunderstorm that keeps the whole household awake. Dre attempts to read the baby a bedtime story but abandons that plan when the baby continues to cry. He instead improvises a bedtime story that, over the course of the episode, conveys many of Dre's concerns about the current state of the country.
The trouble must come in the issues brought up in the final details affecting the "current state of the country." As Variety details, one of the aspects is an argument over "the rights of athletes to kneel during the performance of the national anthem at football games" according to Variety. Barris echoed the sentiments of ABC's statement to the publication in his statement. He also praised the heights the show has reached to this point across different groups of people:
"Given our creative differences, neither ABC nor I were happy with the direction of the episode and mutually agreed not to air it," Barris, the show's creator, told Variety. "'Black-ish' is a show that has spoken to all different types of people and brought them closer as a community and I'm so proud of the series."
Hopefully, we'll get to see the episode on DVD at some point or at least released online. It seems extremely odd that an entire episode would go missing from a major sitcom, especially today.
(Via Variety)