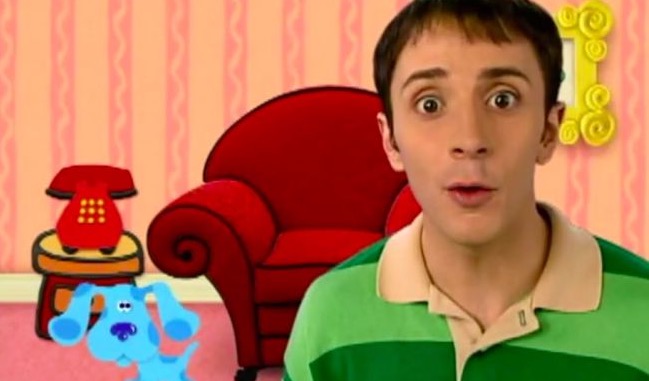 We just got a letter. We just got a letter. We just got a letter. Wonder who it's from? Nickelodeon, which announced today that Blue's Clues is getting a "refreshed signature look." The original Emmy award-winning series blended live action with animation, ran from 1996 to 2006, and featured two hosts: Steve Burns, who is alive and obsessed with Walmart, and Donovan Patton, who is also alive but not obsessed with Walmart (as far as we know).
Twenty new episodes have been ordered, and filming will begin this summer. The show will boast a "refreshed signature look," and there will be an open casting call for a new host in Southern California on April 14. (Via)
Blue's Clues combined three things children love: catchy songs (like you don't remember the lyrics to "Here's the Mail"), interacting with the television, and adorable animals (and less-adorable talking spices). The simplicity was genius.
It was also very educational.
Todd Kessler, Angela Santomero, and Traci Paige Johnson — the trio that developed Blue's Clues — wanted the show to be entertaining as well as educational. Along with co-creator Santomero, who had a master's degree in child developmental psychology from Columbia University, the team enlisted the help of educators and consultants to craft a format that reflected the latest research in early childhood development. (Via)
Nickelodeon just figured out that a new generation of kids might love Blue's Clues, and now they feel really smart.
(Via Entertainment Weekly)