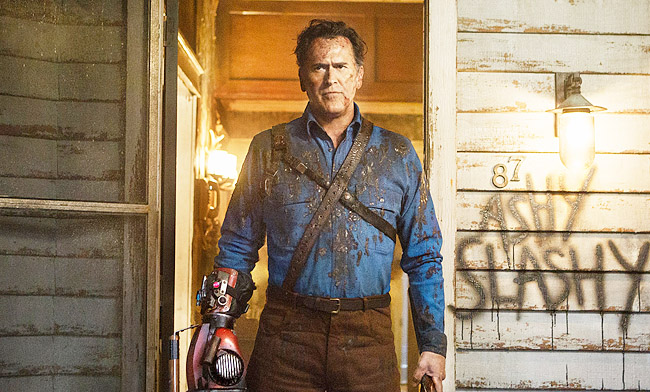 With the end of Ash Vs. Evil Dead over at Starz, so comes the end of Bruce Campbell's tenure as the franchise's hero Ash Williams. The star had said goodbye to the character when the cancellation of the series was announced, but John Squires over at Bloody Disgusting was letting fans know how they can get Netflix's attention to revive the series for season four. Many took the suggestion and shared their efforts on Twitter, but Campbell took notice and dashed the hopes of the show making a comeback:
It was worth a shot, though. As Squires notes, the show had plenty of viewers on Netflix and it wouldn't be the first series that the streaming giant has picked up after its original network has said farewell — Longmire and Arrested Development are some good examples.
But for Campbell, the end of the series is the end of his time as Ash. And that's likely fine. The franchise has given us a wealth of moments with the iconic hero and there's no need to try to push for more. And who knows, it also might open up a return for Jane Levy's character from the remake of Evil Dead. Campbell even mentioned the possibility of them crossing paths back in 2016 according to Entertainment Weekly:
"As absurd as that statement out of your mouth is, never say never," replied Campbell. "We've learned that now. We didn't think we'd be her making a TV show 25 years after the last Evil Dead movie. I mean, that should have been a forgone conclusion — that franchise is dead. Didn't happen. As you know, success begats success, so if the show stays on the air for a few years, they're gonna go, 'Okay , time for a movie.'… So you make a movie, and maybe you do make it a crossover. And I think that was very foreign to Sam Raimi at one point, but I think he sees the universe — it's bigger now. You center it with Ash and you can do whatever. And Jane Levy is just great too on top of it. She a very talented actress. So I would kind of love to see the old gummer and the new ass kicker come together. So it's not a terrible idea."
While Campbell might not be back, he did make an appearance at the end of the remake to set something up at the time. It never happened, by Levy is building her horror resume with Don't Breathe and her upcoming run on Castle Rock. Maybe a return to the cabin would be in order?