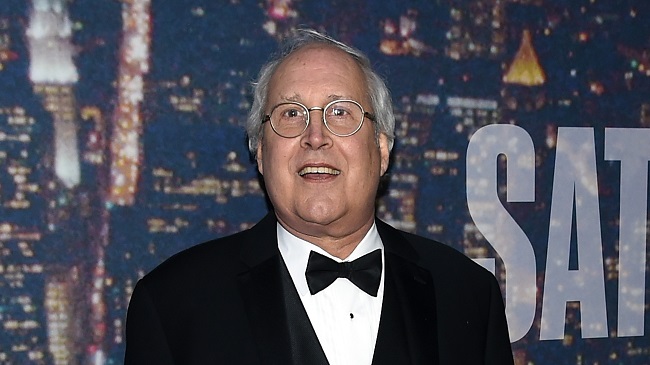 That founding Saturday Night Live cast member and comedy legend Chevy Chase is a notoriously difficult person to work with is the stuff of legends. Countless books and articles chronicling the history of SNL have spent time discussing the matter with actors, writers and staffers, past and present, at Lorne Michaels' esteemed program. More recently, his Community co-star, Donald Glover, spoke at length about their various run-ins in a profile for The New Yorker. All of this and more comes up in a new Washington Post interview with Chase, in which he trashes the modern SNL repeatedly.
Despite the fact that the interview is already in progress with "a microphone and digital recorder sit in front of him," Chase tells the Post, "I'm amazed that Lorne has gone so low. I had to watch a little of it, and I just couldn't f*cking believe it":
"That means a whole generation of sh*theads laughs at the worst f*cking humor in the world," he says. "You know what I mean? How could you dare give that generation worse sh*t than they already have in their lives? It just drives me nuts."
He then dives even further into the murk of his bad blood with SNL and its leader by rattling off opinions about some of its best cast members in recent memory, including a racially charged comment about Eddie Murphy reminicent of what Glover told The New Yorker:
"I'd have to say, that after the first two years, it went downhill," Chase says. "Why am I saying that? Because I was in it? I guess. That's a horrible thing to say. But certainly I never had more fun. I really loved it and enjoyed it. I didn't see the same fun thing happening to the cast the next year."

But what about Will Ferrell doing George W. Bush?

"Just not funny. Makes $25 million a picture."

Tina Fey?

"I liked Tina. I didn't see what all the folderol was about. She was good."

How about Kristen Wiig?

"I liked her a lot. She had two things going for her. She had clear-cut chops, and she was pretty, too. But what happened to her? Where did she go?"

Eddie Murphy?

"I thought Eddie Murphy was funny. Gumby. I found that funny and people loved that… Stevie Wonder, he did well. [Pause.] It's not that hard, for Christ's sake. Your skin's the same color. You just put on some sunglasses and do this."
So who does Chase actually like? According to the interview, he praises Dana Carvey, Gilda Radner and Dan Aykroyd. Otherwise, the 74-year-old comedy legend largely seems negative whenever talking about his television alma mater. This is especially true of Michaels, whom he claims told him he was "too old" to ever host SNL again:
"He said no," Chase recounts. "'Come on, Lorne.' 'No.' 'Why?' 'You're too old.' I said, 'And Helen Mirren's pretty and young?' I didn't get it. You're too old? We'd had many people older than me hosting. What did he mean? I've never understood what he meant. Because I'd be very good, and it would be fun for an audience to see me doing that."
So that's yet another batch of racist comments, this time about Murphy, and a problematic assessment of Mirren's appearance and age wholly irrespective of her talents. Woof.
(Via Washington Post)