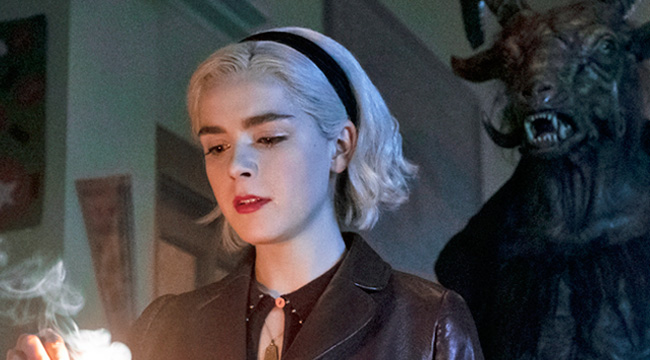 Netflix holds a lot of faith in Chilling Adventures Of Sabrina, the series about the teenage witch who refuses to, you know, blindly follow a faith or anything at all. Following an October 2018 debut, the streaming giant quickly renewed the series for three more seasons. That suggests a relatively long-term plan from showrunner (and Riverdale creator) Roberto Aguirre-Sacasa, who authored the Sabrina The Teenage Witch comic that this series is based upon, and it's nice to know that the producers aren't winging it. Yet it's clear from season two that this has transformed into a different animal than it was when it began less than a year ago. Not too surprising, since the leading lady (Kiernan Shipka) recently signed her name in the Book of the Beast. That's kind of a big deal. So, even though the overall pandemonium doesn't rise to season 1 levels, what does happen feels more intense and carries more grave consequences.
Things are getting really dark, really fast in Greendale.
Granted, the experience of watching the series remains a goth-y dream, like wrapping oneself up in a red velvet cake. The horror film homages are still arriving on a plentiful basis, and Clive Barker's artwork still lingers everywhere. It's really an aesthetically pleasing watch, as shallow and questionable as that sounds with all the blood flying everywhere.
Yet the sense of first-season wonderment no longer exists, and Sabrina has truly thrown herself head-first into coven rituals. The pace with which the series progresses into hellishness actually makes one marvel at how comparatively innocent the first season was, even while the fresh horrors at every turn are not new. Things are simply less silly now, tone-wise, as Sabrina's immersing herself in astral projection and other witchy feats. At times, she's levitating and burning foes alive and, as her mortal ex-boyfriend, Harvey (Ross Lynch) tells her, looking "like Dark Phoenix from the X-Men." She's also struggling with holding onto free will after taking a vow to do the Dark Lord's bidding, no matter how small or large, or murderous, the outcome.

Fortunately, Sabrina has not lost her own individuality nor her feminist way of thinking by joining the patriarchal Church of Night, and that's a positive — Praise Satan! — that the series retains. One even gets the feeling that the Church of Night has a Trojan horse of sorts in its midst. Sabrina goes bold with declared intentions, especially when she tells High Priest Blackwood (Richard Coyle) that she intends to someday reform the church's "antiquated, sexist policies" after becoming high priestess. That's a position that's never before existed, given that somehow, these witches are trapped within a male-driven world like their mortal counterparts. Sabrina's goals make her a threat and a target, and the fallout is enormous.
Still, not everything is so serious. Even though Sabrina's slowly moving away from her human existence and growing more intertwined with the Academy of Unseen Arts, she's still checking in with human pals from time to time. These seemingly minor characters are not ignored and, in fact, act as a mirror for the audience's reactions to Sabrina's new life as a half-witch/half-mortal. Likewise, the rest of the Spellman family — including aunts Zelda (Miranda Otto) and Hilda (Lucy Davis), along with cousin Ambrose (Chance Perdomo), who's finally free after decades of house arrest — now find purpose outside of supporting Sabrina in the decision-making process that consumed the entire first season.
The Spellmans become more interesting as a result, although the season does falter with the forced love triangle between Sabrina, Harvey, and hot warlock Nicholas Scratch (Gavin Leatherwood). Promotional posters and trailers make this seem more significant than it ends up being. The conflict between the three falls flat, even as Scratch moves beyond being drawn to be bad. That's lame news for the young adults who enjoy "shipping" characters, but there's still time for that later, perhaps. There is a fresh take on Dorian Gray that manages to not be all about a painting in an attic. He doesn't get much screentime in the season's first half, but he's a good time nonetheless.
Chilling Adventures Of Sabrina continues to be stocked full of occult pleasures and oddities at every turn without falling into the "quirky" trap. It's not a flawless show, but it's a pleasurable and an oddly comforting one to binge. Also, most of the characters worth caring about become more fleshed out with one glaring exception. That would be Mrs. Wardwell (Michelle Gomez), now the principal of Sabrina's old Baxter High. Gomez gobbled up all the scenery last season, and the character was eventually revealed as Madam Satan/Lilith. She, for some reason, is now a muted version of her old self and mostly wasted. That's a shame, as is less of Salem the Cat this time around, but overall, this is a sophomore season that refuses to slump.
Netflix's 'Chilling Adventures Of Sabrina: Part 2' streams on Friday, April 5.