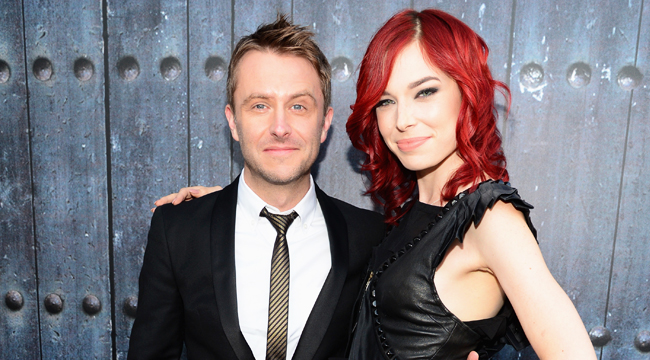 Actress Chloe Dykstra spoke out on Twitter Thursday night, clarifying why she didn't take part in an investigation into abuse allegations against The Talking Dead host Chris Hardwick.
In June, Dykstra wrote a Medium post describing emotional abuse from an anonymous ex-boyfriend, though the allegations were quickly tied to Hardwick. The subsequent fallout of that post was that Hardwick was fully removed from the Nerdest properties he founded and fired from his duties as The Talking Dead host, the talk show that airs after new episodes of The Walking Dead.
Earlier this week, AMC reinstated Hardwick as the show's host after an investigation into the allegations and despite naming a replacement for him earlier in the month. Yvette Nicole Brown had even replaced Hardwick at the show's San Diego Comic-Con panels earlier in the month.
On Thursday, Dykstra posted on Twitter a message that shed some light on that investigation. Though she didn't mention AMC by name, she explained that she didn't cooperate with an investigation because she doesn't believe in "an eye for an eye," and her initial post was simply a way to "move on" from that period in her life.
"I had been adamant since I came forward with my essay that I never set out to ruin the career of the person I spoke about," Dykstra wrote. "I could have provided more details, but chose not to. I have said what I wanted to say on the matter, and I wish to move on with my life. For that reason, I chose not to participate in the investigation against the person I spoke of. I do not believe in an eye for an eye, and therefore I have only shared my evidence with those who I felt should see it."
Dykstra refused to use Hardwick's name in the statement but claimed she wanted to talk to him about the incidents, but things only got worse for her when she tried to communicate through text message.
"I wish I had been able to have had a private conversation with the person I spoke about in my essay," she wrote. "Reaching out to him over text made me vulnerable, and ultimately ended up in a tabloid article where said texts were chopped up and spun to discredit me."
Dykstra said she hoped her statement would help "the hatred, the name-calling" and "death threats" stop and return to a more "productive discourse." Hardwick hasn't tweeted since the allegations were made public, though three ex-girlfriends have come forward to deny they were abused by Hardwick. He's expected to return to the AMC airwaves on August 12, when Fear The Walking Dead has its midseason return.