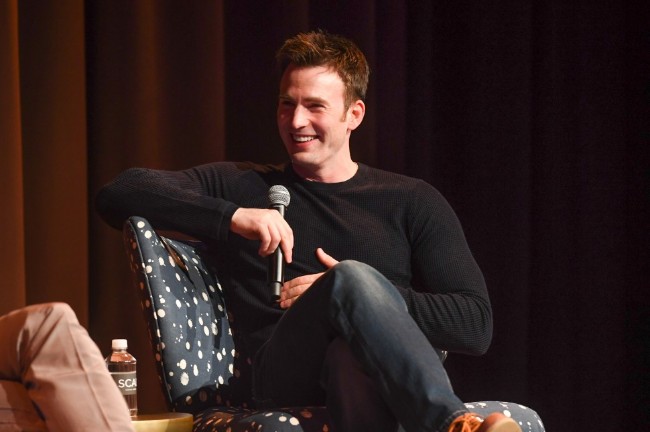 Chris Evans is only playing Captain America once more. But then what? What does a Marvel vet do with the remainder of his or her days? Evans could bag a third screen superhero, as he played the Human Torch in the first big budget Fantastic Four series. He could direct some more, having done that with 2014's Before We Go. For now, though, he's trying something he hasn't done, according to his IMDb page, in 10 years: He's going to television.
According to Deadline, the Marvel star will be top-billed in Defending Jacob, a TV adaptation of the 2012 bestseller by William Landay. In it, Evans will play a lawyer whose 14-year-old son is accused of murder. It sounds a touch like old school John Grisham, whose page-turners about lawyers living exciting lives were movie fodder throughout the '90s. This will stretch the book, which runs some 473 pages, over an entire eight episode season, at least, which have been ordered by Apple.
The show has been created and will be written by Mark Bomback, whose hands over the scripts for the last two Planet of the Apes movies, the second Logan solo outing The Wolverine, the Total Recall remake with Colin Farrell, and Unstoppable, the movie with Denzel Washington, Chris Pine, and a greasy, noisy runaway train. Morten Tylden (The Imitation Game, but also Passengers) will direct.
Evans was last on TV in 2008, for an episode of Robot Chicken. He hasn't had a regular boob tube gig since the Fox comedy-drama series Opposite Sex, which lasted eight episodes in the year 2000 and starred a pre-Gilmore Girls Milo Ventimiglia. He'll next be seen as a Mossad agent in the Israeli rescue drama The Red Sea Diving Resort. And, of course, he'll do one last spin as Steve Rogers in the Avengers fourquel that doesn't even have a name yet.
(Via Deadline)