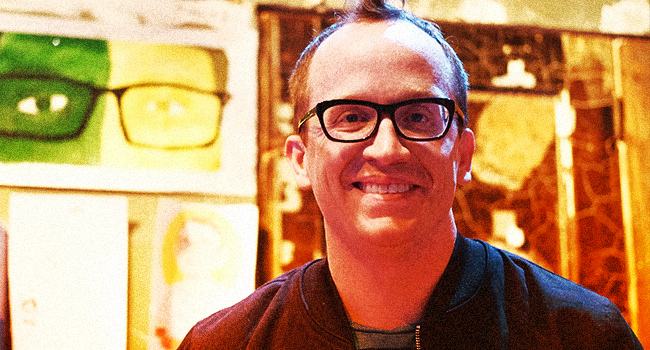 It's been a big year for Chris Gethard, one in which the hard work of the years leading up to it has started to pay off. Most notably, Gethard won acclaim and a wider audience via Career Suicide, an HBO special unafraid to delve into the comic's struggles with substance abuse and depression. (Gethard talked to us at length about the show earlier this year.) Tonight also sees the return of The Chris Gethard Show, which makes its debut on a new network, truTV, tonight at 11pm ET. The return promises another season of Gethard's unusual take on the talk show, one willing to go to some highly unusual places.
Gethard made some time recently to participate in our recurring questionnaire series.
1. You walk into a bar. What do you order from the bartender?
I've been on the wagon for sixteen years, so I will generally order a soda. I will usually give a quick desperate glance over the bar to see if they have any fancy glass bottle sodas, but when they don't I settle for a nice little ginger ale with a straw sticking out of it.
2. Who's your favorite person to follow on Twitter and/or Instagram?
When it comes to social media, Tim Dillon is king. He's one of the funniest people in New York and I find his social media hilarious, disturbing, but ultimately cathartic.
3. What's currently waiting for you on your DVR or in your streaming queue?
If I'm being honest: I'm obsessed with the show Legends of Wrestling on the WWE Network. It's a bunch of old wrestlers sitting around talking about the old days and I think it may secretly be the greatest television show ever made.
4. It's your last meal — what are you going out with?
Kraft Macaroni and Cheese so I can die with no dignity.
5. What websites do you visit on a regular basis?
I go to Reddit every day. The main page, then also the subreddits soda, Brazilian jiu jitsu, Squared Circle, NBA, and MMA. Every day. I also read the NBA section of ESPN.com every day. Also, I will usually read Splitsider for my comedy news/gossip.
6. What's the most frequently played song on your mobile device?
According to the iTunes on my phone, my most played song is the beautiful "Master of Art" by the wonderful Laura Stevenson.
7. If you could go back and give your 18-year-old self one piece of advice what would it be?
Less anxiety, more mistakes.
8. What's the last thing you Googled?
How to take the back from half guard during a Brazilian jiu jitsu match. I have not taken a Brazilian jiu jitsu class in around five or six years, but I am fiending to get back into it.
9. Dogs or cats?
Cats all day.
10. Best concert of your life was…?
Seeing Billy Bragg in a church during South by Southwest was a beautiful experience that I didn't expect and will never forget.
11. What book are you most likely to give as a gift?
The Giving Tree
12. What's the nicest thing anyone has ever done for you?
I was once in an airport terminal where every flight was massively delayed and it became clear I was going to miss performing at a very industry important comedy festival. I was having a meltdown. All of a sudden I saw this guy approach me and realized he was this dude I played basketball against in my league and we hated each other. He had access to the United lounge and swiped me in so I could at least have my panic attack in private. It was a solid move, especially from someone I considered a bitter enemy on the hardwood.
13. South Park or Family Guy?
South Park
14. You have an entire day to do whatever you want. What would you do?
I'd spend a few hours walking around by myself someplace where no one would bother me, then I'd hang out on the couch with my wife. Probably go see a movie.
15. What movie can you not resist watching if it's on?
Grosse Pointe Blank! Most underrated comedy of my lifetime.
16. The sports team or teams you're most passionate about?
The New York Knicks, which is a fate worse than hell.
17. Where did you eat the best meal of your life?
The Williams Smokehouse in Houston, Texas. I was driving cross country and stopped there. I bit into a rib that was so good I actually dropped it and stared at it. The song playing at that moment was the one that goes "Take my breath away…" It was a perfect food moment that I think of often. I tried to go back there, but the place burned down.
18. The last movie you saw in a theater?
I just saw a screening of Patti Cake$ last night. It was rad and made me miss living in Jersey more than I already do.
19. Who was your first celebrity crush?
Marilu Henner. Yowza.
20. What would you cook if Nic Cage was coming to your house for dinner?
French Bread Pizza
Previously: Minka Kelly