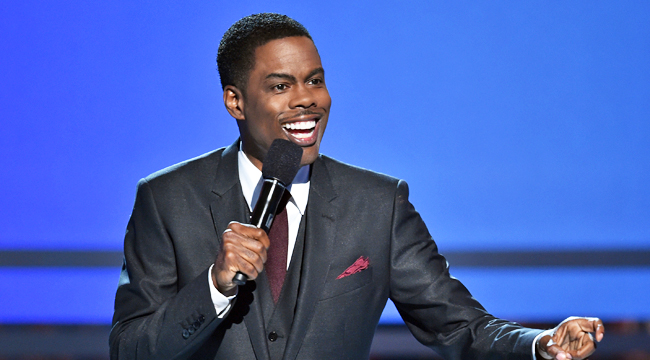 Nothing quite like a little unexpected news on a Friday afternoon, and this one is a doozy. Chris Rock has been signed to star in FX's fourth season of Fargo, the limited series known for its darkly comedic streak and patterned after the 1996 cinematic version directed by the Coen Brothers. The series is often utterly bleak but nonetheless absurdly hilarious, and after male lead turns by Billy Bob Thornton, Jesse Plemons, and Ewan McGregor, the network seems to have grown truly adventurous in its casting ways.
Rock will play the head of an African-American crime family battling against an Italian mafia syndicate. According to an FX press release, his role is that of "a man who — in order to prosper — has surrendered his oldest boy to his enemy, and who must in turn raise his son's enemy as his own." FX further states, "And then the head of the Kansas City mafia goes into the hospital for routine surgery and dies. And everything changes. It's a story of immigration and assimilation, and the things we do for money. And as always, a story of basically decent people who are probably in over their heads."
The comedian has expressed his enthusiasm over the news. "I'm a fan of Fargo and can't wait to work with Noah [Hawley, executive producer and showunner]," Rock declared. While it's admittedly difficult to envision him in this role — wayyy back in the day, he took a relatively dramatic turn as Pookie the drug addict in 1991's New Jack City, and he was only mildly serious in 2014's Top Five — FX's casting process is generally inspired and should hit the mark.
Further, the show's setting will move from the frozen North Dakota landscape to 1950s Kansas City, Missouri, a much larger tweak than season 3, which simply moved the story out of Fargo proper. As of now, FX has not set a premiere date for season 4, but the Rock news should generate enough anticipation to last.