Welcome to Comedy Now, a weekly column cataloging what comedy fans should know about what's available in the streaming world. Whether it's a brand new special, an old classic, or the oddball show that defies categorization, we'll list as many as we can for your enjoyment right here. Who knows? We may even throw in a few non-streamable bits on occasion, like tour announcements from our favorite comics. You can check out the previous column here.
What's Now
Pete Holmes is a really approachable guy, no matter how dirty or clean he gets
The third season of comic and podcaster Pete Holmes' popular HBO series Crashing premieres on January 20th, but his latest special with the premium cable channel debuts Saturday at 10 pm ET/PT. Titled Dirty Clean, the followup to 2016's critically acclaimed Faces and Sounds bears all the hallmarks of Holmes's preference for digging into the tiniest of details. In this case, the comedian spends much of the hour discoursing on the nature of clean and dirty material, why these categories even exist and which faces, sounds and gestures best convey each.

Vir Das is Losing It on Netflix
Last year, Indian comedian and global sensation Vir Das made his American debut with Netflix's Abroad Understanding, a special that combined two sets filmed separately in New Delhi and New York. A year-and-a-half later, his second Netflix special, Losing It, is now streaming. A Bollywood actor turned comic, Das is the biggest English-speaking performer in India. He recently completed a massive global stand-up tour with runs in Australia, London, Montreal and Edinburgh.
The Fix thinks it can solve the world's problems through comedy (not really)
Earlier this year, Comedy Central debuted an American version of the British comedy reality series Taskmaster with The Late Late Show's Reggie Watts as host. It did okay, but unless you were already a fan of British comedy panel shows, then chances are you have no idea what it was. Netflix hopes to change this with The Fix, its own panel show with host Jimmy Carr and regular panelists Katherine Ryan and D.L. Hughley. All episodes are now available to stream.
Billy on the Street snags Lin Manuel-Miranda
Billy Eichner is set to release a new special on Netflix sometime in 2019, but until then, audiences will just have to make do with his recently reinvigorated Billy on the Street web series. In the most recent installment, he and Hamilton creator Lin Manuel-Miranda scoured the streets of New York for surprised-yet-willing participants in a game of answering questions about just how awful everything is. Obviously, the combination of Eichner and Manuel-Miranda is a godsend for short-form comedy fans.

Uproxx's top 10 comedy specials of 2018 announced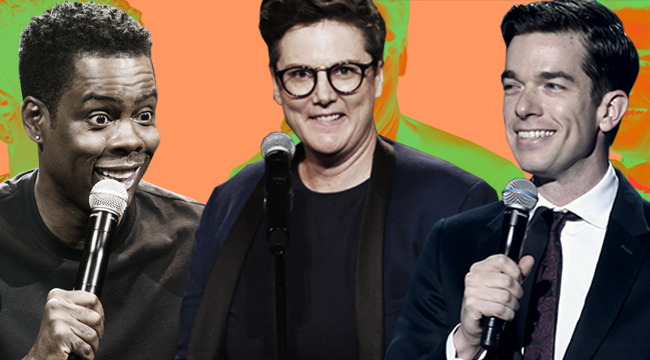 Earlier this week, Uproxx published its year-end list of the 10 best stand-up comedy specials. Obviously, as you can probably tell from the above image, the list includes the likes of Hannah Gadsby, Chris Rock and John Mulaney, three very different comedians who made three complete different specials. Obviously, there are many lists like this out there, and not everyone is going to agree about what the 10 best stand-up comedy specials of 2018 were. Even so, these are the ones that really stuck out to us — and still do.
What's New(s)
Ron Funches's Giggle Fit gets a first trailer from Comedy Central
Last week, Comedy Central declared that January would be "Stand-Up Month," which meant that the already-stand-up-filled outlet would be airing even more comedy content throughout the first month of 2019. This includes four new hour-long specials from Ron Funches, Jamie Davis, Chris Distefano, and Roy Wood, Jr. The first, Funches's Giggle Fit, will premiere on Friday, January 4th at 11 pm ET/PT. Comedy Central dropped Giggle Fit's first trailer this week.
Carol Burnett to receive a special Golden Globe Award named after… Carol Burnett
Of the many criticisms that are made every year of the Golden Globe Awards, the strongest almost always concern the Hollywood Foreign Press Association's general disdain for television. The film awards are almost always highlighted at the expense of the small screen's recognitions, and the nominations are either inconsistent or willfully ignorant. This year, the HFPA is hoping to make amends by creating and award the first of a special television-centric award dubbed the Carol Burnett Award. Like its film counterpart, the Cecil B. DeMille Award, this trophy will recognize one's career-spanning excellence. So who's getting the first trophy? Carol Burnett herself.

One of the biggest comedy festival's founders is charged with sexual assault
In the stand-up comedy world, a great deal of the #MeToo and Time's Up-driven criticism of potentially abusive male comics has focused on Louis C.K. and Aziz Ansari. Other names have come up, of course, but one of the more prominent was none other than Just For Laughs Festival founder Gilbert Rozon, who was accused of sexual assault by at least 10 women in 2017. Rozon sold his festival shares and departed the scene, but this week his name re-entered the news cycle when he was formally charged with rape and indecent assault.
What's Later
Is Ellen DeGeneres really going to leave daytime television?
Comedian turned daytime talk show host Ellen DeGeneres's first comedy special in over a decade, Relatable, debuts next week on Netflix. As the special itself and a recent New York Times profile indicate, however, the 60-year-old entertainer is considering leaving the daytime scene altogether. "I wanted to show all of me," she said in the profile. "The talk show is me, but I'm also playing a character of a talk-show host. There's a tiny, tiny bit of difference." As a result, DeGeneres is now floating the possibility of doing something that's exactly the opposite, like playing "someone unappealing."