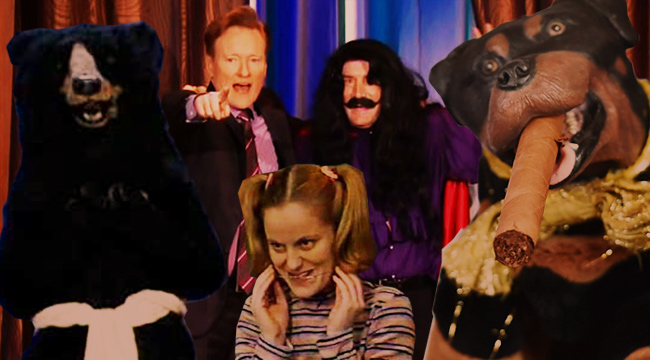 Conan O'Brien may be among late night's "old guard" these days, but the host of Conan on TBS (not to mention Late Night and The Tonight Show before it) remains one of the format's most innovative personalities. Nowhere does this distinction manifest itself more than in the many side characters who've frequented, and continue to frequent, O'Brien's stage. From the maniacal giddiness of co-host Andy Richter's "little sister" to Triumph the Insult Comic Dog's roasts of Star Wars fans and Westminster Kennel Club Dog Show, here's a ranking of Conan's funniest fictional guests.
15. Little Jay Leno
Employing a little person to play Tonight Show host Jay Leno during his time on Late Night made sense for O'Brien in the '90s. They were still colleagues at the time, and as Austin Powers: The Spy Who Shagged Me proved later that same decade, smaller actors playing miniature versions of famous people practically guaranteed laughs. Little Jay Leno wouldn't translate well for today's late night audiences, but considering what would transpire between the real Leno and O'Brien during the renewed "late night wars," this character's profile moved up a few notches.
Best character trait: His proportionally massive chin.
14. Polly the NBC Peacock
As O'Brien once joked while introducing Polly the NBC Peacock to his Late Night audience, "we spared no expense in making the finest illusions." Sure enough, Polly was nothing more than a cut-out of the broadcaster's official, multi-colored peacock logo — complete with two orange, scaly feet and a perch to roost on, and a small mouth activated by O'Brien himself. Unlike characters who'd show up later on in the show, Polly's was a rather simple setup. Yet the bird's squawky delivery of harsh jokes made at NBC's expense were more than enough to justify Late Night's budget expenditures.
Best character trait: Polly's Heimlich maneuver-like voice.
13. Walker, Texas Ranger Lever
Technically the Walker, Texas Ranger lever isn't a "side character" played by one of O'Brien's writers, interns or miscellaneous crew members. Rather, it's an inanimate object deployed by the Late Night host to accost his viewers with random scenes from the hit USA Network series. Why? Because after the 2004 formation of NBC Universal, the new merger's acquisition of the show's image and video rights meant O'Brian could showcase clips without having to fork over loads of money to another company. So even though the lever is just a lever and not an actual character played by a human being, O'Brien used it in a similar manner.
Best character trait: It looks nothing like Chuck Norris.
12. Artie Kendall the Ghost Crooner
Brian Stack, who left Conan in 2015 to work for The Late Show with Stephen Colbert, got his start on O'Brien's Late Night back in 1997 as a sketch writer. This gig exploded into a series of both short-lived and long-lasting comedy sketches, characters and other oddball additions to O'Brien's three programs that have long been fan favorites. These include Artie Kendall the Ghost Crooner, the specter of a '40s lounge singer who'd often appear on Late Night to serenade O'Brien with tunes about whatever topics preceded his appearance. Kendall's lyrics were often sexist, bigoted or somehow reflective of his bygone eras prejudicial temperament.
Best character trait: His ability to croon lovingly about society's worst.
11. The Gaseous Wiener
Like Stack, fellow Late Night writer and sketch actor Tommy Blacha contributed to the show's vast array of one-off and recurring side characters — including the Gaseous Wiener. An old friend of co-host Andy Richter, Blacha's character was exactly what it sounds like: a giant hot dog who never spoke a single word of English (or any other discernible language), but mimed along to a seemingly endless soundtrack of pre-recorded farts. Blacha left the program in 1999 and pursued a career that led him from the WWE and TV Funhouse to Andy Richter Controls The Universe and Metalocalypse, which he co-created with Brendon Small. But wherever he goes, he'll always have hot dog farts.
Best character trait: He's not a gaseous sandwich.
10. "No Reason to Live" Guy
After 17 years, comedian Brian McCann left Conan in 2012 for other opportunities back in New York. The comic actor and writer left behind a vast array of goofy, random characters as old as O'Brien's Late Night show — including the "No Reason to Live" Guy. Like Blacha's Gaseous Weiner, McCann's "No Reason to Live" guy had only one purpose whenever he appeared on the program: pose as a member of the Late Night audience, be corrected by O'Brien on some trivial matter, and run out of the studio screaming about how he has "no reason to live." McCann's exit was always followed by stock footage of people doing dangerous stunts, like kayaking down a ski slope.
Best character trait: Mad kayaking skills.
9. FedEx Pope
Whereas McCann's "No Reason to Live" Guy had one clear purpose, his FedEx Pope did not (even though O'Brien enjoyed it immensely). Not that it mattered, because the otherwise useless character still appeared on Late Night numerous times while wearing nothing but an off-white bathrobe and an empty FedEx delivery box smashed onto McCann's head to look like the Pope's hat. (On the other hand, O'Brien also lovingly joked that the character was "so stupid.") That's really all there is to the older sketch, yet it remains one of the most-remembered characters in O'Brien's history.
Best character trait: Fancy tastes in hats.
8. The Interrupter
There's nothing more annoying than being interrupted. Unless, of course, you're being interrupted by the Interrupter — a magician-like character played by Stack who occasionally plagued O'Brien on Late Night. The long-haired wig, fake mustache and fancy costuming were enough to help the character stand out on his own, but it was his namesake that ultimately helped the Interrupter become a staple during O'Brien's first hosting gig. After the bit had gone on long enough to genuinely annoy people, O'Brien would simply start interrupting the character until a depression ensued.
Best character trait: How easy it is to interrupt him.
7. Ted Turner
Will Forte is a wonderful human being, a fact the Saturday Night Live alum proved yet again with his multiple appearances as Ted Turner on Conan. Seeing as how O'Brien's current show airs weeknights on TBS (otherwise known as Turner Broadcasting System), Forte's exaggerated impression of the media mogul makes complete sense. After all, wouldn't you want your boss's boss's boss to visit you while riding a taxidermied buffalo and shouting insults at you? If Forte's Turner is any indication, the answer should be an emphatic yes.
Best character trait: His personal buffalo.
6. Frankenstein
As Stack once explained at the Paley Center for Media, his Frankenstein character on Late Night was nothing more than "a little kid leading his parents to show them something, and you think he's going to show you something really great, and it ends up being a light socket." Even so, the odd-yet-appropriate comedic reinterpretation of Boris Karloff's famous Universal movie monster struck a chord with O'Brien's audience. Hence the character's frequent appearances on Late Night — and not just by himself, but with actor and guest Tom Hanks too.
Best character trait: Capable of convincing Tom Hanks to love light sockets.
5. Andy's Little Sister
Of course, Forte's over-the-top Turner had a fantastic blueprint to rely on from O'Brien's Late Night days — Parks and Recreation alum Amy Poehler's many performances as Andy's Little Sister. Well before her SNL days, Poehler's character would occasionally appear as a member of the audience introduced by O'Brien's co-host, Andy Richter. Richter would admit his sister had a crush on O'Brien, who'd simultaneously lead her on and dash her hopes. The result? A series of violently hilarious tantrums from a young, blonde, prepubescent girl sporting a vast array of dental work.
Best character trait: Her beautiful smile.
4. The Really Tall Dachshund
There's not much to the Really Tall Dachshund. On both Late Night to Conan, O'Brien will occasionally bring out the character — which is nothing more than an actual dachshund sitting inside a ridiculous long-legged costume made to look like its body. A stagehand will pull a dolly on which the dachshund is situated across the stage, never stopping until he reaches the other side and departs. One of the few exceptions arrived just after the 2016 presidential election, when O'Brien brought the dog out onto the stage and petted the little guy while the audience crooned. "Always resort to cheap visual comedy," he joked.
Best character trait: It's a dog. Dogs are awesome.
3. Abe Vigoda
Character actor Abe Vigoda, who passed away earlier this year at the age of 94, figured prominently in many of Late Night's silliest sketches. In fact, the performer best known for his roles in The Godfather and Barney Miller was such a huge part of O'Brien's first talk show that he and co-host Andy Richter paid tribute to him with an homage of hilarious clips on Conan. Vigoda often played many different characters, or himself, whenever he stopped by. (His most memorable was as a slow-moving version of Star Wars' Yoda named "Abe Vi-Yoda.") Technically Vigoda wasn't a side character via any typical definition, but his willingness to lampoon himself so many times transformed him into one of the best.
Best character trait: His calm, well-paced stride.
2. The Masturbating Bear
Soon after exiting The Tonight Show, O'Brien suggested the infamous Masturbating Bear character was the exclusive property of NBC. It wasn't all that far-fetched since the character (and many others) were technically the intellectual property of the broadcaster. O'Brien jokingly dared his former employer to sue him for using the character anyway, and after a short reprieve, the character finally made its triumphant return to Conan in 2011. Which was fantastic news, as the Masturbating Bear had been a part of O'Brien's late night presence for so long, the two were practically synonymous.
Best character trait: The fact that he's not the exclusive property of NBC.
1. Triumph the Insult Comic Dog
Triumph the Insult Comic Dog is to Conan O'Brien what Paul McCartney's solo career is to the Beatles. O'Brien's tenure on television stands far ahead of his and Robert Smigel's comic offspring, but the foul-mouthed pooch has gone on to star in his own election specials. (He even talked to Uproxx while filming one of them at the Democratic National Convention.) Since Late Night, the cigar-chomping puppet has insulted his way through line queues for Star Wars Episode II: Attack of the Clones, the crowds a the Westminster Kennel Club Dog Show, NBC's studio lots and more. May he never stop pooping.
Best character trait: Robert Smigel's arm.
This is an updated version of an article that originally ran on December 1, 2016 as a part of Uproxx's Late Night Week.