In 2017, Dan Harmon told The Hollywood Reporter that he could agree that Donald Glover's departure from Community signaled the beginning of the end for the series, but that he had "needed to convince [himself]" that that wasn't the case at the time. That denial wasn't for naught. There's good stuff in season five and season six of Community, particularly in Harmon's approach to the brief scenes, or tags, that appeared at the end of each episode. Scenes that had often housed some of Troy and Abed's best and silliest moments before Glover's exit.
When we started work on this article in 2017, one of those tags was the primary focus. Appearing at the end of the season six episode "Basic RV Repair And Palmistry," the nearly three-minute-long "Giant Hand" tag tells a tragicomic tale about a bickering couple (Matt Besser and Danielle Schneider), a missing kid, and an obsession with oversized things. All of this loosely tied into the episode's main storyline about the study group's doomed RV trip to transport a massive fiberglass hand — an attempt at a bottle episode that wound up being more complicated then the crew had imagined, Community creator Dan Harmon told Uproxx.
We were going to talk exclusively about details like that and how the giant hand started as a pencil, a large bowling pin, and a taco that didn't look like a taco — fun bits of trivia. But a loose tie between Glover's departure and that darkly funny end tag and some of the deeper philosophies at play in season six were revealed when speaking with Harmon. This prompted a brief look at the history of the end tags, Glover's impact, and the subtle long goodbye that Harmon laid on fans in what would be the show's final episodes.

End Tags And The End Of Troy And Abed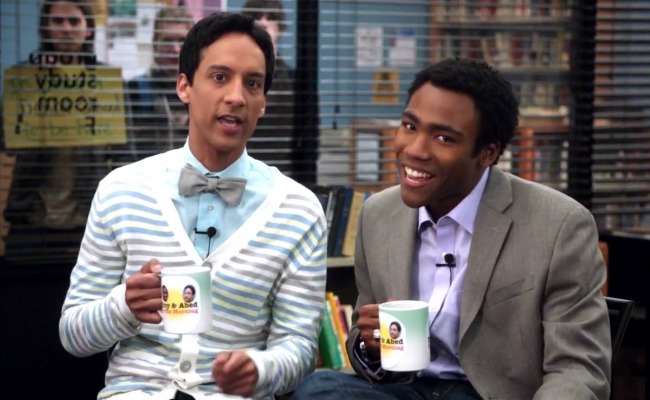 While Community never shied away from taking Troy and Abed (Danny Pudi) to wildly imaginative places, Harmon was usually careful to keep the characters' adventures in line with that episode's plot rather than allow them to splinter off on their own all-consuming episode-long side-quests. It's the exact opposite of what a lot of shows would have done when presented with the possibility of a breakout character (or two), but Community would have folded in on itself had it become The Troy And Abed Show. Like candy for every meal, and other things that fall under the heading of "too much of a good thing," life surely would have grown tedious within the Dreamatorium for Troy, Abed, and fans of the show… eventually. Troy and Abed needed structure. But they also needed playtime.
Through episode tags like "La Biblioteca Spanish Rap," "Troy And Abed In The Morning," and others, Harmon was able to satisfy that need, giving fans a micro-show within the show (sometimes literally) to let those characters fly freely. A perfect compromise that allowed for a deepening affection for both the characters and the show — usually in only a minute or two of screen time.
"When we first started doing the tags I had no idea what to expect," Danny Pudi told Uproxx, adding that the tags with Abed and Troy became some of his favorite moments from the show and helped establish the chemistry that he and Glover had on screen. "We loved the freedom to explore a weird idea and found [that] the extra time we had to build our relationship was priceless."
The Troy and Abed tags weren't just about fun and chemistry building, though. They were part of a collaborative process that pushed Glover's talents as an improviser to the forefront. Pudi told us that he couldn't wait to see what Glover would come up with on the fly as a scene partner and Harmon has, in the past, testified to the brilliance of Glover's comedic mind and improv skills. In 2014, he told Rolling Stone that Glover could out-funny the writer's room and he often talks about leaving scenes with a blank space so Glover could end them on a high.