Netflix darn well knows that spring has sprung, and they're also springing back into action with the return of some wildly popular series. The return of Ozark for a final batch of Ruth Langmore's rage (and Byrde family comeuppance) ride at the top of this month's crop, but there are many more offerings, including some high-profile highlights. For example, have you caught up on Better Call Saul? Well, Season 5 is coming to this streaming service ahead of Season 6's arrival on AMC. Fingers crossed for Kim Wexler.
In addition, Natasha Lyonne's anti-fabulous Russian Doll is returning with more universe f*ckery, and there's a guilty pleasure of a metal-loving D.B. Weiss/Tom Morello team-up coming your way, too. If you're looking for some archive content to binge hard, the Blade trilogy and Sherlock Holmes movies are incoming, and if you're a Dawson's Creek fan, that's fleeing the ether soon, so you've only got a few more weeks to re-live that one.
Here's everything coming to (and leaving) Netflix in April.
Ozark: Season 4 Part 2 (Netflix series streaming 4/29)
Alright, one thing is certain: this season is gonna be violent and probably not end well for the Byrde family, who only wanna flee from their money-laundering adventures and go back to their cushy Chicago lives. Is that even possible at this point? Only these last episodes will tell that tale, and Ruth is hellaciously angry about losing almost everything in the world. She's the centerpiece of the above teaser, and we'll see if she can finally rise above that "cursed Langmore" status that she keeps clinging onto. There's more cursed cookie jar, too, so we'll see if she can rise above those ashes. She doesn't seem too afraid to die, but please, don't let that happen to her.
Better Call Saul: Season 5 (AMC series streaming 4/4)
Another character that cannot die, or the fans will rage: Kim Wexler. The anxiety for her runs high going into the final season (coming to AMC on 4/18) as the spinoff grows ever closer to the Breaking Bad timeline. And since she never surfaces in that flagship series, things feel very ominous, also because those finger guns and Saul Goodmanification do not bode well for her. But maybe she'll show up in a Cinnabon scene. One can hope!
Russian Doll: Season 2 (Netflix series streaming 4/20)
Say it with me: what a concept. The close to perfect first season presented quite a dilemma, which is how to follow up the debut while believably upping Nadia and Charlie's respective ongoing plights. Also, Charlie's got quite a mustache now, and Annie Murphy has joined the cast while one of the show's new YouTube revealed taglines is "The universe is back on its bulls@%t." This season, there's a time portal and hauntings from the past and, uh oh, more stairs.
Metal Lords (Netflix film streaming 4/8)
Game Of Thrones HBO co-creator D.B. Weiss wrote this little ditty while teaming up with Rage Against The Machine axeman Tom Morello as a love letter to the metal genre. The story revolves around two high-schoolers who seek the ultimate glory and win contests and be gods, and so on. Unfortunately, it's hard to find a bassist when Black Sabbath isn't as popular with the kids as Justin Bieber is. The struggle is real.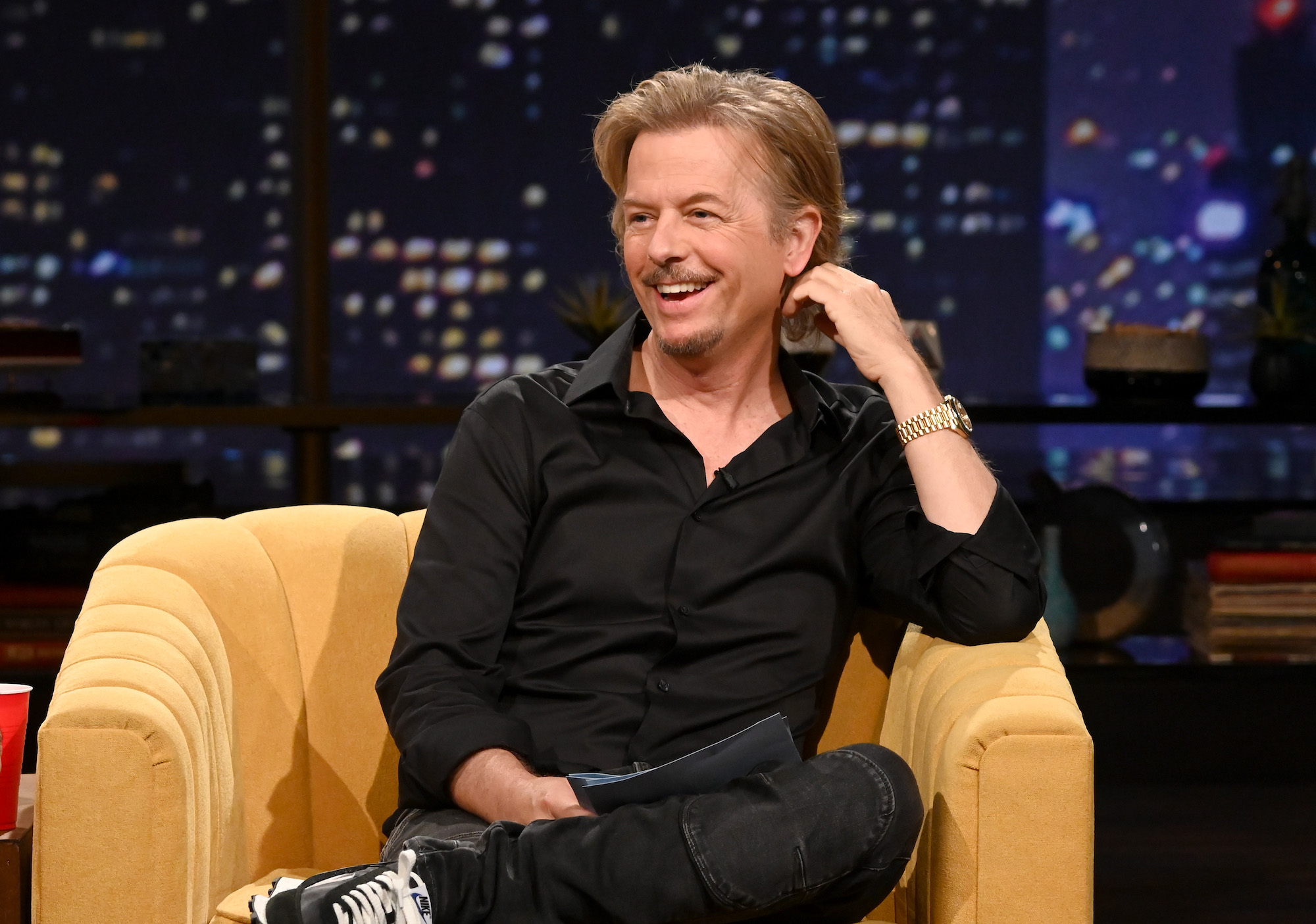 David Spade: Nothing Personal (Netflix comedy special streaming 4/26)
Netflix has slowly but surely been rebuilding up a stash of fresh comedy specials after the pandemic largely shut things down. Dave Chappelle will be back, of course, but for now, David Spade is making his Netflix comedy-special debut with a set featuring a multitude of rant topics. That includes, uh, crabs and how he tells people "no thanks" to drugs. Hmm.
Avail. TBA
Hold Tight
The Taming of The Shrew
Avail. 4/1
A Cinderella Story
Abby Hatcher: Season 2
Any Given Sunday
Apollo 10 1/2: A Space Age Childhood
Argo
Battle: Freestyle
Blade
Blade II
Blade: Trinity
The Blind Side
Blow
Bonnie and Clyde (1967)
The Bubble
Captain Nova
Catch and Release
Celeb Five: Behind the Curtain
CoComelon: Season 5
Delta Farce
Eagle Eye
Forever Out of My League
Four Brothers
Full Metal Jacket
Get Organized with The Home Edit: Season 2
Grown Ups
Heartland Season 14
Her
How to Train Your Dragon
Inception
Love Actually
Molly's Game
Monster-in-Law
New York Minute
The Nut Job
Polly Pocket: Season 4: Part 1: Summer of Fun
Puss in Boots
The Rental
The Ring
Rumor Has It…
Saving Private Ryan
Sherlock Holmes
Sherlock Holmes: A Game of Shadows
Shrek Forever After
Something's Gotta Give
The Last Bus
Tomorrow
Trivia Quest
We The Animals
Avail. 4/4
Better Call Saul: Season 5
Avail. 4/5
Ronny Chieng: Speakeasy
Avail. 4/6
Furioza
Green Mothers' Club
Jimmy Savile: A British Horror Story
Michela Giraud: the Truth, I Swear!
The Ultimatum: Marry or Move On
Avail. 4/7
Queen of the South: Season 5
Return to Space
Senzo: Murder of a Soccer Star
Avail. 4/8
Barbie It Takes Two: Season 1
Dancing on Glass
Dirty Lines
Elite: Season 5
Green Eggs and Ham: Season 2
Metal Lords
Tiger & Bunny 2
Yaksha: Ruthless Operations
Avail. 4/9
My Liberation Notes
Our Blues
Avail. 4/10
The Call
Nightcrawler
Avail. 4/12
Hard Cell
The Creature Cases
Avail. 4/13
Almost Happy: Season 2
Our Great National Parks
Smother-in-Law
Today We Fix the World
The Ultimatum: Marry or Move On
Avail. 4/14
Ultraman: Season 2
Avail. 4/15
Anatomy of a Scandal
Choose or Die
Mai
One Piece Film Z
Strawberry Shortcake Berry in the Big City: Season 1
Avail. 4/16
LEGO Friends: Girls on a Mission: Seasons 1-4
Man of God
Ouija: Origin of Evil
Van Helsing: Season 5
Avail. 4/19
Battle Kitty
Pacific Rim: The Black: Season 2
White Hot: The Rise & Fall of Abercrombie & Fitch
Avail. 4/20
The Marked Heart
Russian Doll: Season 2
The Turning Point
Yakamoz S-245
Avail. 4/21
All About Gila
He's Expecting
Avail. 4/22
Along for the Ride
Heartstopper
Selling Sunset: Season 5
The Seven Lives of Lea
Avail. 4/25
Big Eyes
Avail. 4/26
David Spade: Nothing Personal
Avail. 4/27
Bullsh*t The Game Show
The Mystery of Marilyn Monroe: The Unheard Tapes
Silverton Siege
Avail. 4/28
Bubble
Avail. 4/29
Grace and Frankie: Season 7 – The Final Episodes
Honeymoon with My Mother
Ozark: Season 4 Part 2
Rumspringa
YOUTH v GOV
Leaving 4/1
Star Trek: The Next Generation: Seasons 1-7
Leaving 4/2
Truth or Dare
Leaving 4/4
The Killing of a Sacred Deer
Leaving 4/5
The Florida Project
Leaving 4/8
House of the Witch
Leaving 4/15
About Time
Leaving 4/18
Miss Sloane
Leaving 4/24
King Arthur: Legend of the Sword
Leaving 4/25
The Artist
Leaving 4/26
August: Osage County
Leaving 4/29
El señor de los Cielos: Seasons 1-7
Hostel
Leaving 4/30
Dawson's Creek: Seasons 1-6
Dear John
First Knight
Léon: The Professional
Moneyball
Snakes on a Plane
Snatch
Stripes
Superman Returns
The Shawshank Redemption
The Town