Update: After years of rumors, a continuation of the Frasier mythos is now booked for Paramount Plus, though plot details remain scant. Which is why this article still stands as a useful thought-starter should anyone want to lockdown the "Frasier but in denim" idea, among others.
TV reboots/continuations often aim for a sweet spot that allows them (and the audience) to pick things up without losing a step. It's to such an extent that Will And Grace and Roseanne both retconned their initial endings to avoid rocking the boat too severely (you may have heard, things didn't go according to plan for Roseanne) and it's likely Mad About You would do the same thing if it ever progresses beyond being a twinkle in Paul Reiser's eye.
That's why the most surprising piece nestled within the Deadline report about a possible Frasier reboot (these possible reboots are never all that surprising on their own) is that the show's main character, Frasier Crane (Kelsey Grammer), might not return to Seattle. But of course, Frasier would have a very big obstacle that other rebooted shows have not: the absence of one of its best-loved characters following the death of John Mahoney, who played Frasier and Niles' dad, Martin.
Setting the show in a new city might compound Mahoney's absence by making it hard to regularly include talented co-stars like David Hyde Pierce (Niles), Jane Leeves (Daphne), and Peri Gilpin (Roz). But maybe the challenge of creating something new on top of the foundation of something old is the kind of thing that's driving Kelsey Grammer to even entertain the idea of a reboot in the first place. With that in mind, we saw an opening to suggest a few more alternate (like, really alternate) ways the show could go.
The Different But Similar Option
The only way to try and find the same kind of magic Martin had with Frasier and Niles is to stick with the generational thing and gently nudge Frasier into that loveable grump space opposite his own grown son, Freddie. Now an adult, Freddie (who could still be played by Trevor Einhorn, an actor who has had supporting roles on Mad Men and The Magicians) was barely seen during Frasier's initial run, creating a ready-made distance between the two characters. That could be enhanced by having Freddie clash with Frasier while being forced to spend time with him, ala the original. Maybe Freddie is a disgraced YouTube star. That'd do the trick.
The Nostalgia Overload Option
Frasier's first season toyed with the notion that you really can't go home again as Frasier dealt with his family and the pressures of a new job after leaving Boston (and, of course, everyone that the character knew from his time on Cheers). Do it again, but have him return to Boston. Plenty of nostalgia plays here, but hopefully not too many too soon. Frasier already did that with the season 9 episode, "Cheerful Goodbyes."
Maybe Cheers has closed down for good and Sam, Norm, Woody, Carla, and Cliff are nowhere to be found. But Paul's still there. Also, maybe Lilith (Bebe Neuwirth) plays a recurring role as Frasier's frosty ex. Still a mostly new start in a somewhat familiar place.
The International Option
Frasier loved all things French, why not send him to France for more sedate existence in the countryside during his twilight? The potential for quirky characters and fish out of water hijinks would be constant. They could even bring Niles out for an arc where they tour Europe, borrowing some of Rob Brydon and Steve Coogan's moves from The Trip. There's a certain rightness to promotional shots of Frasier in a beret, no?
The Relaxed Fit Option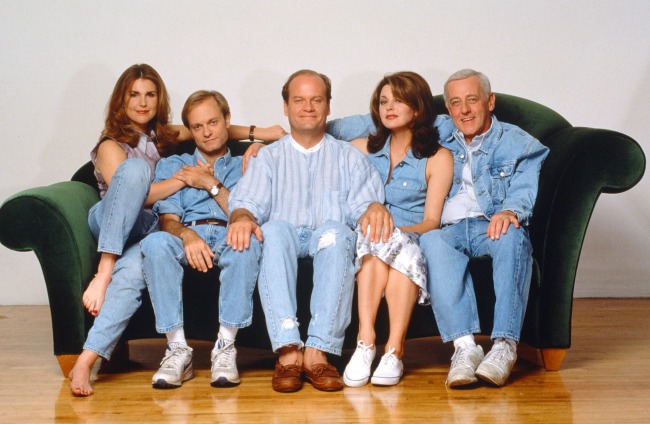 These next three are very stupid, but if they really want to shake things up, why not consider some outside of the box ideas?
With this one, it's Frasier, but everyone is always wearing denim and they're always super chill and not at all worried about expensive European furniture and securing a table at the most exclusive restaurants in Seattle. I've seen every Frasier episode at least twice. I do not recall the characters wearing ripped dungarees and hanging around like regular folk. Doesn't mean it never happened, but somehow, there is a publicity shot from an alternate dimension that I wouldn't mind exploring in this reboot. Though, I'd like it if the couch was denim too.
The Post-Apocalyptic Option
Why not set the reboot in a dystopic version of Seattle? Let Kelsey Grammer embrace his inner badass.
The year is 2025 and the government controls all media save for one pirate broadcast where the rebel alliance is soothed by the one they call "The Listener." From his perch, high atop the despair of modern life, "The Listener" struggles to put on a show with the help of his snarky producer, his uptight brother, and a robot Jack Russell Terrier (sorry, no way that dog is still alive). You'd watch. Don't lie.
The "Eddie-Vision" Option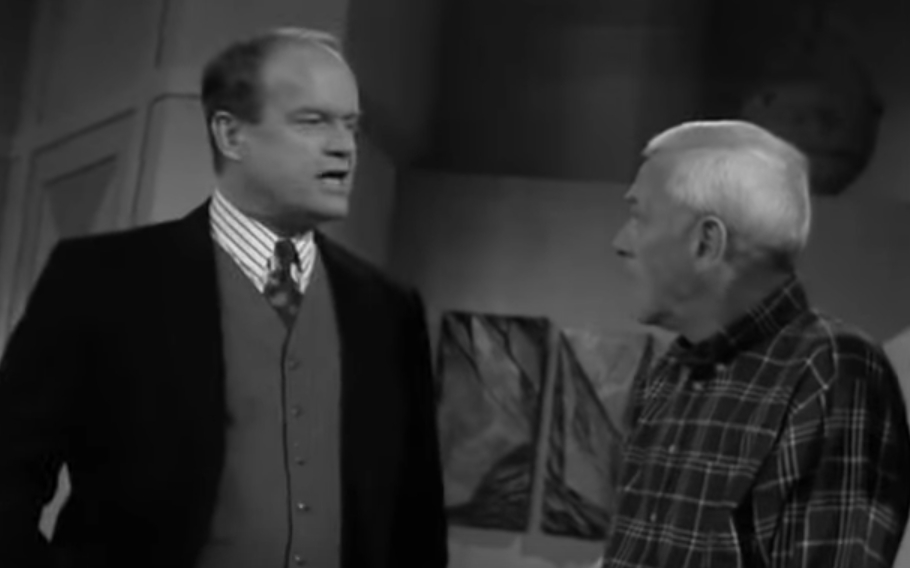 In the season four episode, "Death And The Dog," the show briefly showed us what the world of Frasier looked like through the eyes of Eddie The Dog. Why not splice together moments from the first 11 seasons and do that again with a "new" season's worth of content? It'll be cheap and it's the kind of pretentious art project that Frasier and Niles would love.
Have a better idea? I'm listening.