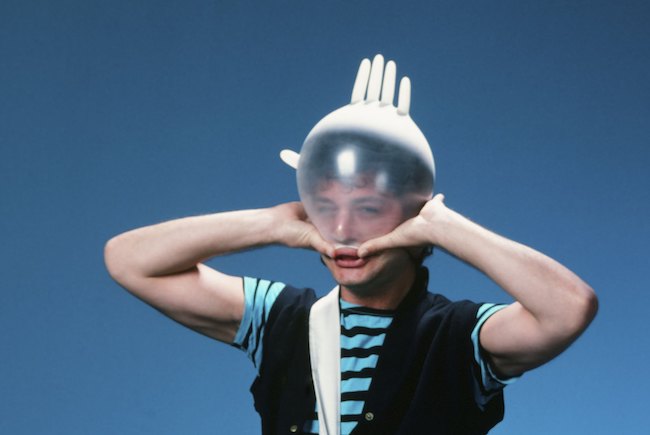 Comedian Howie Mandel has been around long enough now that how he's best known varies by generation. Most people know him best these days as host of Deal or No Deal or as a judge on America's Got Talent. In the 1990s, however, Mandel was probably best known for his long-running cartoon Bobby's World, although older folks may know Mandel for his stand-up comedy from the 1980s featuring that same Bobby character. In the same decade, Mandel also starred for six seasons in the critically acclaimed St. Elsewhere. Though many don't realize it, Mandel also provided the voices for Gizmo in the Gremlins movies and Beeker (among other characters) in early seasons of Muppet Babies.
However, the signature bit that originally launched Mandel to fame as a stand-up comedian was his rubber glove trick, where he would pull a latex glove over his head and blow it up with his nose (a trick he performed so often he had to give it up after he perforated his sinus). Here he is showing Ted Danson his rubber glove trick back in 1986.

Different people have different reference points for Howie Mandel, but regardless of generation, everyone seems to know about Mandel's pathological fear of germs. That fear is so great, in fact, that the man who invented Purell sent the first tubs of it to Howie Mandel. Over the years, he used so much of it that he began to get warts because he'd rid his hands of all bacteria, both good and bad, leaving them with no immunity. Mandel is so afraid of germs, in fact, that he won't shake hands with anyone, which makes his choice of career as game show host and formerly a talk show host an odd one. It's led to some awkward and uncomfortable moments in his career. For instance, when Rob Schneider forcibly shook his hand when Mandel co-hosted Live with Regis and Kelly in 2005.
In another high-profile incident, a contestant on American's Got Talent hypnotized Mandel and convinced him to shake hands with the judges by leading him to believe they were all wearing gloves, a bit that Mandel said he "felt betrayed by."
As an adult, Mandel has spoken frequently about his mysophobia, but it's a condition he's had since he was a child. "I don't have any recollection of not feeling that way," Mandel told Marc Maron on a recent episode of WTF. "Every waking moment for me was tortuous." Mandel relayed to Maron that, as a child, if his shoes came untied and his shoestrings touched the ground, he couldn't bring himself to retie his shoes.
In other words, Mandel's mysophobia has obviously caused him a great deal of grief over the course of his lifetime. It did, however, also help him to establish his stand-up career. For many years, the rubber glove trick was what Mandel was known for — when he opened for Diana Ross in the '70s, he ended with the rubber glove trick. It's what helped him land a regular set at the Comedy Store. In fact, his 1986 comedy album was called Fits Like a Glove.

Where did Mandel come up with the rubber glove trick? In talking with Marc Maron, Mandel surmised that an overweight stripper may have been ultimately responsible. When Mandel was a kid, his father had a club in Canada and he would occasionally hire strippers. "This one stripper, Princess Glow, she weighed 350 pounds," Mandel explains to Maron. "And she took a bubble bath on stage. And then she walked around the room with her wet, soapy breasts, and she rubbed them on bald guy's heads. That was the act."
"I think that may have been the inspiration for the rubber glove. I just came to that realization now," Mandel told Maron. The rubber glove act "was protection. I just didn't want anything that wasn't mine dropped on my head that was wet." In other words, Howie Mandel has enjoyed a successful 40-year career in which he is known across generations because of a stripper, his extreme germaphobia, and the subconscious fear of having soapy breasts rubbed on his head.
What a spectacularly strange origin story.
Source: WTF with Marc Maron