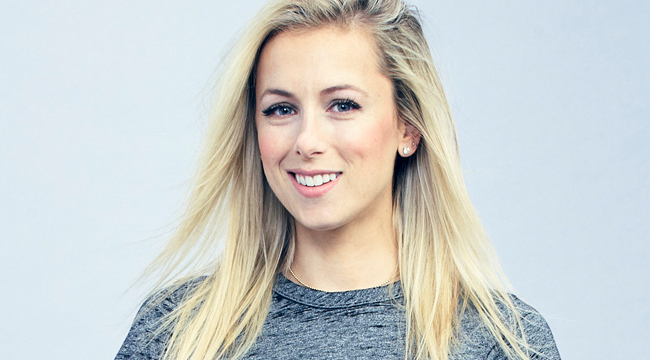 Iliza Shlesinger isn't wasting any time. That's why, just over two minutes into her new Netflix special, Elder Millennial, the 35-year-old comic playfully insults the audience members who "were so quiet" when she categorized herself as a member of Gen X's successor. It's also why she surprised me with a phone call a few minutes before our scheduled chat. "I'm always a little early," she says before teasing me. "Are you surprised? You weren't going to the bathroom, were you?" For the record, I was not.
Not that it matters, because Shlesinger is more than ready to keep working in a career that traces its lineage to NBC's Last Comic Standing reality competition series, which she won in 2008. The comedian continued hitting the stand-up circuit on and off late night television, with appearances on shows like Chelsea Lately and Late Night with Jimmy Fallon, before becoming one of the first performers to debut a special exclusively on Netflix in 2013. Shlesinger followed War Paint with Freezing Hot and Confirmed Kills in 2015 and 2016. Now it's Elder Millennial, which she taped inside an aircraft carrier after Netflix said they "[wanted] higher production value" in future specials.
"I do a lot of USO tours," she explains. "We did a show on the USS Stennis out in the Persian Gulf a couple of years ago, and I remember how special that was, so I thought it'd be cool to do something like that. We looked for retired aircraft carriers and we found one that felt right, was available and it was the right time of year for it, too. There was one in New York, but it would've been too cold and as it is, the USS Hornet is basically in Oakland. It's in Alameda, and it was February in San Francisco, so it was freezing. I was freezing my tips off. It was the only time in my career that the stage lights didn't make me sweat."
Lower temperatures notwithstanding, Shlesinger made the most of Netflix's directive and set Elder Millennial aboard the USS Hornet Museum near Old Alameda Point. What's more, the USO regular also inadvertently created one of the more striking visual juxtapositions in recent stand-up memory: a decidedly feminist comedy set in the era of #MeToo and Time's Up performed in front of a collection of vintage warplanes. "I hadn't thought about it that way," she says when asked about the image. "This special is less about that. Confirmed Kills was a strong thesis and this was more a retrospect. I felt I had the experience and the wisdom to look back at the life I'd led up to that point."
That's not to discount the planes' placement behind the stage, however, as the arrangement was intentional from the start, though for other reasons. "They had all of these vintage World War II and Korean War planes there. I just thought it was very special, and the production design did a great job. The museum let us move around a couple of the planes and decorate the stage with some of the maritime flags the U.S. Navy uses to communicate via semaphore. If you look at the set, there are two rows of flags, each flag represents a letter and they spell out two different messages. So if you're versed in maritime linguistics, I encourage you to figure out what the flags say."

It's one of many fun games Elder Millennial poses for its audience, for just like in Confirmed Kills, Shlesinger's new special invites the viewers at home to participate on social media. The new hour specifically does this by turning many of the comedian's punchlines and coinages into playful hashtags.
"It was an idea that I had with Freezing Hot," she says. "It's my way of tracking if people are engaging with the special. It gives them an incentive to engage. Over the past couple of years, I've noticed it helps to create a kind of online culture, a little world even, around the special. I try to be specific with the ones I use, and not have them pop up too much, because you don't want them to distract from the special and its message. But yeah, people will take them and make them their own. It's an interesting tool and really fun to watch play out on social media."
"People want to engage. They want to interact. They want to feel like they're a part of it," Shlesinger adds. "It just puts us one step closer to becoming the robots everyone is predicting we'll all eventually become." All jokes aside, the adept combination of Netflix's streaming platform and Twitter hashtags reveals the mind of an entertainer who is not only always plugged in, but hard at work during every waking minute. She credits her time before and after her Last Comic Standing win for this sensibility.
"The good thing about being an experienced comic — someone who has spent several years gritting it out on the road in clubs, in theaters and at colleges — is that you develop a point of view. You have an act, and no one can ever take that away from you," she says. "When the phone doesn't ring, when you get so close and you still don't get the part, when your show gets canceled, when your script doesn't get picked up — you still have stand-up. I'm grateful for that every day, because it's one of the few things in this business that you're able to control, in terms of how hard you work and how you're received. When you go in for an audition, if you're not what they're looking for, then you're not what they're looking for. But stand-up is something that you can actively work on. It's a career, and if you work hard enough at it, you can be set for life."
"I'm not saying you're going to be a billionaire," she adds, "but it really does take a lot of grit to carve that out, and it's so worth it." Considering the fact that Shlesinger has released four comedy specials in the span of five years, she knows what she's talking about. And sure, being a stand-up comedian — let alone a successful entertainer in the industry at large — isn't a guarantee that one will eventually earn $20 million like fellow Netflix comic Ellen DeGeneres. Yet Shlesinger's residency with the streaming giant, which is now venturing into global territory with its original stand-up content, affords her something else: a worldwide audience.
"Netflix's reach is gargantuan, so all of the sudden I'm able to do a sold-out Northern European and U.K. tour. Because they're able to watch my specials on Netflix," she explains. "It still trips me out to get fans, whose native language is something other than English, coming up and asking me, 'How's your dog, Blanche? How's your husband?' I've seen exponential growth in my career, and I'm positive other comics who are present on the platform can attest to this. It's not like the old days where somebody tapes your special and they own it and air it whenever they want. Not only is it on demand now, but it's constantly on demand. And it reaches almost every country in the world. Not every country gets all the other cable and streaming channels. Netflix has enabled us to reach audiences we would never have had access to otherwise."
'Iliza Shlesinger: Elder Millennial' is now available to stream on Netflix.