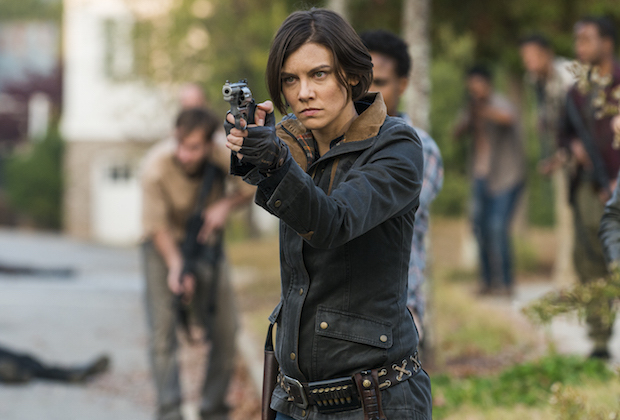 For the last few weeks, news about The Walking Dead has been dominated by the impending departure of Andrew Lincoln. He's signed on for only six episodes in the ninth season, after which he is expected to depart. Lincoln's exit has also been confirmed. One of the series' most prolific directors has bid farewell to Lincoln, and in an Instagram post soon after the announcement, Norman Reedus also seemed to confirm the permanent exit of Lincoln.
There have been no similar tributes to Cohan, and while we do know that Cohan has signed on to only six of the season's first eight episodes, there's been no confirmation that she will permanently leave The Walking Dead afterward. The closest approximation to that comes from The Hollywood Reporter:
Cohan, who pays Maggie, opted to exit the highly rated AMC drama and booked the lead in ABC's Whiskey Cavalier after her efforts to renegotiate a new deal to stay on The Walking Dead went south. After ABC picked up Whiskey Cavalier to series for a midseason bow, it closed the door on Cohan's full-time return to the series — even if she had closed a new deal. AMC declined comment.

Meanwhile, though Cohan does not have a deal in place for the back half of season 9, she has been cleared to film episodes of The Walking Dead during Whiskey Cavalier hiatuses. According to Deadline, that possibility remains open.
Indeed, with Andrew Lincoln leaving the series, it may be important to keep Lauren Cohan in the mix. At the very least, she will be away from the series for an extended period of time — Whiskey Cavalier is being filmed in Prague, so it's not like Cohan can pull off double duty by traveling back and forth between sets.
It does not mean, however, that Maggie will die in the series. She just may … go away. It's not at all unheard of on The Walking Dead. Lennie James, who plays Morgan, left the series for more or less four years. Melissa McBride, who plays Carol, once went a stretch of 10 episodes where she only appeared in two. Ross Marquand, a series regular who plays Aaron, appeared in only 8 of 16 episodes last season, while Tom Payne — who plays Jesus — appeared in only seven episodes, or one more than Cohan has already signed on to. There's also Corey Hawkins — who plays Heath — who hasn't been seen since the middle of season seven, and yet he is also expected back on the series at some point.

Moreover, no one is acting like Lauren Cohan is leaving the show permanently. Angela Kang noted that she has a "really great story" lined up for Maggie next season, and on Twitter, Cohan essentially still refers to TWD as her first family while tweeting.
Her second family, at ABC, has only guaranteed her 10 to 13 episodes on a midseason replacement show, and dramas not produced by Shona Rhimes have not exactly had a great track record on that network in recent years. She'll be done filming Cavalier by the time shooting on season 10 of The Walking Dead ramps up again, which gives AMC another shot at doing right by Cohan and paying her what she deserves as one of the longest-running characters on the series.
Maybe, in fact, that's where the helicopter will come in to play next season. If there's a time jump of several months, we might finally see a Maggie on the verge of pregnancy, which would present a perfect opportunity for her to relocate to an actual civilization, The Commonwealth, where she can safely have her baby and meet back up with her old castmates when the series relocates there in season 10 or 11. In the comics, The Walking Dead characters reunite with a long, thought-to-be-dead character at The Commonwealth; it wouldn't take much effort to change the identity of that character to Maggie.
We'll find out what AMC has in store for Maggie when the series returns this fall.