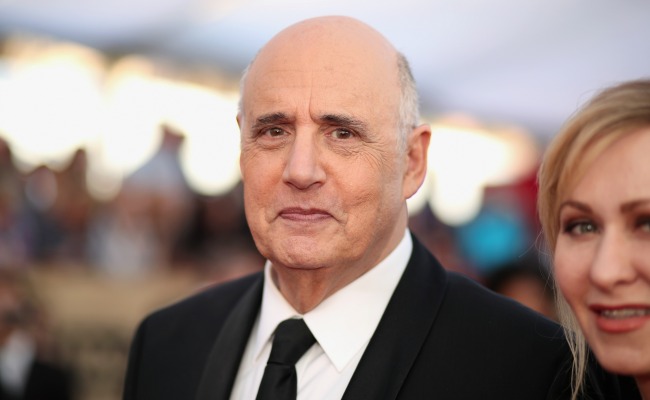 As sexual harassers continue to get exposed in Hollywood, Transparent's Jeffrey Tambor has been one of the men accused of sexual assault. While he initially denied the report, a second woman has come forward with her own allegations of assault. Trace Lysette, a trans actress who was a guest star on Transparent as a yoga instructor and stripper who helps Tambor's Maura find her way after her initial coming out. Lysette released a statement on Twitter, detailing Tambor's behavior.
According to Lysette, after Tambor saw her in her costume — a lingerie top and matching shorts — he said "My God, Trace. I want to attack you sexually." Lysette claims that she and the other actress in the scene "laughed it off because it was so absurd." However, Tambor's behavior eventually became more aggressive and physical.
"He came in close, put his bare feet on top of mine so I could not move, leaned his body against me, and began quick, discreet thrust back and for against my body. I felt his penis on my hip through his thin pajamas," Lysette says.

Lysette pushed Tambor away and "rolled my eyes." Billings was not present for this alleged incident, and several crew members were nearby "but they were focused on their jobs. It was discreet. If you were behind Jeffrey you might have thought he was giving me a hug."

Lysette is the second trans woman to come forward with complaints about Tambor, the first being his former assistant on Transparent, Val Barnes. Barnes and Lysette were roommates while working on Transparent, and Barnes had plenty of complaints to vent about.
"She would pick him up in the morning and bring him home at night and everything in between," Lysette recalls. "She would come home wrecked and stressed. I saw him break her down. She for the most part kept it to herself. She was just like, 'Girl, he is a piece of work. If you only knew what I'm going through.' But I knew."
Part of what threw Lysette initially was that Tambor had appeared to be an ally during the early days of their working together. She described an incident where the seasoned actor stood up for her on set when she couldn't find her mark.
"Jeffrey stepped in and said, 'Come on, that's hard. I couldn't even do that.' And then he and the [director of photography] had a little back and forth. He was sticking up for me. He kissed me on the forehead and was like, 'Are you good?' I said, 'Yeah, I'm fine.' It started with things like that. Telling me I looked great, things like that."
She also describes a time when Tambor said to her "'Well, yeah Trace. I really believe in you. And you know what? I don't even want to have sex with you.' And then he just looked at me as if he very much indeed wanted to have sex with me. It was an up-and-down look. I rolled my eyes and went to my trailer and thought, 'This man is something else.'" Both women went to producers with their complaints, but no action was taken at the time.
When the first allegations surfaced, it was reported that the Transparent writers were considering a way to write Tambor off the show, similar to the conundrum facing the writers of House of Cards.&
(Via The Hollywood Reporter)