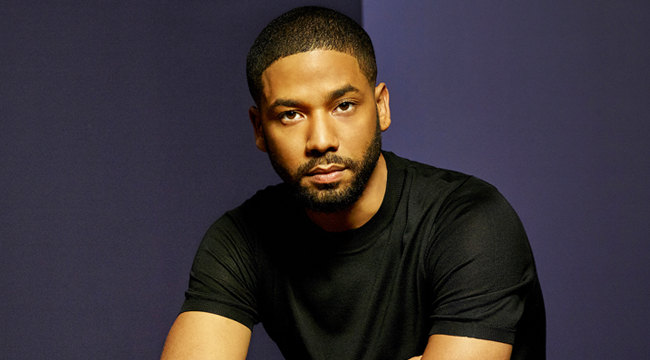 Nearly two months after Jussie Smollett claimed to be the victim of a violent hate crime in Chicago, the Cook County prosecutor issued a stunning new development in court on Tuesday morning. Smollett, who was arrested on felony charges for allegedly filing a false police report (he later pleaded not guilty), will now be cleared on all criminal charges. The Chicago Tribune reported the shocking reversal as it happened:
"We believe this outcome is a just disposition and appropriate resolution to this case," a prosecutor said in announcing the dismissal of all 16 counts.

There had been no clue that prosecutors planned the about-face move before the announcement. A publicist for Smollett's attorney was the first to notify the news media Tuesday morning, issuing an alert that did not elaborate on the nature of the emergency.
Here's more language from the state's attorney's office:
"After reviewing all of the facts and circumstances of the case, including Mr. Smollett's volunteer service in the community and agreement to forfeit his bond to the City of Chicago, we believe this outcome is a just disposition and appropriate resolution to this case."
Indeed, the reversal is an unexpected one, especially given that the Chicago PD held a press conference to publicly rip into Smollett, who they accused of wasting police resources while "[taking] advantage of the pain and anger of racism to promote his career." Also baffling was a so-called smoking-gun of a $3,500 check, which police said Smollett used to pay two Nigerian brothers to stage the attack. That duo, who appeared on Empire as extras, then expressed "tremendous regret" for their involvement. Smollett's team, meanwhile, claimed that the check actually disproved claims of a staged attack and only proved that the actor hired the brothers for personal training services.
Whether that defense would have been enough to prove reasonable doubt, we'll never know, for Smollett's case records have now been sealed, according to CNBC, and are inaccessible to the public. CNBC also reports that "[t]here was no plea deal that led to the dismissal of charges." So far as Cook County is concerned, Smollett's in the clear, although the FBI hasn't issued a definitive statement on the threatening letter that arrived on the Empire set.
ABC News' Stephanie Wash has tweeted a statement from Smollett's legal team, which has signaled that their client's record has been expunged. "Today, all criminal charges against Jussie Smollett were dropped and his record wiped clean of the filing of this tragic complaint against him," stated Tina Glandian and Patricia Brown Holmes. "Jussie was attacked by two people he was unable to identify on January 29th. He was a victim who was vilified and made to appear as a perpetrator as a result of false and inappropriate remarks made to the public causing an inappropriate rush to judgement."
Meanwhile, the Empire Writers Twitter account is celebrating the news: "[S]ee y'all Wednesday."
UPDATE #1 – 12:20pm EST: Outside the Cook County courthouse, Smollett held a press conference, in which he stated in part:
"First of all, I want to thank my family, my friends, the incredible people of Chicago and all over the country and the world who have supported me, prayed for me, who showed me so much love. No one will ever know how much that has meant to me, and I will be forever grateful.

"I want you to know that not for a moment was it in vain. I have been truthful and consistent on every single level since Day One. I would not be my mother's son if I was capable of one drop of what I have been accused of. This has been an incredibly difficult time, honestly one of the worst of my entire life. But I am a man of faith and I am a man that has knowledge of my history, and I would not bring my family, our lives or the movement through a fire like this. I just wouldn't."
UPDATE #2 – 12:35pm EST: Chicago Police Superintendent Eddie Johnson (the cop who publicly lambasted Smollett after charges were filed) is reportedly "furious," according to CBS News. Johnson may speak publicly following a Tuesday police academy graduation, although this hasn't been confirmed.
(Via Chicago Tribune, CNBC & ABC News)