One thing about a show like Justified — one with such a rich tradition of killing off perfectly nice characters for minor transgressions — is that sometimes the kill-free episodes are even more menacing in tone than the one where bodies drop. Take last night's episode, for example, especially the scene where bearded-real-estate-speculator-slash-TigerHawk-Security-executive Ty Walker sneaks up on the bank manager at her home. I do not believe I have ever heard a conversation about omelettes that was so dense with the potential for imminent doom. Or take every scene between Boyd and Ava leading up to final one in Boyd's office. Two violent people who, for good reason, did not trust each other, having subtext-laden conversations that occasionally touched on proper outerwear while traveling to Iceland. I would say you could have cut the tension with a knife, but it was so thick and creamy that a spoon might have worked better. Like a tension chowder, if you will.
Last night's episode also gave us our first Raylan/Boyd standoff of the final season. (See above.) If I had one complaint about the last couple seasons, it would be that these moments had become too rare. I get that you don't want to go to that well too often lest it start coming up dry and/or a little muddy, and I get that you wanna save the big confrontations for your big sendoff, but man, do I love watching these two on screen together. Getting our first taste less than two hours into this season… yes, that will do. More plz.
And now, the highlights:
– Okay, first things first. This Monday, a full week after our big Justified oral history went up, and about four days after I finally got over the fact that we couldn't get Timothy Olyphant to participate, we received a few quotes from him via email. We weren't able to do much with most of the answers, but I do want to share one with you, for reasons that will become obvious quickly: "HBO and FX, they're both class act operations. Both have a ton of respect for the storyteller. The only difference I can think of is on FX they let you say things like 'bullsh*t' and 'asshole.' On HBO, they let you say things like 'c*cksucker' and 'c*nt struck.'" What a delightful man.
– WHERE IS SAM ELLIOTT'S MUSTACHE? THIS IS DISCOMFORTING. IS IT OKAY? HAS SOMEONE TAKEN IT HOSTAGE? WHY ARE WE TALKING ABOUT A GODDAMN LEDGER WHEN AN IMPORTANT PIECE OF MODERN AMERICANA IS MISSING AND UNACCOUNTED FOR? SOMEONE START A SEARCH PARTY. START TWO, IN FACT. THIS IS AN EMERGENCY. HE LOOKS NAKED, LIKE A TURTLE WITHOUT ITS SHELL.
– In all seriousness, there is an explanation for the missing 'stache. From Vulture: "I didn't have it when they cast me, and I didn't have time to grow one that I wanted to wear on weekly episodic TV. So I left it off, and I'm glad I did. It helped me a lot with this guy to look different than I did in most of the work I've done."
– Also from that Vulture interview, which you should read: "We're all a bunch of lazy bastards. We're too lazy to shave anymore. I see all these people with 12 o'clock shadows or whatever they're supposed to be. They're on every TV show, and now it's in commercials as well. It's like, Jesus Christ! I was one of the first guys who grew hair on his face in the old days. There's a lot of weird shit going on out there these days that I don't understand."
– Two new character notes: One, Calhoun, the philandering real estate magnate who works with Ty Walker and his beard, is kind of like a cross between Colonel Sanders and Foghorn Leghorn. And two, Choo Choo is Hillbilly Khal Drogo. Go back and look, if you don't believe me. I half-expected him to try to rip Raylan's heart out.
– Solid work out of Tim last night, as always: From his somewhat ill-advised but hilarious strategy of walking straight into the bad guy's HQ by himself, with no backup, in the company of a giant man who has a childish nickname that he presumably earned by smashing people into smithereens with his fists; to his quickly rattled off list of fake maneuvers for dealing with someone who is following you (""Flapjack him, shortbus him, special attention him?"); to him giving me a great name for the craft beer I have yet to brew (and will never brew), when he dropped a "Random Internet baby" while making small talk with Raylan in the office. But most importantly, by far, he gave us another entry to jot down in our Things That Do And Do Not Give Tim Gutterson An Erection journals. The full, up to date list: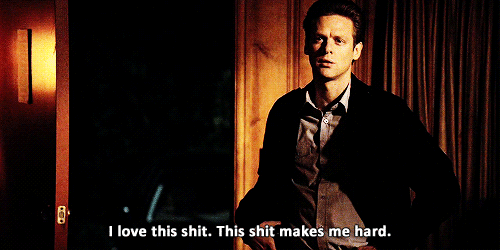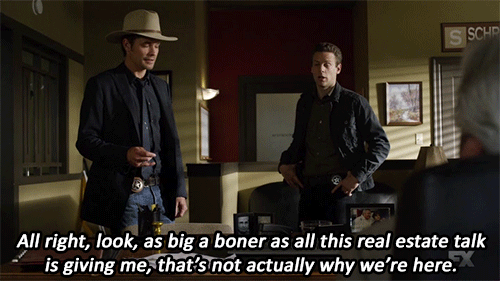 – Thing I love: Raylan confirmed Boyd was indeed the blackmailer by asking Calhoun if the man on the phone had "a long-winded, peculiar way of speaking," and then immediately upon catching Boyd in the act, he was treated to a brief dissertation about the history and multiple potential meanings of the figure of speech "Fancy seeing you her." The man knows his target.
– Speaking of targets, hoooooooo boy did I ever love Ava turning the tables on Boyd regarding the ledger, to explain away her covert operation. "Why did I have the ledger? WHY DID YOU HAVE THE LEDGER?" Boyd was looking for a bar fight, and Ava hit him with some judo.
– Unless I am mistaken, and I do not believe I am, the TigerHawk Security team — Ty, Choo Choo, and C-Bass — are currently operating and/or occupying a pizza restaurant that used to be a bank, for nefarious purposes to be determined later. Fine. Great. But more importantly, I … I kind of want to eat at that pizza restaurant? Yes. Yes I do.
– I will also be calling all trespassers and agitators "peacocks" from now on. I didn't even know it was an option before last night. Lots of catching up to do.
As always, thanks to Chet for the GIFs. Your thoughts below.