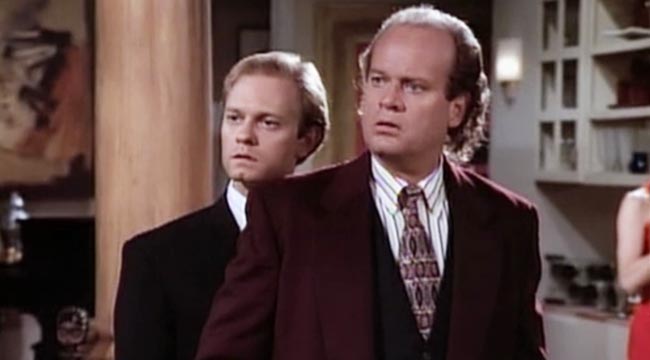 Reboots: They're all the rage! Everybody's doing them, from Murphy Brown to Charmed to Daria to Animaniacs to the show formerly known as Roseanne. But it's good to know some aren't simply rushing in, desperate to score money with a half-baked idea. It's comforting, for example, to know that Kelsey Grammer has spent the last few months since announcing he's rebooting Frasier by turning down idea after idea after idea.
As per Deadline, Grammer — along with several Frasier alumni, including stars Jane Leeves and Peri Gilpin — attended a panel celebrating the show's 25th anniversary at the USC Comedy Festival in Los Angeles. In addition to sharing stories (like how David Hyde Pierce inspired them to give their hero a brother) and mourning the passing of John Mahoney, who played Crane paterfamilias Martin, the group talked about the future. And Grammer was refreshingly honest.
"There's been no premise that has come along that has the necessary fire," Grammer admitted. But then, they're being picky. "A lot of us are quite committed to the concept that you would never try to redo what we once had."
One thing he is sure about is it would have to be a reunion, save Mahoney and the two Parson Russell Terriers that played Eddie, namely Moose and his son Enzo, both of whom have passed. "I wouldn't want to do it without these guys," Grammer added.

Grammer was also sure the reboot, should it ever materialize, must "have to have a different foundation." Fourteen years have passed since the show ended its 11-season run, and Grammer admits he's not sure what Frasier's been up to since 2004. "Whatever happens, in my mind, should be that he sorted out something that he hadn't had sorted out previously. That would be the stepping point, so we'll see.
Interestingly, Frasier's sister show is also being reluctant to join the reboot-verse. A couple months ago, Ted Danson poo-poo'd the idea of a Cheers reboot, saying everyone was too old to do a show where they hang out in bars. But at least we'll probably be hearing from Frasier Crane again, and I don't mean a postcard.
(Via Deadline)