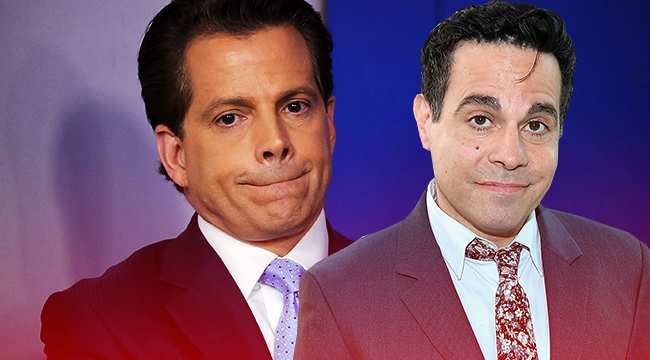 As soon as Anthony Scaramucci burst onto the media scene as the new White House communications director, everyone started asking the same question: Who will play the longtime friend of Donald Trump on Saturday Night Live? Many names were tossed around by fans and politicos alike, including Sex and the City alum Mario Cantone, who literally volunteered for the gig when asked by Variety. Alas this possibility will never come to be, as Comedy Central's The President Show swooped in and hired Cantone to play Scaramucci on this week's episode.
The President Show, which the cable network recently picked up for an additional seven episode, officially announced Cantone's casting Thursday morning. The day before, star Trump impersonator Anthony Atamanuik declared Cantone's casting on Twitter: "What a steal!" The comedian's addition to the faux talk show's expanding list of guest cast members is one of many recent highlights, which include executive producer Adam Pally's fantastic take on Don Jr. and show writer John Gemberling's ridiculously good impression of Steve Bannon.
Precisely what shape Cantone's version of the "Mooch" will take remains to be seen, as The President Show doesn't tape new episodes until the day they air. Considering his many mind-boggling media appearances and tweets since last Friday, however, Cantone, Atamanuik and the writers have plenty of raw material to work with. The episode airs Thursday at 11:30pm ET/PT on Comedy Central.