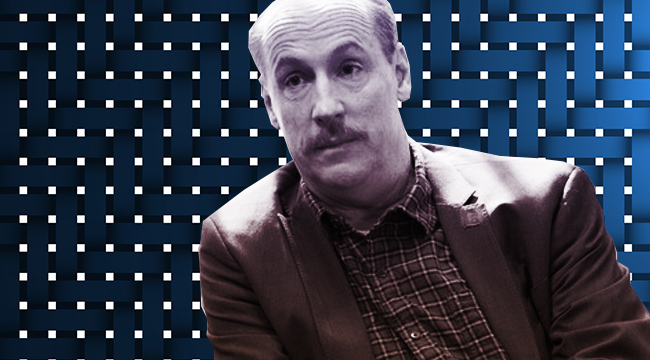 Standouts like Julia Louis-Dreyfus (who's won five Emmy Awards in a row for playing Selina Meyer) and Timothy Simons (whose Jonah Ryan deserves all the hate) typically attract the most attention on Veep. Yet the hugely popular critical darling of HBO's Sunday night slate features an impressively large and talented ensemble cast that includes Matt Walsh, the man behind the work-obsessed Mike McLintock — Selina's former Director of Communications and White House Press Secretary.
At the end of season five, which is now available for purchase on Blu-ray and DVD, Mike finally got his chance to escape the Washington DC hustle and spend time at home with his family. He took it willingly, but as everyone who watched last Sunday's premiere knows, he's back for another season of abuse. We asked Walsh about his befuddled character's motivations going into season six's altered landscape, but not before informing the Upright Citizens Brigade co-founder about a recent achievement.
HBO has been putting out new "Ah" videos unique to each show. For Veep's, you were the first person to drop an F-bomb.
I hadn't noticed that I was the first to drop. So, I dropped the first F-bomb of the season, did I?
Yup.
That's like smashing a bottle of champagne on a new ship. I love it.
Selina's staff had been wanting to fire Mike for months by the end of season five. By the time Laura Montez replaced her and booted everyone out of the White House, however, Mike was content to stay at home with the kids. What changed?
I think it's similar to retirement, in that people have an idea — or an ideal — of what it's going to be like. They'll finally get out of all the abuse and stress, go home, and stay there. But then they discover it's not what they thought it was. With Mike, I'm assuming there's some lack of meaning or purpose in his retreat. He loves being a dad, but he also has a lot to offer Selina and her team, and he wants to be stimulated creatively. He likes the hustle of it all. He's a writer, so he likes to be writing. He came out of a journalism world, so I think he was probably getting a little bored. There's also the matter of money. Mike, again, has no money. And now he has three kids with Wendy Keegan (Kathy Najimy), so he needs to help generate some money. It's a practical necessity, as well.

You have a few tense scenes with very angry children. It reminded me of W.C. Fields' famous quote about "never [working] with animals or children." What was that experience like?
Well, I love working with kids. They're always the most interesting thing in the scene. These kids were especially fidgety. Those were real screams. They were not all that happy, to be honest. I have kids of my own, and I have the right parental instincts to interact with them on set, so it was pretty easy to shoot. It was also really funny to juggle two kids, and have the third one saying, "He's not my dad" — all the while having a phone cord wrapped around me, trying to get somebody to eat Cheerios, and getting yelled at by Selina. I love scenes where there's a lot of things attacking you, and you just have to juggle it all. It's constructive. It was a really funny scene and it turned out really well. I was very happy to do it.
With your UCB improv background, I imagine those scenes offered you plenty of opportunities to flex those muscles.
That's true. They're very unpredictable. The whole scene was definitely scripted, but there were a lot of moments where you just had to roll with it. I enjoy that a lot. I like scenes that are more open to spontaneity. So yeah, that was a good example of a scene in which I got to use my improv chops.
Speaking of UCB, Paul Scheer cameos as the morning show director Stevie.
Yes.
You two didn't interact in the premiere, but will we ever see that in a future episode?
I don't know if we'll bump into each other this year. We shot everything months ago, and I can't remember if we had a scene together. I rarely saw Paul because Dan Egan's (Reid Scott) story line lives in that CBS studio. So unfortunately, I don't think we have much interaction this year. But believe me, I would love to do scenes with Paul. He's so funny. Also, Seth Morris is back this year. I think I bump into Seth's character, Congressman Bill Jaeger, at one point. He's another UCB guy and a good friend.
This season's most popular Jonah Ryan insults have something to do with his freshly-shaved look. Will Mike ever dish a few out?
I don't get to compare Jonah to a giant penis this year, unfortunately. I see him very little this season.
People can't help comparing Veep to the current political atmosphere, and I'm sure you've been asked about it a million times. That said, do you ever get tired of being asked about Donald Trump or Sean Spicer, or do you not mind the attention?
It's amazing that we're on a funny show that feels relevant, and that people take such a strong interest. I think this year, more than ever — because the current administration is such a disaster so far — people don't want answers from our show. But they want to laugh at the political world, so I love that there's such a passionate interest in our show because of that. It is bizarre, though. It's like there's a general observation that certain outlandish things will happen on Veep, and six months later those same things will happen in the real world. It is a weird, clairvoyant sort of effect sometimes. "Did we make that happen?" We're always trying to think of the most ridiculous, dumbest thing to do. Something that feels real enough to get away with on a comedy show. And then we find out what's coming out of DC is far more stupid and bizarre. So it's a fair question.

I suspect it makes your job all that much harder, because of how ridiculous everything in the real world actually is. Satire exaggerates, makes it almost too ridiculous to be real, and now Veep must compete with that.
Well, fortunately Selina is no longer president. It gives us a sort of objectivity, from which we can comment on politics, while not being active in politics. So it's a blessing for our writers that Selina lost the election. It really is. Otherwise, I think it would be more difficult to come up with stories and events that outshine or heighten what's actually happening.
I wanted to ask you about your binge-watching habits. The Uproxx TV team recently discussed its favorite unbingeable shows, and I threw Veep in for consideration. Don't get me wrong — it's a wonderful show, but I think it's too comedically dense to binge-watch. Do you ever binge shows, or are you more of an episode guy?
I love that. Thank you. I do binge, but not like I used to. I have three kids and we've got to get up early, so I can't really do it anymore. When I discovered shows The Wire or Battlestar Galactica in the past, or even the first season of House of Cards — I stayed up until 3:00 in the morning every night for a week watching them. Now I might hit two in a row, but I don't usually binge anymore. I'll just watch one episode. That's enough for me in a night. I do love to binge podcasts, though, because I'm in the car a lot. I can listen to three of four podcasts in a row.
You're still doing the UCB sports podcast, right?
Yeah. UCB Sports & Leisure.
Comedians and comic actors I've talked to tend to enjoy the format. What's your experience with podcasting been like?
I like it because it forces me to be creative once a week. It forces me to come up with and write down some new ideas, and I like having funny people in the studio who can drift with me. Making it is really fun. Though I'm beginning to pace myself when it comes to doing other people's podcasts, because I'm getting a little burned out on it. So it's a little bit of both. I think, most recently, I listened to the Richard Simmons podcast and S-Town. I also listen to a lot of political podcasts like Political Gabfest and Pod Save America. I listen to them, but I'm doing them less. I've just been doing my own lately.
Veep airs Sundays at 10:30 p.m. ET/PT on HBO. Season five is currently available for purchase on Blu-ray and DVD.