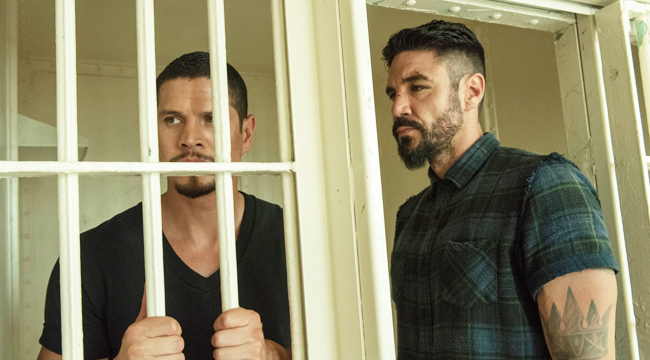 Welcome to our weekly breakdown of the minutia of Kurt Sutter and Elgin James' Sons of Anarchy spin-off, Mayans MC. While Kimberly Ricci provides her always excellent coverage of the series (here's her write-up of this episode), here we're going to endeavor to look deeper into the episode and excavate some of the details viewers may have missed, callbacks to Sons of Anarchy, and posit questions explore theories about the direction the series.
1. The title of this week's episode, 'Serpiente/Chikchan' is Hispanic and Mayan for snake, and let me tell you, as someone who has an Indiana Jones-like fear of snakes, I did not appreciate the scene where EZ is nearly bitten by one. I preferred it when Miguel cut off a dude's arm and watched him bleed to death.
2. I love Lincoln Potter's hardball tactics, and in a show full of murderous groups (The Mayans, the Galindo Cartel, the Rebels), I find it fascinating that the feds are the villains on this show. One thing that I found somewhat confounding, however, is how incensed Angel was that his brother took a deal to inform on the Galindo cartel. Wasn't Angel basically doing the exact same thing for the Rebels? It's pretty rich of Angel to get on his high horse about his brother selling out Galindo when he was doing the exact same thing, and it took some time before Angel divulged that information to EZ, too. And don't forget why EZ was in prison in the first place, Angel. It was because he tried to avenge the death of both of their mothers.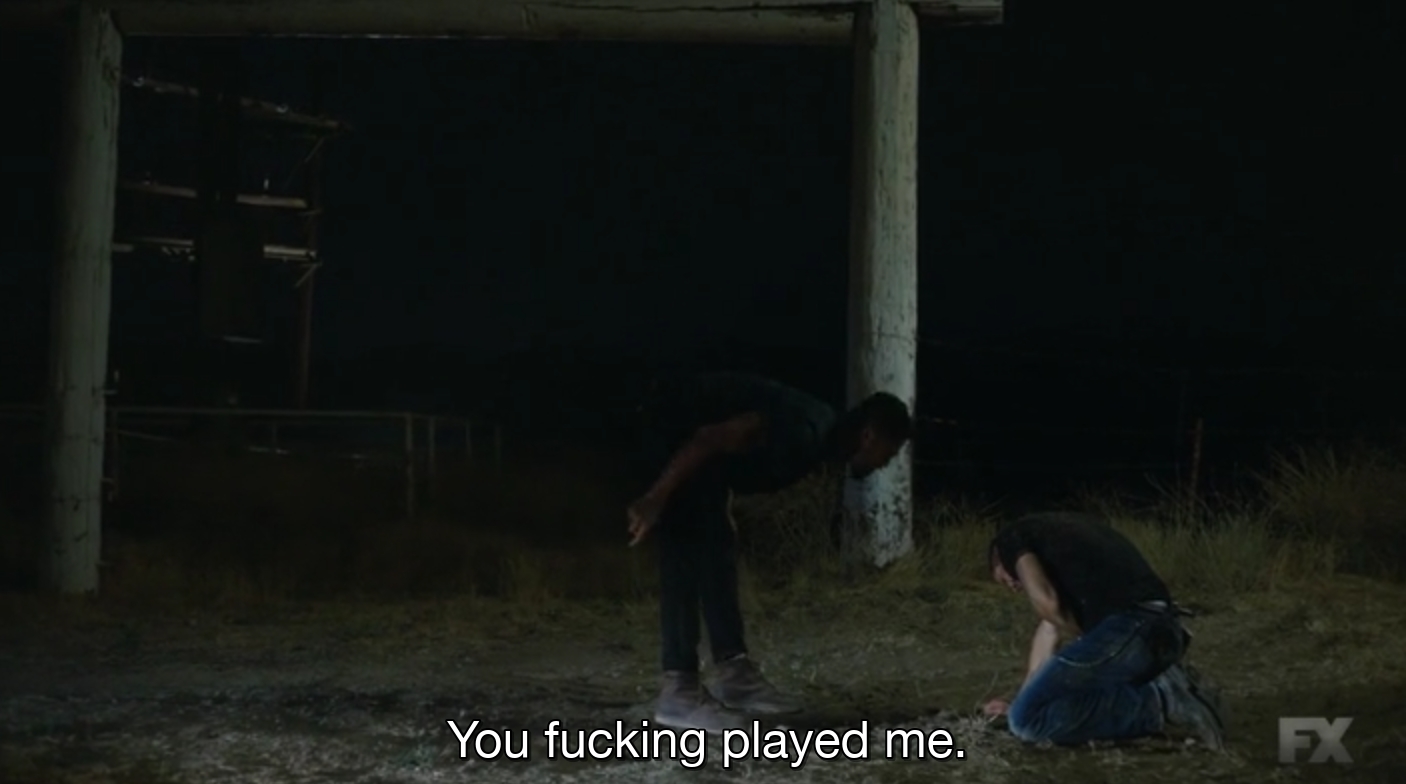 3. At any rate, the alliances have come together perfectly for EZ. Galindo, the Rebels, and The Mayans are now all working together and the feds no longer want EZ to inform on Galindo. EZ no longer has to hold on to any secrets (and the two most important people in his life, Emily and Angel, already know his biggest secret); presumably, The Mayans will no longer be looking for a mole; and the motorcycle club comes out the big winners here because they can work with Galindo and The Rebels, and the club itself has no allegiances to the feds. They also come away with a much bigger stake in the proceedings; they've moved from drug running and into the board room.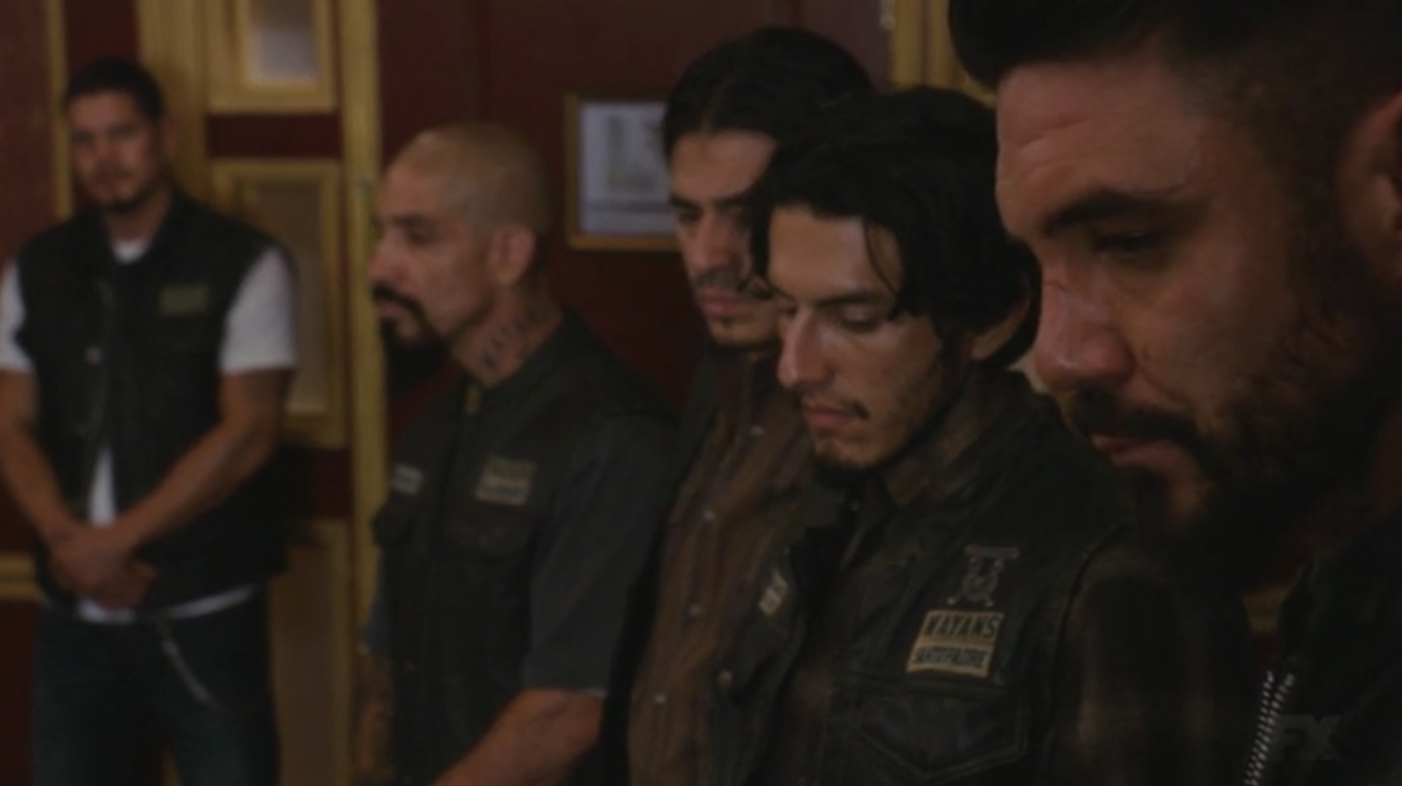 4. Where there are winners, however, there must be losers. The losers here are Bishop Rodrigo, who is not only killed but is framed as a fan of kiddie porn, and poor headless Devante.
For those confused about why Miguel turned on Devante, it's because Devante told Miguel that his brother Cristobal was kidnapped and killed, prompting Miguel to kill the dude with the taco truck and his son, plus go to war with the Rebels instead of immediately saving his infant son. In reality, as Miguel learned from the medical records, Cristobal died of pneumonia. Meanwhile, Adelita had her own score to settle with Devante because, after Rodrigo gave Devante the location of Adela's parents, it was Devante's execution squad who murdered Adelita's family.
This, of course, also rules out any possibility that Angel is OG Cristobal. While Devante lied about the way Cristobal died, he didn't lie about Cristobal dying.

5. Meanwhile, while Angel arranges to have EZ get a tattoo to remember his time in The Mayans, he also tells him that after they complete Potter's deal that EZ is out. He's out of the club, and he's out of Santo Padre, though it is unclear if Angel wants EZ out because he's still angry at him or if part of him is pulling a Ben Affleck in Good Will Hunting: "It'd be an insult to us if you're still here in 20 years. Hangin' around here is a f**kin' waste of your time."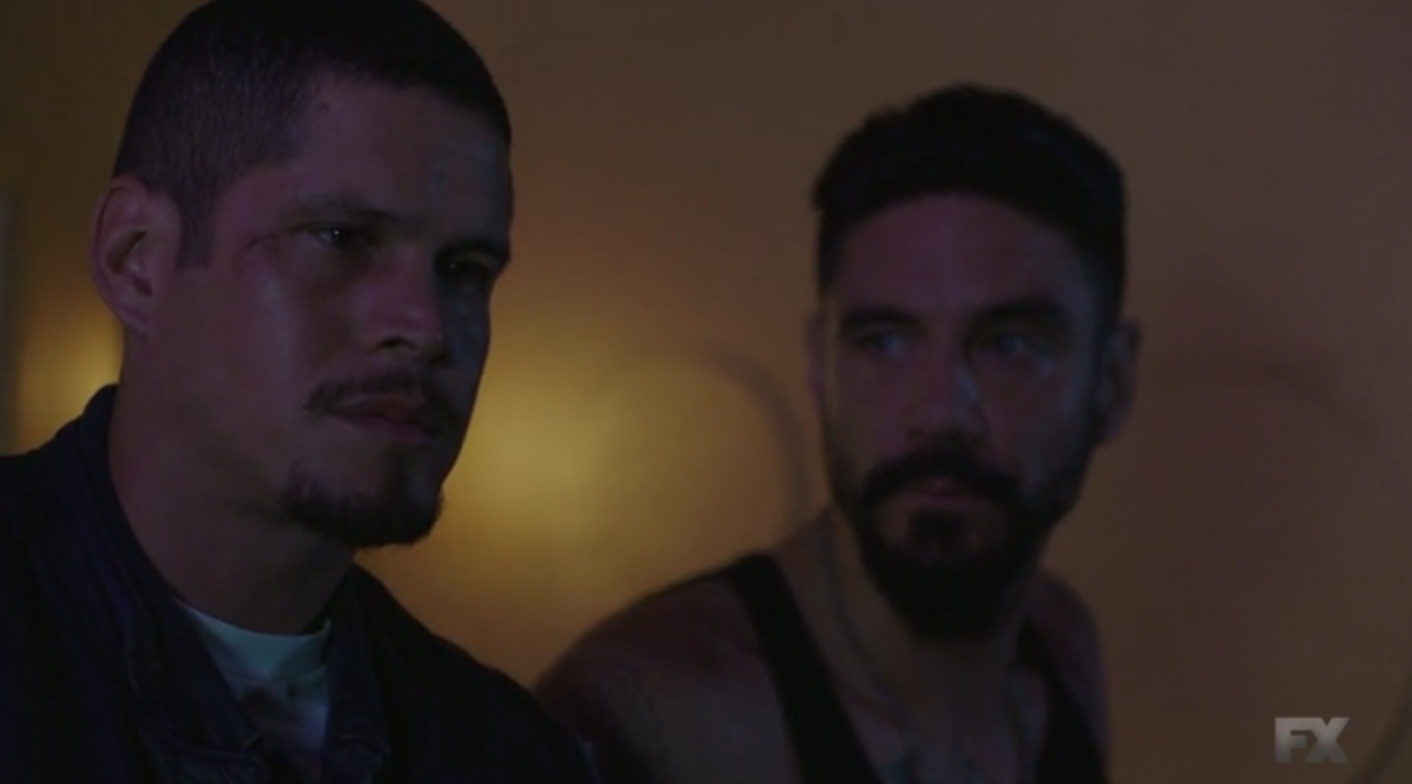 6. Meanwhile, Potter's assignment is a doozy.
I don't think that EZ or Angel do it. I think Felipe does. It's Felipe, after all, who knows where Jimenez is going, and it makes perfect sense. This is how Felipe proves his love equally to both of his sons, and also comes clean about his own past with the Galindo cartel.
7. Theory: Potter has a mole on the inside (Bishop, perhaps) who knows that Miguel Galindo is trying to double cross him. Miguel is killed. Emily takes over as the head of the Galindo cartel and insists that EZ remain in the club. After all, that's exactly how they kept Clay alive in SoA — he was the only one with whom the Irish would work.

8. In the meantime, we know that Kevin is going to San Joaquin, which just happens to be in the same vicinity as Charming, the fictional town where Sons of Anarchy was set. Next week's episode is called "Cuervo/Tz'ikb'uul," which is Hispanic and Mayan for Raven, which is very close to a Crow, which definitely means we'll be seeing someone from SAMCRO. In fact, there's a brief glimpse of the back of a Sons jacket in the preview for season finale. Please let it be Tig, and as part of whatever favor he does for The Mayans, he gets Chucky back.
9. Finally, it looks like they did to EZ in his flashback scene what they did to Henry Cavill in Justice League and used CGI to get rid of his mustache? It's bad.